It's a tail most harrowing: United Airlines failed to unite a man and his dog.
Rapper Schoolboy Q vented on Twitter Friday after the airline put his new French bulldog puppy ― named Yeeerndamean ― on the wrong flight. TMZ reports that Schoolboy, also known as Quincy Matthew Hanley, received someone else's dog instead.
United confirmed the mistake in a statement, promising that Yeeerndamean was being taken care of.
"We're working as quickly as possible to reunite the pet with their owner later this evening," the airline said. "We have reached out to our customer and sincerely apologize for this mistake and are providing a refund. Pets are part of our customers' family, and their safety and wellbeing is of the upmost importance to us."
But in the wee hours of the morning Saturday, Schoolboy posted the Snapchat that led the world in a collective sigh of relief: Yeeerndamean made it.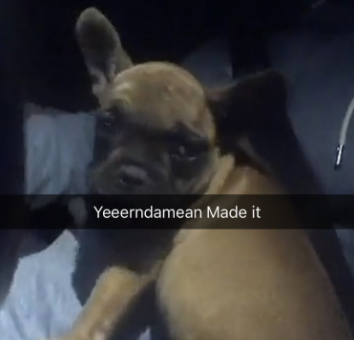 On Saturday, United confirmed to HuffPost:
"Our customer's dog was safely reunited with its owner Friday evening. We have been in touch with our customer to sincerely apologize for this mistake and are providing a refund."
While the pup was returned safe and sound, United Airlines will likely still be trying to recover from this latest public relations fiasco.
In four terrifying incidents this year, a United employee was caught on camera shoving an older passenger; scorpions rained down on customers on two separate flights; one of the world's largest rabbits was killed in its cargo hold; and a man was violently dragged off a flight as the airline demanded seats for crew members.
Schoolboy Q told TMZ that he plans to sue the airline.