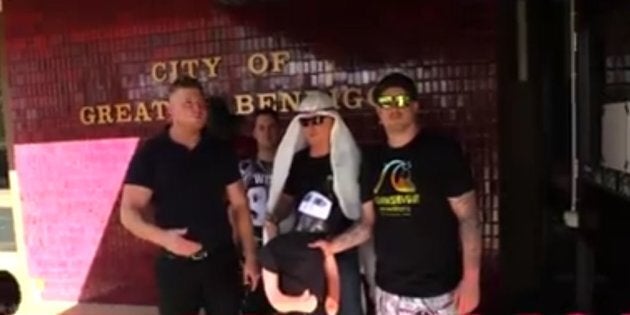 Three members of the far-right group United Patriots Front have been charged with serious religious vilification among four offences stemming from a 2015 protest where they allegedly beheaded a dummy which spurted fake blood, in protest of a mosque being built in Bendigo.
Blair Cottrell, leader of the UPF, said on Facebook that he had been charged with four offences related to "a video which 'incited serious contempt for, revulsion or ridicule of Muslim people'".
Cottrell said the charges were around an incident in October 2015, where members of the UPF went to Bendigo, Victoria, to protest a planned mosque. As part of the demonstration, Cottrell and several other members of the group, including one wearing a Middle Eastern-style headscarf called a keffiyeh, filmed a video outside the Bendigo council building.
The video -- which at time of publication was still available on the UPF's Facebook page, and which we've decided not to feature -- shows Cottrell standing with two other men who are holding an effigy of a man. Cottrell claimed the dummy was made of pillows. The video shows one man using a knife to behead the dummy, which spews fake blood out onto the pavement outside the council building, as the men shout Arabic phrases including "Allahu Akbar".
The video then shows Cottrell picking up the severed head and throwing it at the wall of the building, as the men laugh. The video cuts to a group of people holding Australian flags, led by Cottrell, walking down a street chanting "Aussie, Aussie, Aussie".
Victoria Police confirmed to The Huffington Post Australia that three men had been charged over a protest at Bendigo in October 2015.
"It is alleged the men beheaded an effigy and damaged property in a public area on 4 October 2015," police said in a statement.
A police spokesperson said "a 31-year-old man from South Morang, a 34-year-old man from Frankston, and a 45-year-old man from Wallan" had been charged with charges of deface property, wilful damage, behave in an offensive manner in public, and "serious religious vilification (under the Racial and Religious Tolerance Act 2001)". The men are due to appear in Melbourne Magistrates Court on March 6, 2017.
Cottrell said the men will fight the charges, posting a video talking about the "upcoming legal battle" and asking followers for help with legal fees.
The UPF are one of the most prominent groups in Australia's recent surge in anti-Islam, right-wing activity. The group has been criticised for its vocal and aggressive street protests against Islam and multiculturalism. It also attracted attention after a UPF-branded "stop the mosques" banner was unfurled at an AFL game in April. Cottrell himself has become a spokesperson for the far-right anti-Islam crowd, featuring prominently in media including a televised Triple J panel on patriotism.
ALSO ON HUFFPOST AUSTRALIA