Joe Biden entered Friday on the brink of victory, having overtaken Donald Trump in Georgia and Pennsylvania. Vote totals released since election night have led to Trump's leads collapsing in both critical swing states.
As an official projection of victory appeared ever more certain, Biden's campaign announced that he and vice presidential nominee Kamala Harris would address the nation on Friday night.
As states worked on their official tallies, Trump and his allies continued to lash out and accuse Democrats of fraud ― without offering any evidence. On Thursday evening, Trump hosted a brazenly dishonest press conference at which he baselessly insisted that Democrats were "trying to steal" and "rig" the election.
"If you count the legal votes, I easily win," Trump falsely said.
The states are counting legal votes that are perfectly valid. And those legal votes are increasingly not going for Trump.
Questions remain around five states.
Arizona: The Associated Press and Fox News both projected a victory for Biden on election night, but no other network has since. Although the gap has narrowed during continued vote-tallying, Biden still leads by about 44,000 votes.

Georgia: Biden took the lead over Trump early Friday morning by about 1,600 votes, with votes still left to be counted. The state will be headed to a recount, Georgia's secretary of state said Friday.

Nevada: Biden leads by about 20,000 votes, with an estimated 30,000 ballots still uncounted. Daily updates will come at 12 p.m. Eastern time, including on weekends. Biden is heavily favored to win the state at this point.

North Carolina: Trump leads by more than 75,000 votes, with an estimated 95% of votes counted. He appears to be in a strong position to win the state.

Pennsylvania: Biden leads by around 12,000 votes, having eliminated Trump's lead as the week went on. Biden is heavily favored to win the state at this point, which would be sufficient to deliver him the presidency.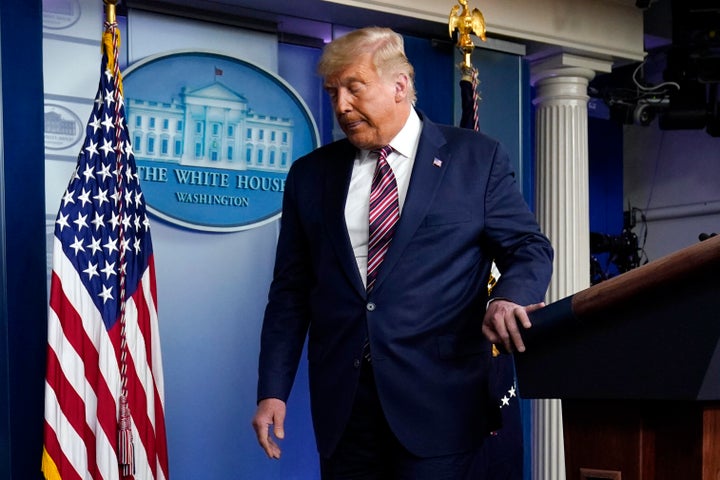 Trump's path to a second term has become virtually nonexistent. To hold on to the White House, he would need to win Arizona, Georgia, North Carolina and Pennsylvania. In only one of those states — North Carolina — does he appear strongly favored to win, while he trails significantly in two of the states — Arizona and Pennsylvania.
Biden, on the other hand, can secure the electoral votes to win the presidency in numerous ways: a victory in Pennsylvania would put him over the top, as would wins in any of the two other remaining states.
The current Electoral College tally is complicated by the fact that news outlets have not agreed on whether to call Arizona. The AP, which HuffPost relies on for its projected results, and Fox News called Arizona for Biden on election night. However, some outlets still have not done so. It's possible that Biden will get to 270 votes per AP projections without a formal concession from the Trump campaign or an end to legal challenges.
The Trump campaign, as it warned it would, has filed multiple last-ditch legal challenges in swing states. In Michigan and Pennsylvania, the campaign wants election officials to stop counting ballots until it receives "meaningful" access to ballot-counting sites and a review of ballots already counted, according to the AP. And in Georgia, the campaign is demanding that state law regarding absentee ballots be followed.
But judges in at least three states — Georgia, Michigan and Pennsylvania — have already rejected the campaign lawsuits.