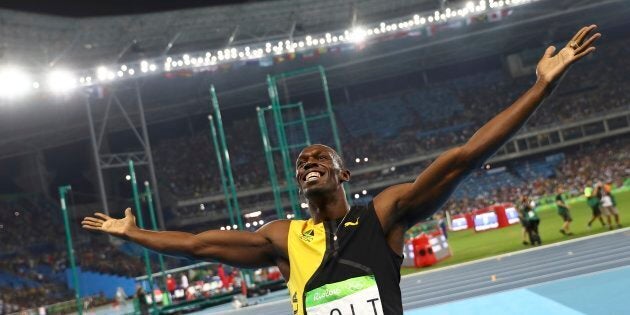 Usain Bolt has won the Rio 2016 Olympics 100m sprint title in a time of 9:81. He had to work, but he got there. Wow. That was so impressive.
Three in a row. Nobody has ever done that in the men's 100m dash at the Olympic Games. But Usain Bolt has now. The Jamaican had his customary slow start but made his just as familiar recovery, and won by a clear margin.
The crowd, who had chanted "Bolt, Bolt, Bolt," as he came onto the track, went nuts.
The Jamaican's longtime rival Justin Gatlin took the silver in 9:89 and Canadian Andre de Grasse claimed bronze in 9:91.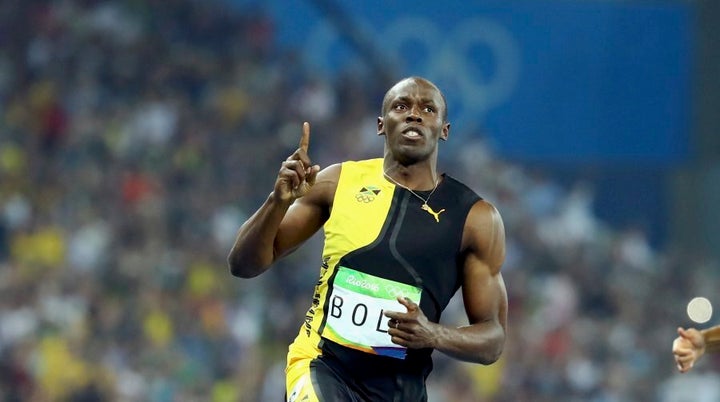 Bolt samba-ed his way into Rio a week ago and has looked as relaxed as ever this week. You often wonder with this guy whether he's more interested in being an athlete or a celebrity, but on a beautiful balmy evening at Rio's Olympic Stadium, the man was all athlete. All 195 cm of him.
It's amazing how easy he makes it look. In his semi he started extra slowly after a competitor broke at the start. One break and you're out at the Olympics. So Bolt deliberately dawdled, or so it seemed. But by halfway, he was in front and stayed there.
In the final, there was the familiar cross of his chest, then the point at the sky. He hushed the crowd with his finger. The crouch. And they were off. Bolt was slow to start again. This time he seemed to take an age to overhaul the field. For the first time in his Olympic career, he really appeared to have a fight on his hands.
But with 20 metres to go, he had them.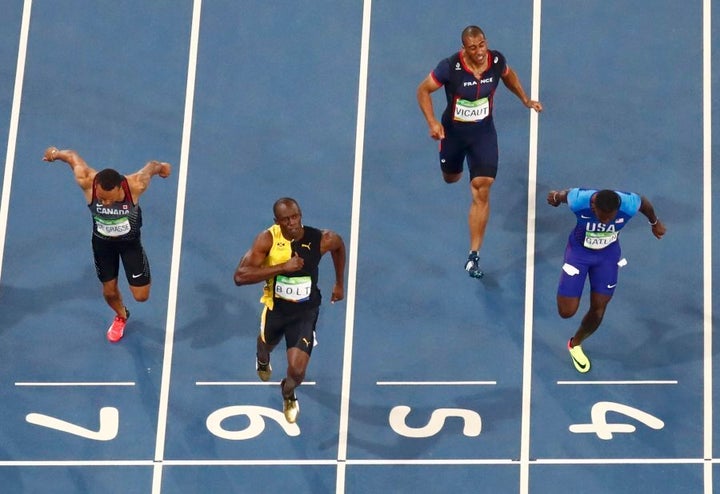 Afterwards, he did a victory lap that seemed to take as long as the Olympic opening ceremony. About three quarters of the way round, he stopped at a contingent of Jamaican fans and gave his shoes to the fans.
Then the moment everyone was waiting for. The lightning Bolt gesture. He's not just he fastest man on earth. Usain Bolt really is the greatest show on earth.
Here's a very unprofessional phone pic of the lightning bolt pose from this reporter's position way up high in the stands.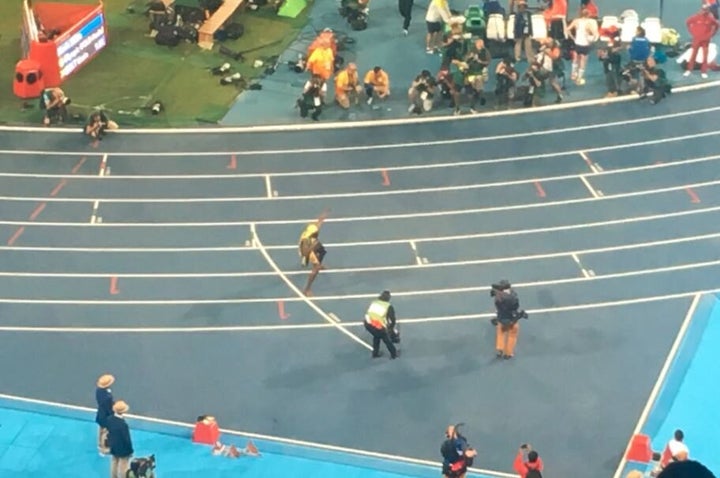 And now here's what the same thing looks like when taken by a real photographer.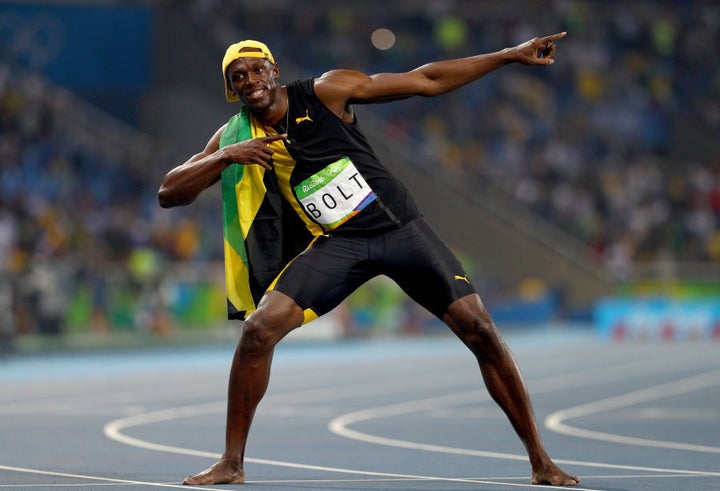 Bolt's world record of 9.58 was set in Berlin in 2009, which seems a long time ago now. There was a theory that Bolt would keep lowering it year on year, but that may now turn out to the fastest run of his career.
But Bolt has proved now that he is more than a fast man. He is a great racer too. Those are two different things.
Spare a thought for the runner-up. Much is made of Bolt's rivalry with US sprint star Justin Gatlin, the 2004 Olympic champion who at 34 years old, was trying to be the oldest winner of this event in Olympic history. Bolt calls him "old man". Gatlin in return calls Bolt "middle-aged man" which isn't much of an insult if you ask us.
The old man was just a bit too old tonight And the middle-aged man might just have enough years on his side to make it four straight.