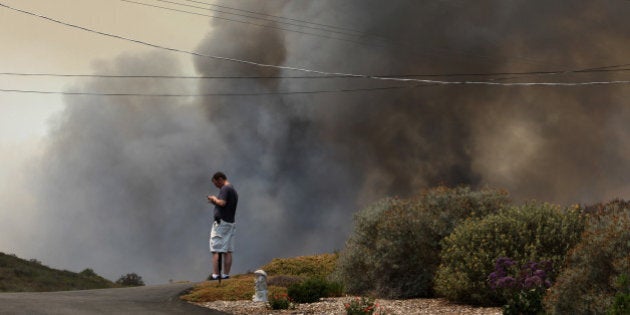 As devastating bushfires destroyed more than 400 homes in Victoria over the new year, a fire information app stormed Australia's top 25 downloads list and it wasn't the official Country Fire Authority's FireReady app.
Vic Fires was created by developer Chris Payne and was downloaded 1690 times in the last two weeks at $1.49 a pop.
Payne told The Huffington Post Australia the app corralled readily available information from the CFA, the Rural Fire Service as well as the Bureau of Meteorology, MetEye, satellite hot spots and more.
Payne, who is a competitive sailor and windsurfer, created his first app "to get as much information about wind/weather data as quickly as possible".
He said this experience got him thinking about bushfires.
"After Black Saturday, I felt I could add value by mapping the fires on an iPhone, with current wind and how that relates to your location," Payne said.
"At that stage all that was available was the CFA website which had a map of incidents, but didn't show where you were on the map.
"I also found the radio warnings that are based on town names -- works well if you are a local and know the towns they mention, but if you are driving through you may have no idea of the danger you are in.
"The other scary thing about Black Saturday was a significant wind change that completely changed the dynamics of the fire.
"I am sure that the CFA would have had accurate information on the wind, but most people would have no idea about when/ where that change was coming."
During recent fires, the CFA's app also helped the community stay out of harm's way.
Wye River brigade auxiliary member Christine Shaw said locals turned to the app when fires were approaching on Christmas morning.
"Most of the locals knew about the fire danger already through the FireReady App so they were ready to go, but we also had to help visitors and tourists that were trying to come into the area," she said in a statement.
Payne's app was created in 2009 and had been downloaded about 50,000 times to date including the 1690 rush in the last two weeks.
It's not the only paid app that uses a mash up of readily available information in an easy to use format; public transport app TripView uses timetable and on-time running data in its $4.49 app which is currently in the top 20 paid apps in Australia. Oz Weather Plus, currently in the top 100 Aussie paid apps, uses Bureau of Meteorology data in the $2.99 app.
Payne said data accessibility was a multifaceted area as developers increasingly took open data from government and turn it into paid apps.
"This is a really complex area, and probably needs to be assessed case by case," Payne said.
"I think there are still opportunities to make a lot of government data accessible in a way that others can justify spending time/effort and dollars to create consumable applications/products."
IT consultant and University of Technology Sydney fellow Rob Livingstone said paying for apps was nothing unusual.
"It's the democratisation of information at its best," Livingstone said.
"People come up with an idea, they push it out in the market and if there's a demand, people will buy it.
"It's about aggregation. The integration of information is often a bit of a challenge. If you take information from emergency services, it's tied to other information. The fire department deals with fires. Marine safety deals with marine safety so when you get a combination of threats, where does one go for a single source of truth?
"When it comes to emergency services, getting timely appropriate information is certainly what we pay our tax for as citizens. So why would anyone pay for the privilege? Well if you as an individual find the freely accessible information too hard for you to understand, you can essentially pay someone go and gather the information and provide to you in a clear format."