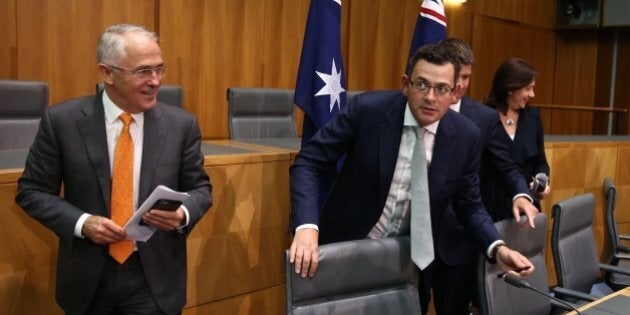 The Victorian Government has announced more than half a billion dollars to combat family and domestic violence over the next two years, a figure which dwarfs the amount given by the Australian Federal Government.
Victorian Premier Daniel Andrews announced the massive $572 million funding commitment on Wednesday, ahead of the state budget this month. Hundreds of millions of dollars will be allocated to building new housing and crisis refuges while supporting existing services, counsellors, prevention programs, support for children, and specialist Aboriginal services.
The Labor Government said it would commit $152 million for a "housing blitz" to build new crisis accommodation and family refuges; $122 million for children's support services and counselling; $104 million for crisis support and counselling; $61.6 million for family violence prevention programs and a Gender Equality Strategy; $25.7 million to work with Aboriginal communities, including early intervention and dispute resolution policies; and $24 million to "begin reforming the justice system so it protects victims and holds perpetrators to account", including the expansion of legal services, "men's behaviour change programs" and helping victims at court.
Andrews has reportedly not ruled out a special tax to fund family violence packages.
The investment of $572 million is a massive amount of money for a state of 5.7 million people -- especially when you compare it to the amount the federal government allocated to the family violence crisis in the last budget, for a country of 23 million.
A review of the 2015-16 federal budget found $120 million was allocated over four years -- just $30 million per year -- for the National Plan to Reduce Violence against Women and their Children, the government's broad umbrella framework for addressing family and domestic violence.
Another $55.6 million over three years -- $18 million per year -- was allocated in 2014–15 to "ensure continuity of front line community services," but the authors of the review note "it is not clear just how much will be targeted towards specialist family violence programs".
In March 2015, the government restored $25.5 million -- $13 million per year -- over two years for in legal support funding including community legal centres, funding which was removed in the 2013-14 Mid-year Economic and Fiscal Outlook. In the same month, $230 million was announced to to extend the National Partnership Agreement on Homelessness -- which includes funding and support for domestic violence, among other causes of homelessness -- until June 2017.
Add to that the government's $100 million emergency injection of funds to the family violence sector in September 2015.
Even assuming the total of that $100 million is to be spent in 2016 -- and being generous to say that all of the funding for general homelessness and legal services was directed specifically to family violence -- only around $160 million could be expected to be spent on family violence this year, in a country of 23 million.
In contrast, Victoria's population of 5.7 million will see nearly $290 million per year -- nearly eight times the rate of funding the Federal Government will allocate.