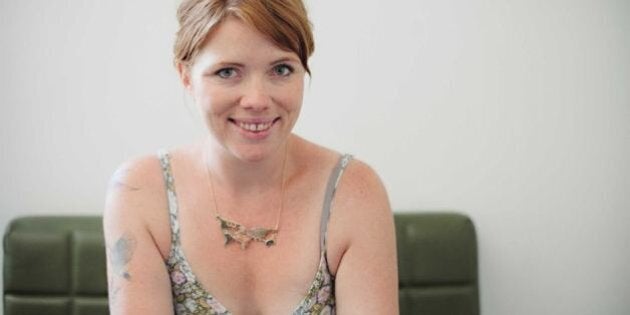 UPDATE: Thousands of people are supporting a Twitter campaign to name and shame men who abuse women online -- using the hastag #endviolenceagainst women. The campaign is the brain child of journalist Kerri Sackville who has had enough of seeing female colleagues threatened with violence and rape.
Sackville is thrilled with the worldwide response to the campaign.
"It's been 'ridiculously successful.' It was the top trending topic in Australia within 15 minutes and continues to trend worldwide. The support has been overwhelming. All sorts of people are joining in and sharing posts and stories, including men. There's some trolling now but there is so much support. Any negativity online is being dealt with by hundreds of people and getting snuffed out very quickly," Sackville said.
While several people are pointing out that there is violence against men as well, not just women, Sackville told Huffington Post Australia the focus right now is on violence against women,
"We can still care about violence against men but today we're focussing on women. The reality is the vast majority of abuse online is perpetrated against women and is very different in nature. When men are abused online it's usually not about sexual violence and hurting children. And that's what we are focussing on today.
High profile female Australian journalists have launched a Twitter campaign highlighting abuse and violence against women -- standing in solidarity with a journalist who has been subjected to threats of rape and murder on social media.
Using the hashtag #endviolenceagainstwomen and naming at least ten males who have threatened to kill and/or rape journalist Clementine Ford, the campaign is the brainchild of journalist Kerri Sackville.
Sackville told The Huffington Post Australia many women in the media are subjected to abuse but few have been attacked to the extent Ford has weathered.
"The campaign was born of reading through the messages on Clem's social media posts and I was horrified. There are men threatening to rape, maim and murder her. As a woman in the media I sometimes get abused but I'm under the radar. So, for me, it's a matter of 'If violence and abuse is directed at one woman, it's directed at all of us," Sackville said.
"Any man who can threaten rape, that reflects such a hatred of women that it's a problem for all women. Yet Clem has been copping it all on her own and I thought this is a way to take the burden off her and speak up and say it's not okay. Most of these men are writing violent, abusive messages under their own names, with pictures of their wives or children. That's a sign that they feel they have nothing to hide and do not fear the consequences."
"I want these men to know that if you attack one of us, you attack all of us."
Ford received a huge amount of abusive comments after a man who had called her a slut on her Facebook post was fired from his job with a hotel chain. Ford received many violent and sexually abusive comments from men – most using their own names and photographs.
Of the hundreds of disturbing social media posts, Sackville has chosen just ten men to target in the Twitter campaign.
"I was inspired by the tweeting of the names of victims of the Paris attacks. It made it feel more real. So I thought, 'What if we tweet out the names of some of these men who are getting away with horrific abuse?' There are more than 1000 women in our group although many are frightened to tweet the men's names as they have been subjected to abuse and violence themselves, so they're understandably fearful."
"It's really a symbolic gesture. There will be no slander and all we will be doing is tweeting #endviolenceagainstwomen from 9am today and writing the names of the men who've set violent, abusive messages. We want to send the message that this behaviour will no longer be tolerated and these abusive men can't keep believing there will be no repercussions."
Here are examples of some of the messages Clementine Ford has received on a public social media platform.
"...show up on your doorstep with an assault rifle and a full combat load. Don't be surprised bitch your ass brought this upon yourself and to be totally f***ing honest I hope he does take you out this man does put you in a grave because that's where you belong."
"Honestly Clem you need to kill yourself, bitches like you just need to die. You feminists just all need to die."
"Bitches like you are the reason men are prone to violence. ..being raped will ruin your life..let's hope you are safe hahahaha!"
"I hope somebody beats your f***ing ass."
"I will personally kick the living shit out of you until Christmas or until the police show up to pull me off you."