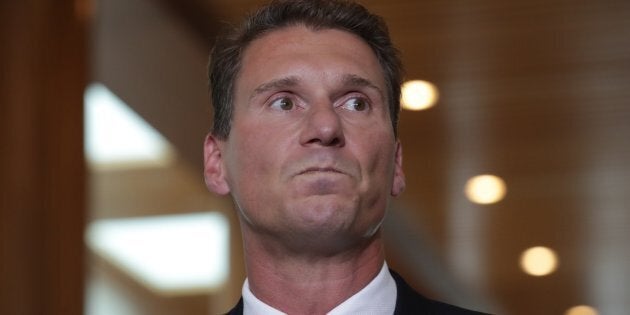 Tony Abbott, Eric Abetz, Peter Dutton, Kevin Andrews, Cory Bernardi and George Christensen were some of the loudest voices against marriage equality in the federal parliament, but all of them -- and more -- watched on Wednesday as their electorates abandoned their views, recording big support for the Yes side.
The Yes side celebrated a resounding win in the marriage postal survey, notching 61.6 percent of the vote, with every single state and territory, plus 133 of the 150 federal electoral divisions, recording a majority Yes response. Just 17 divisions, mostly in western Sydney, recorded a majority No response.
Among the divisions to vote Yes were Warringah, Dawson, Menzies and Dickson, represented by Abbott, Christensen, Andrews and Dutton, respectively, who were among the loudest voices for the No side in parliament. Also voting Yes were the states of South Australia and Tasmania, whose senators included Bernardi and Abetz.
Exactly three-quarters of Warringah voters supported the Yes side, with No only getting 25 percent of support in that electorate. It was the fourth-highest Yes vote in the state, only behind trendy inner-west electorate Grayndler (79.9 percent), the inner-city seat of Sydney (83.3 percent) and Malcolm Turnbull's own stomping ground in Wentworth (80.8 percent).
More than 55 percent of voters in Christensen's north Queensland electorate of Dawson supported marriage equality, while 65.2 percent in Dutton's electorate of Dickson voted Yes.
In Menzies, the Victorian electorate represented by Kevin Andrews -- who made one of the most bizarre contributions to the marriage debate, likening the relationship of gay couples to the relationship he has with his "cycling mates" -- a clear 57 percent of people voted Yes.
Abetz and Bernardi have been two of the most prominent figures in the No campaign, racking up countless media appearances and warning of what they saw as dangers associated with legalising same sex marriage. It appears their own states ignored their naysaying representatives, however.
Abetz's home state of Tasmania was the fourth-most supportive state or territory, with 63.6 percent of voters getting on-board with the Yes movement, while Bernardi's South Australian constituents were next in line, in fifth place, with 62.5 percent voting Yes.
Other politicians opposing marriage equality, such as Barnaby Joyce in New England, Scott Morrison in Cook, Ian Goodenough in Moore, Andrew Hastie in Canning, and South Australian senator Lucy Gichuhi, saw their electorates give majority support to the Yes side.
For their part, however, several of the No-supporting politicians quickly released statements saying they would respect the wishes of their electorate and not stand in the way of marriage equality being legislated in the parliament -- but some, including Christensen, said they reserved the right to simply abstain from any vote rather than actively casting a vote in support of marriage equality.
Christensen said he would vote for the type of bill put forward by Liberal senator James Paterson, which has been savaged for its conditions allowing people with religious beliefs to decline service to customers purchasing goods for a same-sex wedding. In the case of another bill which did not include these conditions, Christensen said he "will abstain, which keeps faith with my commitment - I will not vote against the wishes of my electorate".
Abbott said "The people have spoken and, of course, the parliament should respect the result."
Dutton was less informative in his response, simply stating "the Parliament now will deal with the legislation to implement the change to the law along with protections", again emphasising the 'religious freedoms'.
Abetz was even more grudging in his acceptance of the result, pushing hard for the protections to be placed at the forefront of the next stage of the debate.
"The voices of the millions of "no" voters deserves to be recognised in the framing of any legislation. A hubristic winner-takes-all approach in this matter would ignore the will of millions of Australians who have concerns about changing marriage," he said in a statement.
"To defer, let alone defeat, consideration of these vital protections would miss an obvious opportunity to reduce the valid and very real concerns of many Australians."