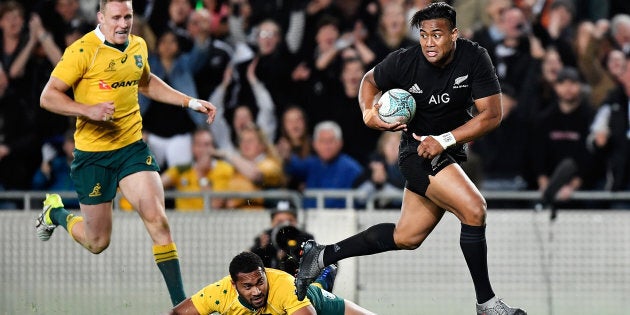 The Wallabies are not going to want to remember this year's Bledisloe Cup series any time soon.
Australia took on New Zealand at Eden Park in Auckland on Saturday in the third and last game of the series and everything that could have gone wrong, did go wrong in the 37-10 loss.
After going down to the All Blacks 42-8 in the series opener in Sydney in August and then 29-9 a week later in Wellington and with the Kiwis looking to set a World Record of 18 consecutive international wins on home turf, this final game was looking pretty bleak before Australia even had a chance to kick off.
And it only took six minutes for New Zealand and an Israel Dagg try to show the Aussies why they're ranked the number one team in the world.
Four minutes later, Anton Lienert-Brown made it 10-0 within the first 10 minutes and Australian fans everywhere let out a collective, familiar sigh of disappointment.
The Cup was slipping away once again.
It wasn't that the Wallabies were playing particularly poorly. In fact, they dominated most of the possession throughout the first half. It's that the All Blacks are the All Blacks and that's enough for them to run away with convincing win after convincing win.
Australia did manage to scrounge some points back with Rory Arnold managing to secure a try in the 30th minute that Bernard Foley easily converted but it was a Reece Hodge kick straight into the charging arms of New Zealand's TJ Perenara that summed up the night and left the score at 15-7 headed into the break.
From there, Foley kicked another goal and managed to stop another All Blacks try by the edges of his fingertips, but it was a Television Match Official decision to reverse a Henry Speight try that left Aussie fans fuming.
Speight made a clear run and a perfect try that would have put Australia in front, but it was an obstruction call on New Zealand's Julian Savea that saw the score remain the same.
Watch the moment below. We'll let you decide for yourselves if the decision was the right one.
A few more penalty kicks and two more tries later and the floodgates had opened as the All Blacks ran away with a 27-point lead and an all-too-familiar victory against the Green-and-Gold.