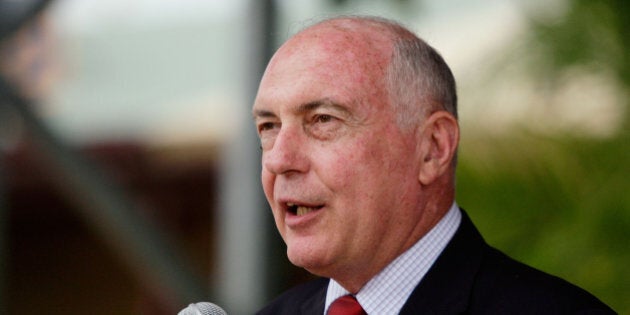 Deputy Prime Minister and leader of the Nationals, Warren Truss, has announced he will retire from politics at the next election, with trade minister Andrew Robb formally announcing his retirement immediately after.
"I informed my Nationals colleagues that I intend to retire from federal parliament at the next election," Truss told the House of Representatives on Thursday afternoon.
"I will stand down as leader of the Nationals and Deputy Prime Minister at a convenient time for the government, probably in the next few days. The Nationals will be meeting this evening to choose a new leadership."
Deputy leader Barnaby Joyce is the odds-on favourite to win a ballot, and may in fact be the only Nationals member to put his hand up.
Truss, 67, has been leader of the Nationals since 2007.
"Warren is the sixth longest federal leader of the party since the Country Party was formed in 1920. His extraordinary service in the House of Representatives to the people of Wide Bay since 1990 means he is the equal fourth longest serving member of today's Parliament," said Larry Anthony, Federal President of The Nationals, in a statement.
"He has been the ballast for the Coalition and a calming force is a sea of change. Since becoming leader in 2007, Warren's proven leadership has worked as the steady hand with successive Liberal leaders."
Robb, who released a statement confirming his retirement on Wednesday night, immediately followed Truss in addressing the House, and also confirmed the end of his time in federal politics.
"I do appreciate this opportunity to confirm to the Parliament my intention to not recontest the next election, my intention to stand down from Federal politics, all politics, actually," Robb said.
"I have to say, I have still got a few things to do on the trade front over the next little while, and hopefully some important things to try and conclude."
Robb made reference to his well-publicised mental health issues, thanking former PM Tony Abbott and current PM Malcolm Turnbull, as well as the rest of the House, for their support over the years.
"I just want to make reference in particular at this stage to the problem I had -- well, the opportunity as it turned out, to confront a mental health problem that I'd had for 43 years, and it came to a head during my time, during Malcolm's first leadership opportunity, and Malcolm could not have been more accommodating and sympathetic and he did help me to leave the shadow Cabinet in a way which didn't bring silly attention on the condition, allowed me to get some space and all the rest of it," he said.
"[Later] Tony had the trust in me to, once I had nailed the problem, and it did take me six months to get to a point where I could manage it, and I'm still managing it, he put trust in me to be Shadow Minister for finance. I can't tell you how much that gave me a lift, just the fact that trust was placed in me after what had happened. And I must say this support helped me achieve what was my aim, which was to seek to get back into good health, to manage the problem, and to be able to demonstrate to others in the community that in fact you cannot only manage the problem, and I think something close to 85% can be cured or can manage the problem and lead a normal life, but that you could go back and not take a secondary role, you can go back and actually assume even greater responsibility."
"It was the trust, not only of Malcolm and Tony Abbott, but so many of my colleagues here, and many on the Opposition benches, and I thank all of you, I thank the whole chamber for the support that I got, and the normalcy that you went on with. That's the most important thing, not to look at it as though you've got three heads because you've declared you've got a problem."
The dual retirements will force an even larger cabinet reshuffle than Turnbull anticipated. He will soon have to announce a new trade minister and infrastructure minister, as well as a cities minister to replace the sacked Jamie Briggs, and possibly a new special minister for state if he decides to permanently relieve the now-temporarily stood-down Mal Brough. Depending on the outcome of the Stuart Robert, he may need a new minister for veterans affairs and human services.