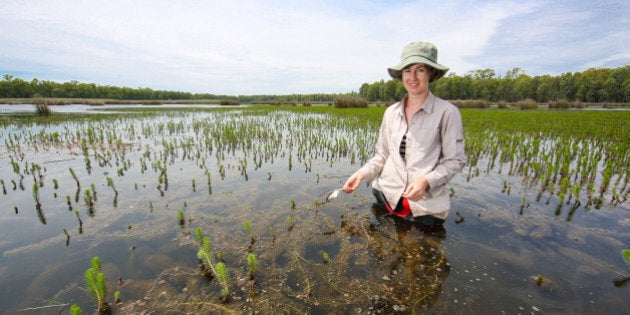 Never before have a string of bird feathers held such promise.
A group of researchers and nuclear scientists have launched a project that aims to track the movements and health of wetland birds across Australia by collecting their feathers.
And they are enlisting the help of the general public.
"We are aiming to improve how we manage the conservation of both wetlands and waterbird populations," project leader and environmental researcher Dr Kate Brandis told The Huffington Post Australia.
"Each wetland has a different food supply which then gets incorporated into the feathers of the birds as they grow. By analysing the feathers, we can get an idea of what the bird has been eating, where it has come from and which wetlands are important for the species."
The project will see the University of New South Wales joining forces with the Australian Nuclear Science and Technology Organisation (ANSTO) to create a 'feather map' that collects the feathers of wetland bird species across Australia.
Dr Brandis, whose research specialises in colonial waterbird breeding, says the species come together on flooded inland water systems (or wetlands) to breed and then disappear in smaller groups -- sometimes for years.
"The birds that we are looking at aren't moving seasonally -- they tend to move more with the weather patterns and the availability of habitat."
Each individual feather that is collected will be analysed using nuclear techniques, including an x-ray 'ITRAX' machine that scans the feather and records up to 21 elements the bird has taken up in its diet.
A sample of the feather is also screened for isotopes of oxygen and carbon to compare feathers from diverse pockets of Australia and link them to specific wetland sites.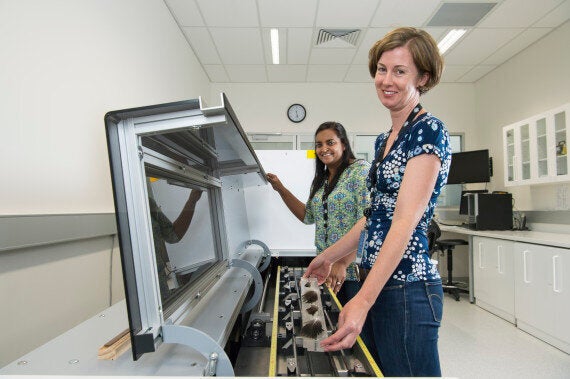 Dr Kate Brandis (right) and Patricia Gadd (left) analyse feathers on ANSTO's ITRAX machine.
At the heart of the project is a vital ecosystem that is being threatened by climate change, flooding and drought.
"A lot of the wetlands are under threat through regulation of river flow. The variability in flows has changed and wetlands aren't getting the same level of water as they used to historically," Brandis said.
"These habitats are not in the same state."
And as a result, waterbird species are also under threat.
An annual aerial survey conducted by the Centre for Ecosystem Science revealed in December the lowest breeding level on record in eastern Australia.
"These wetlands are key sites that deport large breeding events of hundreds of thousands of birds and they require extensive flooding.
"If the wetlands are not getting flooded, then the birds don't breed."
As the project requires drawing samples from wetlands across the country, Dr Brandis and her team are calling on the general public to take part -- from school groups to avid birdwatchers.
"This project lends itself beautifully to citizen science," she said.
"People can pick up feathers where they live locally. Feathers are easy samples that don't require processing...and they can be put in the post!"
HOW TO GET INVOLVED:

Step one: Understand the scientific licence or permit requirements for your state or territory. The 'Feather Map of Australia Project' has obtained licenses from each state or territory in order for members of the public to take part.

Step two: Visit a local wetland and collect feathers that you find on the ground. Take a look around the wetland while you are there and note the birds you recognise.

Step three: Place the feathers in an envelope with information detailing the date and location of your collection as well as your name and address.

Step four: Send your feathers.

For more information, head to the website.