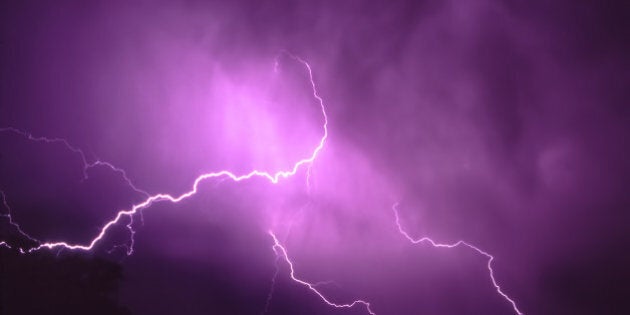 New polling reveals that Australians believe climate change has an impact on national security and that the ADF has a role in addressing the challenges posed. This should be instructive to the Turnbull Government, which has reached its 6-month mark but is yet to release the new Defence White Paper.
Under the authorship of Minister Payne there is renewed hope that climate security will be acknowledged. Indeed the Government must account for the new security landscape confronting the nation; an era when non-traditional security threats like climate and resource security will be as pressing as traditional threats like terrorism or power dynamics in East Asia.
Australians increasingly understand climate change will have a multi-tiered impact on their lives, including their security. Climate change will deliver more extreme weather, more frequent natural disasters, larger and more severe storms and sea-level rises. All of these threaten our major coastal cities, our health and wellbeing, our economic productivity and our natural resources.
Two polls conducted by Essential Media for the Centre for Policy Development (CPD) demonstrate that a majority of Australians acknowledge that climate change undermines our resource security and threatens to destabilise regional order. As a result, they want climate change to be taken more seriously by our defence establishment.
In the first poll from June 2015, 68 percent of respondents agreed that damage to our food supply chain and to our agricultural industry due to increases in extreme weather is a national security threat. In the same poll, 63 percent of respondents agreed that increased international competition for food, water and energy resources in our region is a national security threat.
Ahead of the new White Paper, CPD commissioned a second poll examining public expectations regarding the role of the Australian Defence Force (ADF). Respondents were asked what the main responsibilities for the ADF were, out of five choices: i) fighting conventional wars; ii) providing disaster relief to communities affected by natural disasters; iii) providing assistance in humanitarian crises; iv) undertaking peacekeeping missions; and v) protecting Australia's food, water and energy resources.
A total of 30 percent of respondents believed protecting Australia's resources should be the top priority for the ADF, distinct from fighting conventional wars, which only 22 percent of respondents believed should be the first priority.
When aggregating what respondents believed were the top two priorities from each of these choices, fighting conventional wars actually placed fourth (37 percent), behind providing disaster relief to affected communities (47 percent), protecting Australia's resources (45 percent) and undertaking peacekeeping missions overseas (41 percent). These results highlight that Australians perceive a role for our military in responding to non-traditional security threats like climate change, as well as fighting conventional wars.
Australians' views align with those around the world. A 2015 Pew survey showed a majority of respondents in major developing countries such as China, India and Brazil viewed climate change as the greatest global threat.
In finalising the Defence White Paper, the Government has several international precedents to draw upon. The United States has been incorporating climate security into defence strategies for almost a decade. On 14 January 2016, the US Department of Defense released its latest framework, the 'Climate Change Adaptation and Resilience Directive', listing various instructions including coordinating, scenario-planning and war-gaming with allies on climate security.
On 20 January the US deployed its Great Green Fleet, the USS John C. Stennis Carrier Strike Group, for the first time. The fleet runs on alternative fuels. US Secretary of the Navy Ray Mabus didn't mince words about the Fleet's importance to US interests: "The Great Green Fleet shows how we are transforming our energy use to make us better warfighters, to go farther, stay longer, and deliver more firepower."
The Government must decide whether to embrace the international consensus for more aggressive climate policies across all major portfolios including defence, or continue to pay lip-service to the challenge whilst maintaining a retrograde domestic stance. As demonstrated by the Paris Agreement, the way the world treats climate change has turned a corner and there is no going back.
The forthcoming White Paper can allow our defence establishment to plan and prepare for climatic ramifications far more proactively. It could empower our Defence Department to formulate a comprehensive and coherent Climate Security Strategy, similar to those in the US and the UK. This in turn could enable the ADF to improve both preparedness to climate security challenges and military operations in a changed security environment. It could enhance interoperability and coordination with our regional allies and partners, committing Australia to constructively contribute to improved regional climate security.
Piecemeal policies, like the Department of Environment's National Climate Resilience and Adaptation Strategy, are necessary but not sufficient in the medium to longer-term. A better catalyst for national policy architecture would be an Advisory Council reporting to the Ministers of Foreign Affairs and Trade, Defence and the Environment. These departments have clear interests in working together across their portfolios on climatic impacts, including emerging resource insecurity and regional climate vulnerabilities. Resulting policy would be far stronger as a result. The Advisory Council could include external security policy experts as well as former military leaders.
The release of the White Paper will tell us whether our renewed hope for an improved Government position on climate security is well founded. The longer we dither, the greater the risk to our own national security and wellbeing -- and the Australian people know it.
Rob Sturrock is a Policy Director at the Centre for Policy Development and was lead author of the 2015 report, The Longest Conflict: Australia's Climate Security Challenge.