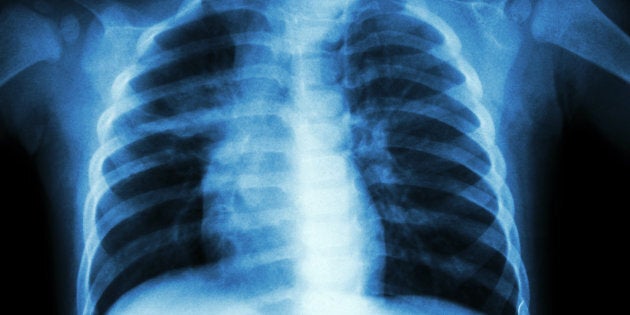 World AIDS Day is an opportunity to remember those who have died during the 35-year global fight against HIV, to reflect on what we've done right in Australia to bring about the end of AIDS and to renew our support for those living with HIV.
It's a sad fact that, in the midst of this optimism, tuberculosis (TB) could derail all this progress. One of the oldest known illnesses, TB is now once again the world's greatest infectious-disease killer. It's also the greatest global killer of people living with HIV: one in three deaths among people with HIV is due to TB.
The two epidemics fuel each other -- undiagnosed TB accelerates the progression of HIV, and untreated HIV can increase the risk of developing active TB -- so they need to be diagnosed and treated together if we're to continue our global advances in the control of HIV. According to the World Health Organisation (WHO) Global Tuberculosis Report people living with HIV accounted for 12 percent (1.2 million) of new TB cases.
As with HIV, we are also fortunate to have brought TB under control domestically; Australia records about 1,000 cases of HIV every year, and our capacity for diagnosis and treatment are strong. But TB is certainly not a distant threat. Our neighbours in Papua New Guinea have one of the highest TB rates in the world, with more than 30,000 new cases reported in 2014. And here in Australia, some hospitals are reporting that TB cases are becoming more frequent.
WHO has identified six countries in our region (China, India, Indonesia, Myanmar, PNG, Thailand) with a heavy burden of both HIV and TB. Despite progress in providing TB preventive treatment to people living with HIV, much more needs to be done. Of a WHO list of the 30 highest-burden countries for TB and HIV, 21 did not report any provision of preventive treatment in 2015. In the nine high TB/HIV burden countries that did report data, treatment coverage among people newly enrolled in HIV care ranged from 79 percent in Malawi to 2 percent in Indonesia.
While some of the countries burdened with these diseases are moving in the right direction, many have not made the necessary policy changes that have translated into improvements for patients. National TB and HIV programmes remain largely separate, meaning less efficient procurement of TB drugs, a lack of information to health facilities and uncoordinated scheduling of services for TB and HIV patients. In addition most of the burden of supporting key TB-HIV activities still falls heavily on often under-resourced TB programmes. For successful treatment the planning and co-ordination of TB and HIV responses needs to be more equitably shared between these sectors of health.
What does the scale of the TB-HIV burden in our region mean for Australia and how should we respond? Australia is the largest contributor of aid to Papua New Guinea, which has a specific problem with drug-resistant strains of the disease. To keep up the momentum against these diseases we need to continue to stand with the people of PNG by maintaining Australian aid, investing it with the organisations with proven service delivery across the country.
Patient advocates, policy-makers and medical researchers who work on TB are well aware of its deadly connection with HIV, but this link needs to be better appreciated by the wider community including governments, donors and those working on HIV-related issues everywhere. Alongside the ill-health they bring, both TB and HIV put a substantial brake on development, causing a range of costs to individuals (including loss of income), national economic output and economic productivity.
Given their close interlinkage, in many places it's not possible to treat HIV without also treating tuberculosis, and any funding cuts to one disease will lead to deaths across the board. With such a limited pool of Australian aid and recently-announced funding cuts to local NGOs delivering HIV-related services in PNG, the fear is that money will in fact be shifted from one
It is unconscionable that people might increasingly live with HIV, but die of TB: there will be no 'end to AIDS' globally without an end to TB. Standing still at a time when we have so much momentum would be like moving backwards and could have costs in the long-term for both regional health security and Australia's global commitments. If World AIDS Day has a lesson for us it is that only with the collective will to do so can we can put an end to deaths from these diseases.
___________________________
Matt Thistlethwaite is the Federal Labor member for Kingsford Smith in Sydney. Together with Queensland LNP MP Warren Entsch, he co-Chairs the Australian TB Caucus, which is made up of parliamentarians interested in how Australian expertise and support can contribute to the global eradication of TB. The Caucus is part of a network of similar organisations in over 120 countries.