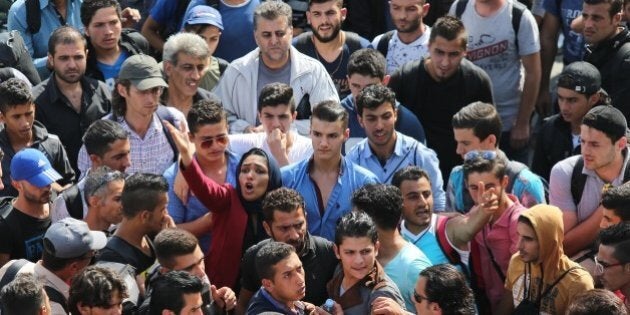 I have just returned from six weeks with Syrian refugees in Jordan.
Through the assistance of Syrian humanitarian volunteers I met and interviewed close to 100 refugee families living in rural and urban communities in the north, close to the Syrian border. I saw for myself how these families live, drank chai (tea) and qahwa (coffee) with them in their very simple homes, and heard about their experiences, hopes, fears and aspirations for the future.
These refugee families were Sunni Muslims, a demographic majority in Syria. Most came from the cities of Homs, Dara'a and suburbs of Damascus -- amongst the earliest hotbeds of Arab Spring student pro-democracy activism and political opposition. Later these cities became key sites of armed resistance to the Assad regime by the Free Syrian Army -- the group the West was previously counting on to save the day in Syria.
Australia runs the risk of denying protection to some of the most persecuted and vulnerable victims of the Syrian civil war if we fail to look beyond Christians, Yazidis and other minorities when determining who to resettle, as political debate suggests.
The Sunni Muslim refugees I met told me that it was the Assad government's bombs and military that had taken the lives of their loved ones, driven them from their homes, and extinguished their hopes and normal human aspirations for a life of peace and security.
They spoke of their torture. I have seen their scars, missing limbs and overt psychological reminders of their persecution. I met widows and wives of missing men who had waited for up to three years to find out if their husbands were still amongst the living. I met an 18-year-old who showed me scars left from a period of torture and solitary confinement in an Assad security cell three years earlier, following his arrest for participating in a pro-democracy student demonstration. I saw a man with the lower half of his body blown off in what his family claims was a barrel bomb blast -- he now urinates and defecates through tubes into plastic bags.
While Syrian child Aylan Kurdi's tragic death has projected an association between ISIS and the Syrian refugee crisis onto our consciousness, for many Syrians, Assad was the reason they left.
Although much recent media attention has focused on the atrocities perpetrated by the ISIS regime, the Assad regime's crimes should not be forgotten.
The United Nations and international human rights organisations such as Human Rights Watch and Amnesty International have pointed out the Assad regime's fondness of barrel bombs, chemical weapons and other collective punishment of civilian populations living in areas under opposition control. UK-trained legal investigators have reportedly amassed enough evidence of war crimes by the Assad regime to make a credible case for his prosecution before the International Criminal Court.
Let there be no mistake: the refugees I met were not ISIS sympathisers.
They wanted peace and an end to the killing and bloodshed on all sides of the conflict. Many spoke of their loathing of ISIS and other jihadist groups, but mostly they were not interested in talking politics at all. Their concerns are survival, pure and simple - where they will find their next meal, how they will find pay for medical treatment, how they will find a safe environment where their children can live normal lives.
There is no denying the prevalence of discrimination against Christians in many parts of the Arab world, nor the terrible crimes against Christians and Yazidi religious minorities committed by ISIS. The reality, though, is that these atrocities sit side-by-side with the murder, torture, persecution and displacement of Syrians who belong to the majority Sunni population and find themselves victims of both Assad and ISIS. The Syrian child Aylan Kurdi, although an ethnic Kurd, was also a Sunni Muslim.
The suffering, tears and losses of Sunni Muslim refugee families from Homs, Dara'a and Damascus should be as much of a humanitarian concern as those felt by the Christians and others fleeing from the ISIS-controlled cities of Raqqa and Deir ez-Zor.
If Australia is genuine about providing Syrian refugees with protection and helping those most in need on humanitarian grounds, then we should protect refugees without discrimination on the basis of religion.
Suraina Pasha is a PhD candidate in Sociology at the University of Sydney. Her research is on the Syrian refugee crisis. The current phase of her research focuses on the lived experiences of refugees in Jordan, being one of the main first countries of asylum.
Popular in the Community