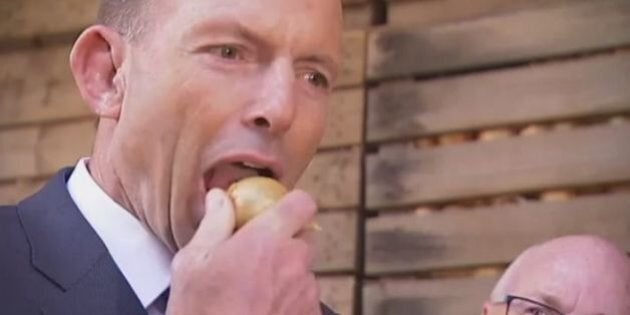 2015 was a weird year for politics.
We saw Tony Abbott get rolled and Malcolm Turnbull take office -- the fifth Prime Minister to fill the position in just over five years.
And with a growing number of politicians adopting -- though perhaps not yet adept -- at social media, it also meant they were sharing more of themselves with us every day.
We'll leave it you to decide if that's a good or a bad thing. But in any case, let's kick things off with something festive.
Bill Shorten Dances Joyfully At Kiribati Community Event
There's something particularly earnest and Dad-like about his dancing -- elbows up and at his sides, with an honest grin, as he grooved alongside locals.
Good on you for having a go, Bill.
Scott Morrison Shakes It Off At Taylor Swift
It's brave, really, that politicians continue to bust their best dance moves and choreographed pieces, even after they're lampooned on social media, by journalists, and in tongue-in-cheek end-of-year wrap pieces.
Cory Bernardi Deletes All Tweets After Voltaire Gaffe
He posted a quote to the Twitterverse -- "To know who rules over you, simply find out who you are not allowed to criticise" -- attributing it to Voltaire.
Unfortunately, the quote was actually probably spoken by Kevin Alfred Strom, a neo-Nazi convicted of child porn offences.
As it currently stands, there's just one tweet now on Bernardi's page -- the somewhat cryptic missive embedded above.
David Leyonhjelm Sings 12 Days Of Christmas In The Senate
There can be no doubt Senator David Leyonhjelm is feeling the Christmas spirit. So much so, he decided to appropriate caroling classic '12 Days of Christmas' into a jaunty ballad on tax issues.
"Given my warm feelings for all the senators in this chamber, I was tempted not to sing it... but given its nature, I really have no choice."
You had a choice, Senator.
Jacqui Lambie Goads Barnaby Joyce In Truly Odd Video
"Our children and grandchildren won't be able to eat dirt, Barnaby, so it's time to stop licking the dirt off the Liberals' boots," she said in the video -- shot in what seems to be her office with a shaky camera and multiple, confusing angles.
Tony Abbott Bites Into A Raw Onion
Tony Abbott ate an onion like it was an apple.
He just jumped on in and took a big 'ol chomp before nodding in approval.
"Better than any other onions I've eaten in a long time," Mr Abbott reportedly said at the time.
John Oliver, host of Last Week Tonight, had a memorable reaction to the incident.
"He ate an onion? He ATE an ONION? He ate an onion like a two-year-old eats an onion, thinking: 'It's round and I've seen round apples! Is this an apple?' No. He did not do that," Oliver said at a Sydney event when told about the onion-eating.
Anthony Albanese Drops a DJ Set
Indeed, not just one set. Beginning in May, 'DJ Albo' dropped bangers in Melbourne, Sydney and Brisbane for charity and fundraising events.
Seriously, what is going on with politicians and Taylor Swift.
Malcolm Turnbull Dances With Australian Flag At ASEAN
Not to be outdone by the Leader of the Opposition, Prime Minister Malcolm Turnbull also had a go at dad-dancing while attending the ASEAN leaders' summit.
Mr Turnbull stands out from the crowd, particularly next to rather sedate flag-waving of his Indonesian counterpart Joko Widodo.
Of course, comparisons between Turnbull and Shorten were quickly made.
Glenn Lazarus Cleans Toilets In Support Of Cleaners
In support, and to pick up the slack left by the boycott, Senator Glenn Lazarus got to work.
Peter Dutton Caught Joking About Pacific Islands' Rising Sea Levels
It wasn't a good look for Immigration Minister Peter Dutton or then-PM Tony Abbott to be caught out laughing at a joke about rising sea levels as a result of climate change.
Mark Latham Behind Abusive Twitter Account
For months, many people were confused as to whether the Twitter handle @realmarklatham was, indeed, the real Mark Latham -- the former Labor Party leader who retired from politics in 2005 and later penned a regular column for the Australian Financial Review.
Latham consequently resigned from the AFR.