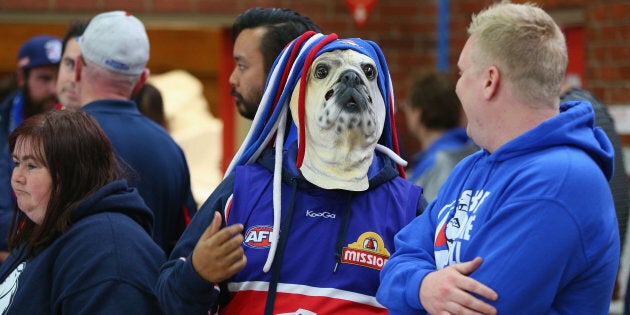 When the final siren blew last Saturday night at Spotless Stadium to set up the Western Bulldogs' first Grand Final appearance in 55 years, I stood behind the goals, bawling tears of joy as my brother tried to wipe them away with my scarf.
In stark contrast, 19 years earlier at the tender age of eight, I stood at the MCG crying as the same brother blamed me for moving seats at three quarter-time and dooming the Doggies to a four-goal turnaround in the final quarter and losing to the Adelaide Crows by two points.
No matter how many times I've told myself how unimportant I am in the scheme of the universe, the guilt of that seat move still lingers.
This Saturday means a lot to Western Bulldogs fans who, last weekend, shrugged off a curse and were given permission to hope for the first time in three generations. Although it is a fairy-tale story that everyone enjoys, come Sunday it may mean that the Bulldogs will have to redefine their identity.
A Bulldogs supporter enjoys the benefit of rarely being judged, and occasionally admired, for the team they follow. A colleague describes them as "hard to hate". After all, in a history spanning 91 years in the VFL/AFL, the Bulldogs have made it to only two Grand Finals (prior to this weekend), and won one. No one, not even a Richmond supporter, can be jealous of that.
They are a team that fits the sentimental idea of the Aussie Battler. The person who, no matter how many times has been kicked in the guts, gets back up; who was born with nothing, and has learned to scrap it together as best they could.
Born out of the working-class suburb of Footscray, the team has never had a comfortable time. For anyone with a VHS player, the 1997 documentary 'Year of the Dogs' shows how tough it was in the mid-1990s when, plagued by defeat and pressures to merge by the AFL, Footscray remained thanks to a die-hard passion and commitment from its team and supporters.
Einstein said the definition of insanity is doing the exact same thing over and over, and expecting a different outcome. This is exactly what Doggies fans have done for 62 years. Each year, regardless of how grim the season before was or how dire the financial outlook is, they have rocked up week-in week-out to support the team, expecting that one-day victory will come.
This doesn't mean they're optimists. Quite the opposite. They are loyal pessimists. Unlike a Hawthorn supporter who might begin a sentence with: "When we win...", a Bulldogs supporter would say: "If, in the unlikely event we win...".
Indeed, many supporters, some as young as 25, resigned to the fact long ago that they would never see the Dogs play in a Grand Final in their lifetime. This is seen each week in the nervous childlike gaze of grown adults who await the turn-around in the scores, even if the Bulldogs are 10 goals up. For a Dogs fan, there is no sense of a safe margin until the final siren sounds. It may be masochistic tendencies, but despite this feeling, a Dogs fan never stops coming to the game.
It may be the fading memory of 19 years of seat-moving-causing-defeat guilt, but already I feel a different attitude to football this week, and it's not just because I never knew so many Dogs supporters existed. It's about what happens if the fairy tale of the team that finished 7th beats the goliath that finished 1st and wins their first premiership in 62 years.
In the unlikely event that we win, will we still be "hard to hate"? Will we shed our fear of hope and become optimists? I already feel I have gained a new burden by just imagining it, and thus dooming them to defeat.