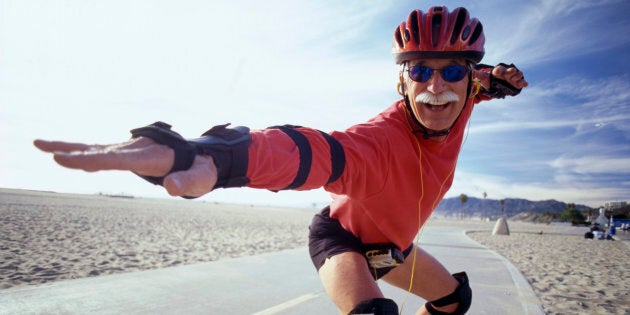 "Women live longer than men".
If I had a dollar for every time I heard that sentence, uttered like it's an unchangeable truth, we would be a long way to having enough funds for the programs to solve the issue.
Globally, men die five years younger on average than women. But what's not commonly talked about is that there's so much we can do to help men catch up with the life expectancy of women and stop men dying too young.
To paint you a picture, around the world, we lose a man to suicide every minute of every day. Men are more susceptible to drug and alcohol abuse problems, and lethal risk-taking behaviour. Prostate cancer kills 35 men every hour.
There's no doubt we have an unspoken men's health crisis that needs urgent action.
First we need to better understand why men are dying too young and what makes them vulnerable. We need action to give men back their missing years, and solid research and evidence to shape that action.
The Movember Foundation partnered with the University of Sydney to conduct new research to explore the complex relationships between physical and mental health, where there are gaps in public understanding, and, consequently, where we can target our efforts.
The Global Health & Wellbeing Survey of over 10,000 men and women in five countries -- Australia, Canada, New Zealand, the United Kingdom and the United States of America -- revealed, among other things, that life's crises can rock men to the core. Alarmingly, almost half of the men surveyed who had experienced major life events they found stressful, reported experiencing suicidal thoughts.
The survey findings paint a disturbing picture of how men's responses during stressful times -- particularly relationship break-ups or losing a job -- may ultimately contribute to health issues that cut men's lives short. Compared to women, men are more likely to respond to tough times by turning to alcohol and other forms of substance abuse, becoming aggressive, taking more risks, and isolating themselves socially.
This is concerning in light of the well-established links between risk-taking behaviour and accidental injury; aggression or isolation and poor mental health; and between alcohol and substance abuse, and a host of short and long-term physical and mental health problems.
We need to fundamentally change our understanding of what a healthy man looks like in the 21st century. A healthy man is well-equipped to weather life's storms. He is not just physically fit, he is also proactive with his health, is mentally and emotionally healthy and resilient, and has supportive social connections. This is illustrated by the survey.
The results also highlight the value of talking to someone for advice, spending time with friends, and supportive social networks for men's mental health during tough times. They show we need to get men talking when things get tough, rather than silently 'toughing it out'. Talk to a friend, partner, family member, GP, or phone counselling hotline.
We need to make sure that the generations of men that follow are much better supported to ensure that the gap in life expectancy is permanently closed.
As individuals, this knowledge can also help us better understand ourselves and the men in our lives, to know when to act and to know the warning signs to watch for.
If you want to be part of the movement to help men live happier, healthier and longer lives, head to Movember.com.
This blog first appeared in November, 2016.