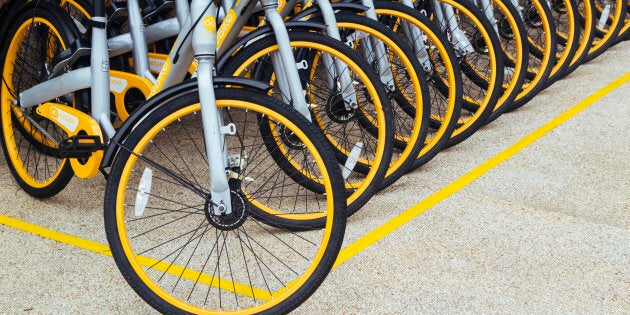 If you've ventured outside in the last couple of weeks, chances are you've noticed some random yellow bicycles scattered throughout your neighbourhood.
At first glance, it may seem as though someone abandoned their bike in the middle of the path (or, if you're really lucky, you might glance one up a tree or in a pond) but make no mistake; that bike has been left there on purpose.
Meet oBike, a Singapore-based dockless bicycle share system (Australia's first) which is currently available in Melbourne and Sydney.
How it works
Users find the bikes nearest to them by using the oBike app (sometimes problematically, the bikes don't use docks and so can be left pretty much anywhere. But more on that later.) By scanning the QR code on the bike, you unlock it and start your rental.
There's a refundable $69 deposit to sign up, and from there, oBike charges $1.99 every 30 minutes. Once you reach your destination, manually lock up the bike and check with your app to make sure it knows your trip has ended.
The company is providing helmets with each bike, but if you don't like the idea of sharing a sweaty helmet with a total stranger, maybe BYO.
oBike has faced some problems with users leaving the bikes in inappropriate places.
Pros and cons
There are, of course, huge environmental and health benefits that come from cycling, and it's certainly a cheaper way to get around than owning your own car.
In this regard, the fact that oBike is providing more people access to more bikes can only be construed as a good thing. However, it's not the only scheme in Australia offering a similar service.
One of the biggest criticisms oBike has faced since it launched in Australia earlier this year has been in regards to what sets it apart from these other schemes, and that's its a dockless system, which, while convenient, still presents several problems in terms of appropriate use.
In fact, Chethan Rangaswamy, head of marketing for oBike Australia, has told ABC Radio Melbourne the issue of where the bikes were being left was the company's "biggest challenge".
This came after a spate of incidents in which oBikes were left up trees or in rivers.
"Smart dockless bike-sharing as means of public transportation is a new concept in Australia and we are going through teething problems," Rangaswamy told HuffPost Austalia. "Public awareness regarding the benefits of bike-sharing is key to overcome these challenges.
"The majority of oBikers are responsible users. Isolated incidents of unsafe parking and vandalism get reported via our feedback channels, our maintenance and services team will spring into action to address them in a timely manner."
Even if you put misuse aside, the scheme still drew criticism after bikes were left in the middle of pathways or even on bicycle racks, clogging them up.
Earlier this month Melbourne council officers impounded 20 oBikes which were deemed to be posing a harzard or obstruction.
Lord Mayor Robert Doyle said the local government was working with the company to agree on what is considered reasonable in terms of bike locations.
"What's not reasonable is when they are in large, cluttered and very unsightly piles all over the city," he said.
"We want extra cycling but in fact this model has already been banned in some cities around the world.
"If they are a public nuisance, if they are just clutter and especially if they're a hazard, then we will impound them."
Yet despite these teething problems, Rangaswamy remains positive about the future of oBike in Australia. With currently more than 1250 oBikes in Melbourne and 1000 in Sydney, Rangaswamy said the company is looking to expand.
"Currently we are only operating in Melbourne and Sydney, We are looking at other cities like carefully with on-ground research, we will soon be announcing our expansion plans. But, the focus is to solidify operations and marketing in Melbourne and Sydney," he told HuffPost Australia.
"We are really happy with the roll out so far in Melbourne and Sydney. We have received positive and constructive feedback from the users, public and local government.
"We see bike-sharing being integrated as part of the wider public transportation. It will operate as an essential but complementary service to the entire transportation network."
Whether oBike is here to stay remains to be seen, but in the meantime, we wouldn't expect to see those yellow bicycles to vanish off your street corner any time soon.