Thousands of people have poured onto the streets of London, blocking roads and bridges in an effort to change the way decision-makers think about climate change.
The group has called for similar protests in some 60 cities worldwide.
The latest action comes after activists from the group shut down parts of central London in April, and in the summer concentrated their efforts in cities such as Bristol and Manchester, bringing major transport routes to a halt and conducting a number of non-violent demonstrations.
Protesters have said they will remain on London's streets for "as long as it takes". Met Police said officers had arrested more than 100 people on Monday morning.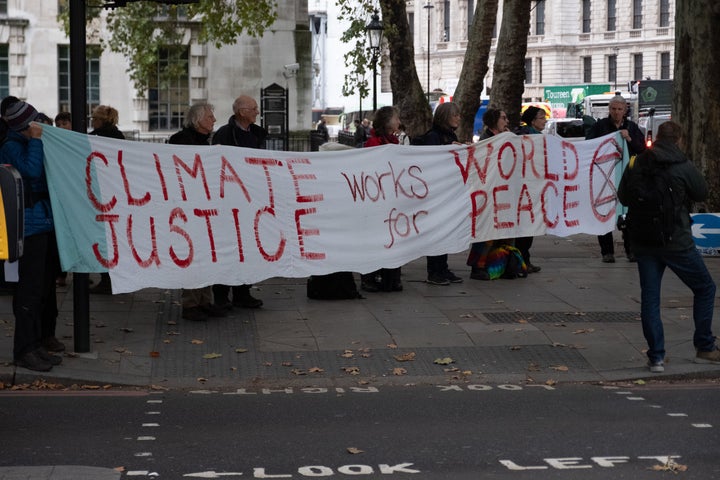 But what do the protesters actually want?
In a nutshell, they are calling on the government to address the issue of climate change much more urgently. They are appealing to lawmakers to "take responsibility and enact immediate, profound and sweeping changes to address this present-day crisis".
Although many people in recent years have taken steps to live a more sustainable life – think bamboo straws and reusable shopping bags – the activists want government to take much bigger steps to limit climate change.
"The whole thing is so urgent that it is imperative the government should take serious actions and put pressure on other states and global powers to radically reduce the use of fossil fuels," said Sarah Lasenby, an 81-year-old Quaker and retired social worker who was among those arrested on Monday after she tried to block Victoria Embankment outside the Ministry of Defence.
Extinction Rebellion itself is founded on three central tenets: "tell the truth", "act now" and "beyond politics".
The first of these calls upon government to acknowledge the dire need to confront climate change, by declaring a climate and ecological emergency and working with as many organisations as necessarily to facilitate change as urgently as possible.
The second demand protestors are making is for the government to act immediately to reduce greenhouse gas emissions to "net zero" by 2025 and halt biodiversity loss – the extinction of both plant and animal species.
In June, Theresa May's government committed to cutting emissions to zero by 2050. But Extinction Rebellion has said that this target does not go far enough to protect the planet.
Third, campaigners want the issue to be resolved "beyond politics", calling for government to form – and be led by – a citizen's assembly which would deal with issues around "climate and ecological justice".
Activists envision this assembly taking a form similar to that of jury service – ordinary people selected at random from across the country, reflecting the nation's population over gender, age, ethnicity, education and geography.
Other countries such as Ireland, Canada, and Belgium have used a citizen's assembly model to help inform debate around divisive issues, and the UK's parliament has also experimented with the format.