Understanding whether a food product is healthy or not can be a hard task for many. There are misleading food labels (like 'natural') and many nutrition factors to consider -- such as fat, sugar, salt and fibre content -- which is why the 'Health Star Rating' system was introduced.
Using a rating from half a star to five stars, the Health Star Rating is designed to "help take some of the guesswork out of shopping and help us to make smarter choices when it comes to buying packaged food".
The system was developed through a "collaborative process between Australian, state and territory governments, the food manufacturing and retail industry, public health organisations and consumer representatives".
But the food rating system has been met with confusion and outrage from shoppers -- Milo, for example, has a Health Star Rating of 4.5 stars, which is hard to believe considering it's 46 percent sugar.
It's not just shoppers who aren't pleased with the Health Star Rating system, however. Health experts, like accredited practising dietitian Chloe McLeod and nutritionist Fiona Tuck, regard the system as "confusing" and that it "oversimplifies" nutrition. We'll get to their thoughts soon.
First, let's take a look at how the Health Star Rating system works.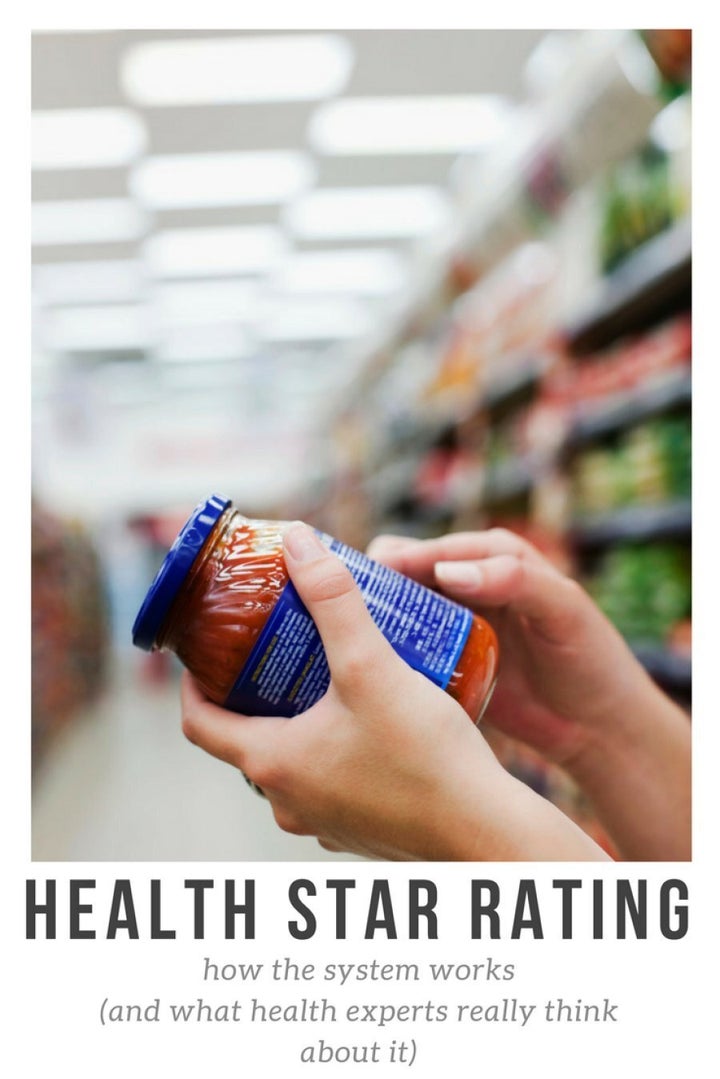 "From my understanding, there are a number of different categories which they're looking at, and they rate the product on factors like the overall kilojoule content and how many 'risk' nutrients are in the food (saturated fat, sodium and sugar content)," McLeod told HuffPost Australia.
"It's also looking at the 'positive' nutrients such as dietary fibre, protein and how much vegetables, nuts, legumes and fruit there are."
The Health Star Rating system doesn't compare every single food item in the supermarket as a whole, as many people believe. It compares the nutritional profile of foods within the same category of packaged and processed foods.
For instance, breakfast cereals is one category and muesli bars is another. So, a high health star rated muesli bar might be 'good' for muesli bars, but not 'good' when you compare to foods as a whole or to other foods like fruit, nuts and vegetables.
Health Star Ratings are based on:

Total energy (kilojoules) of the product. An average Australian adult should consume around 8,700kJ a day;
The saturated fat, sodium (salt) and sugar content. Consuming too much of these risk nutrients is linked to being overweight and obese, some cancers, heart disease and type 2 diabetes;
The fibre, protein, fruit, vegetable, nut and legume content. Increasing consumption of these healthy nutrients and ingredients is good for your health.

Source: HealthStarRating.gov.au
According to the system, the more a food product can tick those boxes, the better and healthier the food product is -- but there are a few key flaws to this system, health experts explained.
1. The Health Star Rating system is often confusing and misleading
"My personal view is that the system is confusing. Whilst the motive behind the stars was to encourage manufacturers to make healthier products, and for consumers to make more educated healthy choices, the system is misleading," Tuck told HuffPost Australia.
According to Tuck and McLeod, the Health Star Rating system often overlooks healthy foods. While some food products may not tick every 'nutrition box', this doesn't mean they're not healthy.
"That's where it gets difficult. For example, full fat Greek yoghurt is high in fat and most of that is saturated fat. However, we know it hasn't been processed and it contains important nutrients," McLeod said. "Yes, it's not going to be high in fibre like fruit, vegetables, nuts and legumes, but it's still a healthy choice."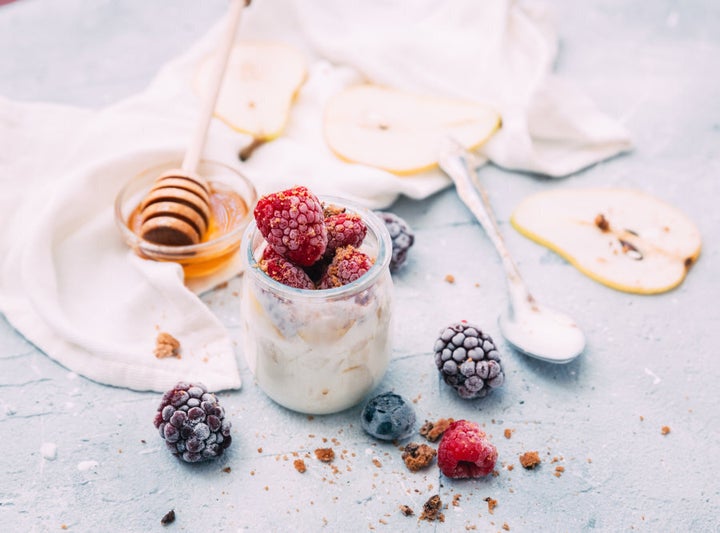 2. The system is easy to manipulate
Due to the nature of the Health Star Rating system in the way it 'ticks' boxes, one criticism is that it has become easy for food manufacturers to manipulate, Tuck explained.
"Fresh, minimally processed products that are high in nutrients, such as natural yoghurt, can come in with a lower score than highly processed foods such as Nutri-Grain and Milo," Tuck said.
"The ratings are flawed, as a healthy, highly nutritious fresh product that has a little less fibre would get less stars than a processed food high in fibre that may also be high in additives and artificial ingredients.
"The system can be manipulated, for example, by adding fibre to high-sugar cereals to make it appear healthier on the label."
Yes, it might be ticking those boxes, but it doesn't necessarily mean it's the number one choice I'd be suggesting to people.Chloe McLeod
"The reason Milo has 4.5 stars is because they're allowed to say 'when it's consumed with milk'. If it was rating Milo on its own there's no way it would have 4.5 stars. It's an imperfect system," McLeod added.
Not to mention the fact that "the system is completely voluntary" at the moment, meaning food manufacturers can use the system selectively to decide whether a product displays its Health Star Rating or not.
"If the star system isn't being used comprehensively across all products it makes it harder for consumers to make healthier choices," Jane Martin, executive manager of Obesity Policy Coalition (OPC), told The Sydney Morning Herald.
"The system's been around for 2.5 years and companies know how it operates. Consumers are being kept in the dark."
Martin suggests shoppers should be wary of relying only on the stars and instead read the nutrition information panel.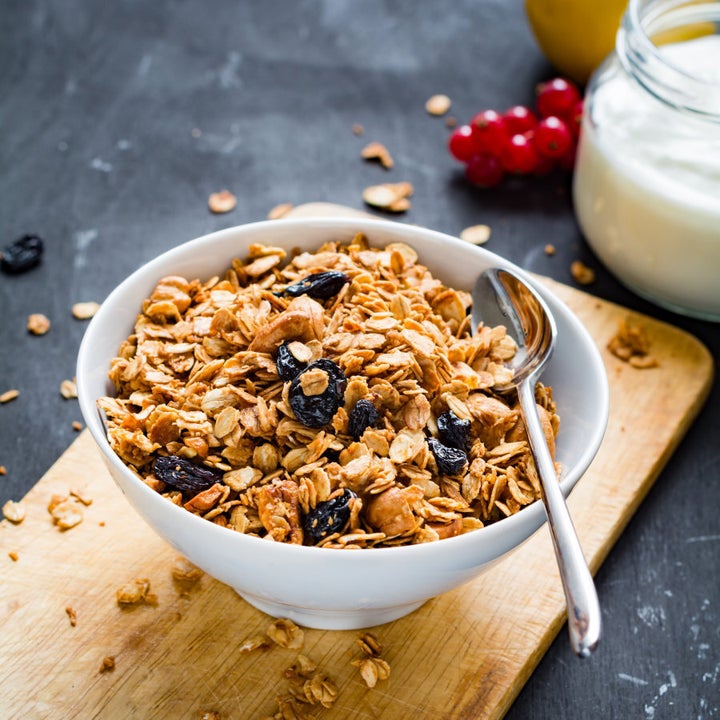 3. The system oversimplifies nutrition
While high-rated food products can certainly indicate nutritious properties, this doesn't mean the product is the healthiest or best food option.
As Mark Lawrence, Professor of Public Health Nutrition at Deakin University, and Christina Pollard from the School of Public Health at Curtin University write in their article on The Conversation, the Health Star Rating system gives foods with any amount of stars a "halo effect".
"Its main design limitation is that it simplistically frames the cause of, and solution to, dietary imbalances in terms of nutrients. This is fundamentally at odds with the latest nutrition advice, which uses a food-based approach," Lawrence and Pollard wrote.
An example of this can be found in breakfast cereals, McLeod explained.
"Sultana Bran has around 4.5 stars because it does have a decent amount of fibre and some fruit, which brings it up, where otherwise the overall sugar content isn't great," McLeod said.
"This is where the system can get very confusing. Yes, it might be ticking those boxes, but it doesn't necessarily mean it's the number one choice I'd be suggesting to people.
"Whilst [the system] has obviously been put into place to try to make it easier for people to make healthy food choices, to use one system to rate all of the different products which are available (when they have varying nutritional qualities) is too difficult.
"Trying to oversimplify has confused people more and has resulted in discontent within the community."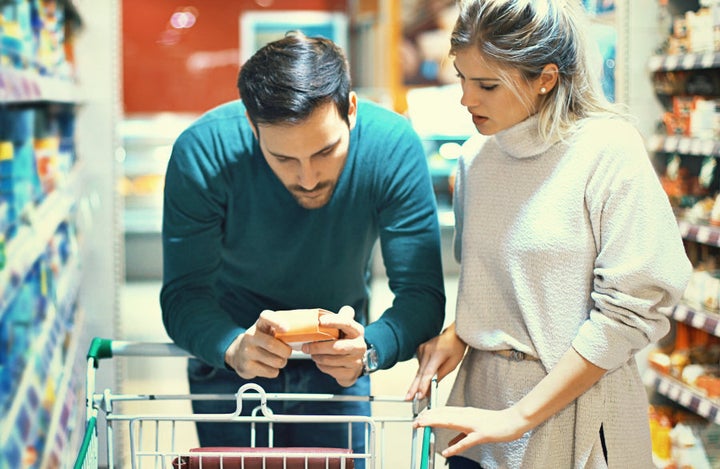 In a statement, the Dietitians Association of Australia pointed out, "on the whole, DAA is supportive of front-of-pack labelling. But we also know that a rating system like this is complex, and there is no perfect solution".
Cancer Council Australia also supports the Health Star Rating system and "is committed to encouraging consumers to use the scheme to make healthier choices, but there are some anomalies that need to be corrected".
"If not addressed, this may undermine the system and threaten consumer confidence in the system. On the whole, the Health Star Rating system provides guidance on the healthier choices within a category," Wendy Watson, Nutrition Program Manager at Cancer Council NSW, told HuffPost Australia.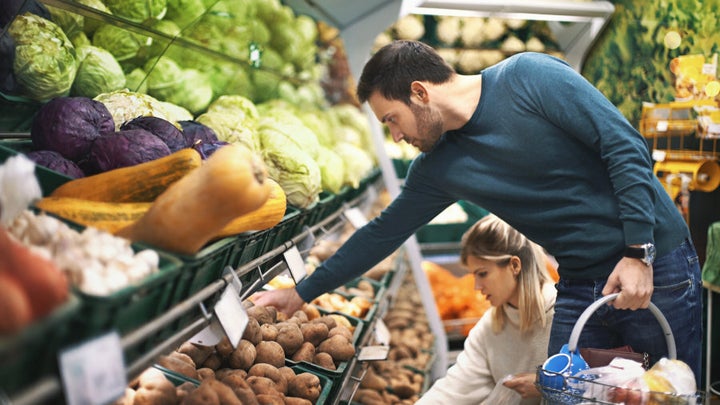 So, how should we best find healthy food options at the supermarket?
"The best way to do it is to educate people around how to figure it out for themselves by looking at the nutrition information panels and ingredients lists," McLeod told HuffPost Australia.
"Rather than simplifying it, let's spend money on teaching people how to do it for themselves. That's my personal view. It's better to teach someone to fish, rather than just give someone a fish.
"If you're just giving them a star, that's not giving someone anything which will help them long-term. Whereas if someone understands how to discern whether a product is healthy by themselves, then it's going to be much more beneficial in the long-term.
"People aren't stupid and it's not difficult to read the labels -- once you know what you're looking for. It's only confusing when you don't know what you're looking for."
How to read nutrition information panels and ingredient lists
The next time you're food shopping and want to know how healthy a product is, flip the packet over and look at the nutrition information panel. The main columns to be looking at are fat, sodium (salt), sugar and fibre.
Use this LiveLighter graphic on how to read nutrition information panels: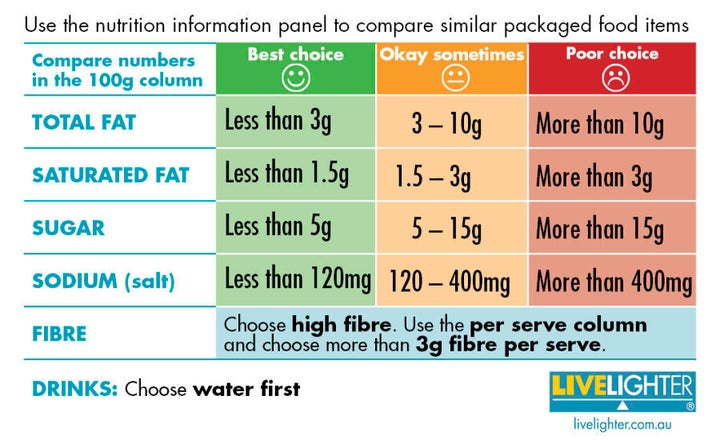 The ingredient list displays what's in a food product in descending order -- that is, the first ingredient is what the product contains most of and moves down to what the product contains least of. Be mindful of what ingredients are at the beginning of the list (e.g. sugar) and try to stick to lists which are short.
"As a very general rule, usually the more ingredients a product contains and the more numbers on the back of the label, the more processed it is. The fresh, natural products are better for us, are less processed and without the nasty additives," Tuck said.
Better yet, choose food products which don't even have nutrition labels or health star ratings.
"By simply choosing food which doesn't come in a packet -- fresh vegetables, fruit and so on -- you don't even need to decipher the label. They don't come in a packet because there's been nothing done to them. Those products are going to be the best for most people," McLeod said.
HuffPost Australia has sought comment from the Department of Health and will add it to this post.
Click below to subscribe to the Refresh podcast by HuffPost Australia on iTunes.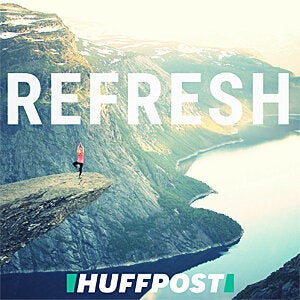 ALSO ON HUFFPOST AUSTRALIA