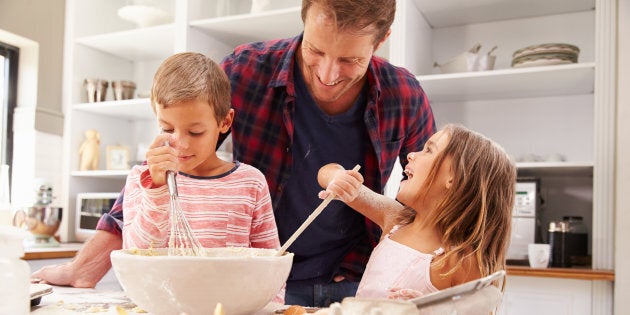 With three kids under five and my wife about to launch a new business, I decided it was time for me to take on the role of primary carer. I thought it would be a nice chance to spend time with the kids, take a break from the work-life routine and watch the World Cup in real time.
But as any stay-at-home parent can tell you, what I got was so much more.
Here's a few things I discovered while caring for my four-month-old, two-year-old and four-year-old full-time for three months.
Parenting is a full-on job
I used to wonder what my wife did all day with the kids, and why when I got home at night the house was such a mess. Then I had my time at home. It was impossible to keep things in order. Keeping one let alone three small people alive all day is not conducive to keeping a tidy home. If anything, it's detrimental to it.
Practice makes... better (not perfect)
Having the opportunity to be in the trenches all day by myself taught me a lot about parenting. What's more, the confidence in my ability to care for my kids grew enormously throughout my parental leave. No parent can be perfect all the time, but like most things in life, the more practice I got, the better I found I could manage, embrace and enjoy a day out with three kids under five.
It can be isolating
Being the stay-at-home parent can be isolating and lonely. There is a lot of home time and not much adult conversation. Even when we did get out and about, there weren't many other dads around and I didn't quite belong in the mother's groups.
Some days, the time with the kids was magical -- I felt so lucky to have the opportunity to be the primary carer. But other days I didn't know who I was anymore.
By taking parental leave, I was able to appreciate and understand why my wife would sometimes want to chat and chat and chat when I got home, and sometimes just wanted to just escape into an episode of Madam Secretary.
You need to plan ahead
I didn't realise how important the daily routine and thinking ahead was before I became the stay-at-home parent. I'd never understood why my wife always got so stressed when we were running late or if I didn't have the kids' bags packed on time. But during my parental leave, I realised that not being organised can blow the whole day out of whack, and create a huge amount of stress trying to get things back on track.
Take swimming class, for example. It's not just that you have to get your kids to swimming by 11 am. You have to be in the car by 10:45 am to get to swimming by 11 am. So you have to have the bags packed by 10:30 am to get the kids in the car by 10:45 am to get to swimming by 11 am. So you have to prepare the snacks by 10:25 am to have the bags packed by 10:30 am to get the kids in the car by 10:45 am to get to swimming by 11 am. So you have to find the googles by 10:15 am to prepare the snacks by 10:25 am to have the bags packed by 10:30 am to get the kids in the car by 10:45 am to get to swimming by 11 am. And this timeline doesn't even accommodate for lost "essential for swimming" toys, tantrums, nappy explosions and "just one more Peppa Pig, pleaseeeeeeeeee".
The number of times I got to 10:40 am and thought "Crap, where are the bathers, where are the goggles, why are there no snacks?" and ended up missing the first half of swimming and spending $45 on killer pythons and milkshakes at the pool... well, it was many.
Long live the cheesy-mite scroll
Cheesy-mite scrolls are a key backstop for almost anything.
Dinnertime is chaos
When I'd be sitting at work at 5 pm reading over a document and fixing the neck-tie around my shirt to get a bit more comfortable, I had no appreciation of the chaos that was about to hit my wife at home.
The 5 pm to 7 pm rush can be absolute mayhem. My tip for inexperienced dads -- start planning for dinner at 4:30 pm to give yourself a solid chance getting it on the table by 5:15 pm (see above about being organised).
And have a back-up plan and a back-up, back-up plan, because they probably won't want to eat the dinner you serve, or the back-up meal, and then its 7 pm when your wife walks in and the kids are still sitting around the table eating biscuits and sipping juice boxes.
You skill up in a way no workplace could teach
I learnt so much more about organisation, communication, time management and dispute resolution during my parental leave than any workplace could have taught me in three months. Paternity leave is not a break in your career, but an enhancement of it.
You get so many more magically special moments
While looking after kids all day is, for the most part, really challenging, it's those small moments -- like when you are jumping with them on the trampoline or they give you a cuddle -- that you treasure. It's these times that you realise how much you love your children, and it's a love that is so deep it is almost painful.
And sure, I got these moments as a full-time working father, but not every day and not with the same level of appreciation as I do now.