There's an awkward moment in 'That's Not Me' that really summarises the struggle of the main character, Polly.
She's just looking for that organic brand of tampons and asks a woman working at the supermarket for help. The woman recognises Polly from all the work she's done on TV.
"It's actually my twin sister," Polly says, defeated.
The woman doesn't buy it, assuming Polly is being a snob, but she isn't -- she's just a twin.
The film stars Alice Foulcher as Polly, who co-wrote and produced it with her husband, the director, Gregory Erdstein. Foulcher and Erdstein have worked on short films in the past, but their debut feature is a stunning exploration of identity, the industry and the thirst for fame.
Foulcher plays both Polly and her sister Amy, twins who both decided to be actresses. While Amy is starring in soaps and being chased for an HBO series with Jared Leto, Polly is struggling to make it through the day working at a cinema, desperate to break through to become the "famous twin".
The film came about when Foulcher and Erdstein were at a film festival.
"There was a film featuring an actor that we knew of and were talking about and I said 'Are you sure it's not their twin?'" Erdstein told HuffPost Australia.
"Sure enough it was their twin. They're both actors, so that was the initial kernel of the idea what would happen if you were in an industry where your entire currency was what you looked like and who you were?"
Most famous twin pairings tend to lean into the mystique around their identical sibling, the likes of Mary-Kate and Ashely Olsen creating entire empires out of being twins.
But what about the other world, where two identical twins are trying to make it on their own in the same industry?
"They came to see the film when it played at the Sydney Film Festival," Erdstein said, "and mobbed Alice afterward. We had basically made the movie of their lives."
"It was so encouraging to get that feedback, that we had got it right," Foulcher added.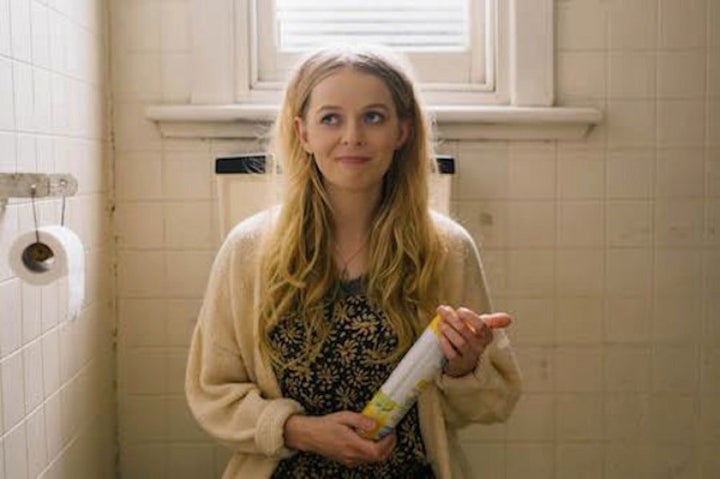 But the film isn't just a quirky comedy about twins, rather an exploration of Polly, what drives her and her wild antics throughout.
Polly is a tragic figure, there's comedy in her terrible desperation and her unfaltering desire to be famous, whatever that means.
Foulcher plays into every flaw of hers, making her unbearably real at times.
"I think the problem with Polly isn't that she wants to be an actor, it's that she never stopped to ask why, or if it's something she actually enjoys," Foulcher said.
"I was certainly like that, since primary school it was the thing I was going to do until I was in my early twenties when I stopped to reassess.
"I ended up emailing a lot of my actor friends, particularly women, asking them why they wanted to be actors, which is one of the themes in the film. It kind of became about reassessing childhood dreams as well."
Polly's relationship with fame is wrapped up in how she interacts with her sister, seeing her likeness picking up the roles she believes she deserves, there's a friction. Of course she's happy for her sister, but she'd be happier for herself.
"A lot of feedback we got from actual twins was that one of the hardest things was not being considered your own person, being one half of something. Being associated this whole time as being a 'twin' rather than your own person," Foulcher said.
"And the film's kind of about what we value and why we do the things that we do, particularly when it comes to female competitiveness. We hadn't seen a lot of movies about female relationships and the way they change, so I like the idea that Polly and Amy aren't just sisters. There's a friendship there that changed at some point."
'That's Not Me' is about Polly, her dreams and relationships, but it's also a film about film. There are intricate nods to the inner workings and personalities of the industry, and speaking to Foulcher and Erdstein it's so overwhelmingly apparent that this is their world.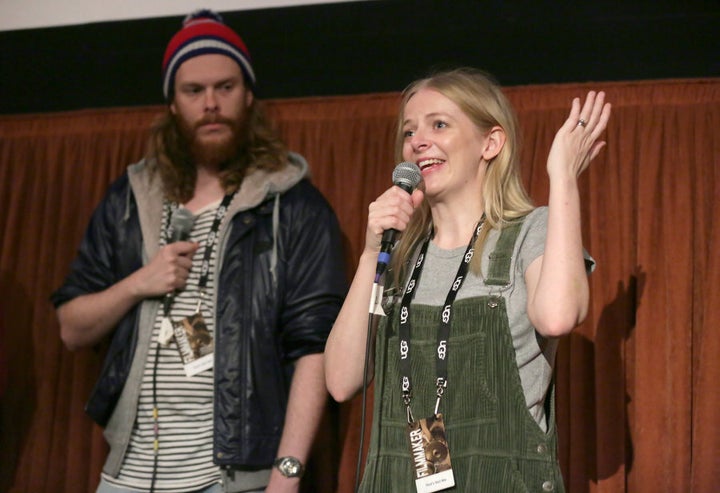 "The film industry is a deaf machine," Foulcher said, "which I find really liberating. I don't see it as a negative thing at all, but it doesn't care if you succeed, you're not owed anything. The industry is littered with assholes who succeed. That's just how it works."
At one point during 'That's Not Me', a character trying to break into the business admits they don't watch Australian movies. It's startling in how realistic it is when you've had a conversation with anyone about movies.
"It's so hard to get people to watch Australian films," Foulcher said, "and it is a shame because the other day on the plane I was watching the David Stratton documentary ['David Stratton: A Cinematic Life'] and I was just filled with pride for the amazing cinematic history that we have."
"I don't know why but it is hard to get people to cinemas for Australian films. I don't know if it's because there have been a lot of darker films, that's not necessarily when you switch off at the end of the day, they're less likely to go see a 'Hounds of Love' or 'Berlin Syndrome', even though they're terrific films, they're really hard going."
"It seems to go in waves," Erdstein added. "There are so many great Australian films out this year but if there's not a great year for Australian film then they'll start writing a eulogy. You can almost set your watch by it, every two to four years there'll be a eulogy for the state of the Australian film industry."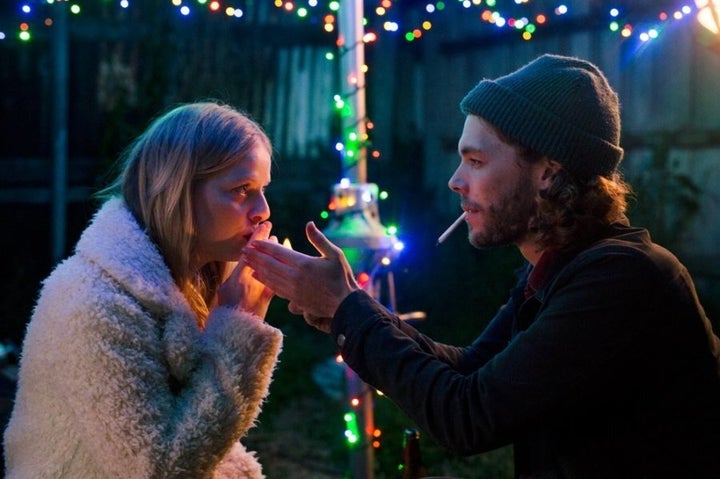 The pair are dynamic and warm, which comes across in how loving they are to each of their characters, despite how outwardly terrible they may be.
Dabbling in short films, the pair's playful darkness comes through as they explore these strange circumstances they put their characters in.
"One of our lecturers at film school said to us that the problem with a lot of student short films is they're either angst or whimsy, so we decided to find somewhere in between," Foulcher said.
That's where it seems the pair have found their home, between whimsy and angst, and full of heart, 'That's Not Me' is the perfect blend of comedy and tragedy which Foulcher and Erdstein seem to delight in.
'That's Not Me' will screen exclusively at Palace Cinemas from September 7 with Q&A screenings across the country. For more information check out the 'That's Not Me' website.