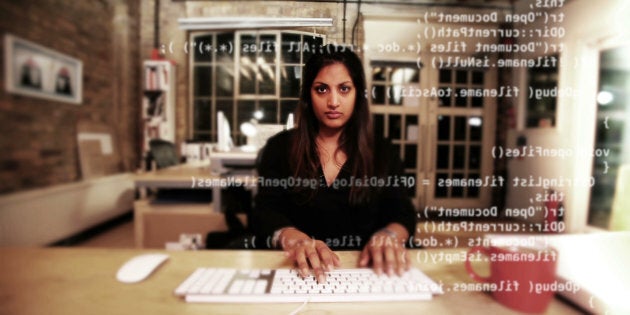 The tech industry is often portrayed as chiefly a male career option, where women needn't apply. And, with women making up only 31 percent of roles in IT, it does appear the male stereotype has reinforced itself attracting 70 percent more men than women.
The numbers of females in tech exec roles are even lower with women making up just 14 percent.
For women in tech, this is their first hurdle -- getting hired over a man. Although many employers aim for a 50/50 division, such as NAB Women in Technology, the percentages for system engineers, analyst programmers, and project manager IT in NAB alone barely reach 30 percent.
The reality is that some of this lack of balance is due to the smaller number of females applying for these roles.
Some women note harbouring feelings of inadequacy and even experiencing 'imposter syndrome' in the beginning of their tech careers.
So how can we start pushing for more equal representation?
As a female executive working for a Digital Agency, this is a topic I feel strongly about. I am fortunate enough to work for a company that embraces diversity and has supported female growth and development into senior leadership roles. The reality, however, is that it is disproportionate. In our executive team, we are still two females in a group of six. And our challenge as a company is encouraging females to apply across all of the technical roles we offer.
A question many find themselves asking is: perhaps more men are drawn to tech jobs than women?
But it's unlikely it is a pure coincidence that certain occupations attract more of one gender than the other. As women, there is certain cultural conditioning we have to overcome in order to feel we have a place in particular industries -- like tech.
Some women note harbouring feelings of inadequacy and even experiencing 'imposter syndrome' in the beginning of their tech careers. Working in a male-dominated field where even some U.S. companies refuse to diversify their staff because they didn't "want to lower the bar", would leave any woman feeling a constant urge to prove their place and worth.
For those not working in tech, this may seem ridiculous... and it is. There is enough pressure on a person entering a new industry, let alone having your worth aligned with an apparent inferiority of your sex. It's unsurprising then that women often feel inadequate, question their work and worth, fear asking for assistance on projects and shy away from promoting their successes.
But, there are some great advantages that some young women may not yet consider when they think about working in tech.
First, it's often underestimated how creative the tech industry can be. Creative problem solving, patience and ingenuity are highly valued in the industry -- attributes that both men and women possess.
Our agency, whilst falling into the 'technical' category, has a wide number of creative roles available within it. In our Content Marketing and SEO team, it is in fact the combination of technical skill and creativity that delivers excellent results.
Second, women are being hired at an unprecedented level by companies who seek to close the gender gap. Companies such as NAB have committed to a 50/50 gender balance in its graduate program intake, meaning that women have more opportunities available to them than they might have previously.
Although I do not believe that segregating genders in companies is the long-term solution, it is a step forward, particularly when attracting female staff is a problem for the industry.
Other companies are implementing different strategies to keep women in tech jobs. An example is Thoughtworks, who have women-centric initiatives such as a Parents' Community and a Women's Network on offer for their employees. They also complete bi-annual gender remuneration analyses to moderate gender equality across the company.
As a female manager, gender equality for pay is something I feel strongly about and it feels great to know that across our company this is a shared value that is enforced. We are also actively supporting a number of initiatives to ensure females across the company are empowered, including working with the Dream Collective to send employees to workshops specifically designed to equip females in the workplace with effective leadership skills.
The tech industry is building the future of our society. It's so important that there's diversity in its workforce to ensure that future is one that's representative of us all.
From coding, to project managing, to IT, there are plenty of interests that can be fulfilled with a career in tech. And, with a growing focus on drawing women to the tech world, there's no better time to consider switching careers -- or, if you're already working in tech, to feel empowered by the opportunities you have at your fingertips.