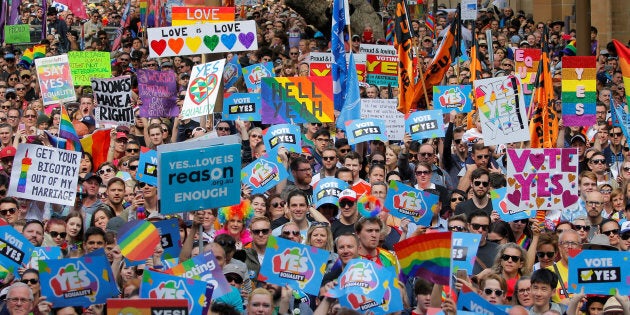 For many gay men and women of my generation, coming out is a landmark event. But what I remember most was how unremarkable my friends' reactions turned out to be. They had responded with the type of gentle support for which I had hoped, but with none of the furious questioning for which I was prepared.
Clearly, they had already overcome the prevailing discomfort with the idea that gay people existed, and accepted that I happened to be one of them.
It took me some time to fully appreciate that their reactions, unremarkable as they were, were underscored by a deep kindness and understanding that matched the moment.
Because for me, that admission, delicate and tentative, was a decision to live more honestly. No longer complicit in my own denigration. Everything that had come before had, in some way, been part of a lonely and profound deception I had inflicted upon them, and myself. This would now end.
I would instead begin to comprehend the full panoply of human opportunities that my friends took for granted. Before where there was cowardice, there would be something resembling strength. Where my friends had shared stories of flirtation, sex, and affection, there would now be, for me too, the thrilling possibility of desire returned, and perhaps companionship. And where before there was apartness, there might be the possibility of belonging.
We are so close to allowing all gay Australians to come out from the shadows and realise the full promise of their lives, that it feels sometimes like we can hardly fail to achieve it.
Life was easier and fuller after that, of course. But even after that quiet act of liberation, I knew there were joys that still remained beyond my reach. That which had deprived me of the ordinariness that I had so persistently sought would probably mean my journey would be lonelier than those of my friends.
Even if I managed a quiet relationship, it would surely never be the type of affection -- unconcealed, encouraged, recognised, celebrated -- that was for everyone else. Both spectacular and standard. And what if, at the very end, I called out, only to be met with dark silence? It seemed those milestones of love would be for me, forever unknowable.
Much blame for this lies with my own well-honed repression. But some must also lie with the signals of our society that have been long-enshrined in our laws, and which have defined the possibilities of our experience.
Thanks to those who have come before, the arguments against discrimination have been hard-fought, and largely, hard-won.
When I started high school, it was illegal to be gay in parts of Australia. But now, across our statute books -- in guardianship, taxation, inheritance, and adoption -- most gay Australian couples enjoy something close to legal equality. This progress -- the mutually-reinforcing changing of hearts, minds, and laws -- has been breathtaking.
And now, Australia considers marriage equality.
On its face, the survey asks whether the relationships of our gay family members, friends and neighbours might be as meaningful so as to be worthy of the same celebration as everybody else's. But more deeply, it is a question of whether we might recognise in gay Australians the same fundamentally human instinct to love, to belong, and to make meaning in one's life with another. It is a request to admit them as equal members of our polity.
In this way, an Australian vote of 'yes' would be an opportunity to not merely allow gay Australians to know the completeness of their humanity -- but to hope it for them, and to help light the way. It would place those ordinary joys within their reach, and signal not merely the permission but the encouragement of their attainment, as much as we would for anyone else.
The choice is either this, or to instead prolong their alienation.
Coming out, it transpires, is not so much a single emancipatory act as it is a process. It may be that the initial steps can only be taken alone, but the freedom sought to pursue one's own happiness can only be realised together.
We are so close to allowing all gay Australians to come out from the shadows and realise the full promise of their lives, that it feels sometimes like we can hardly fail to achieve it. A 'yes' vote could see it happen before the year is out.
Surely we will get it done, and soon. And I am certain that in time, we will look back and, just like my friends, find the whole arrangement gloriously and utterly unremarkable.