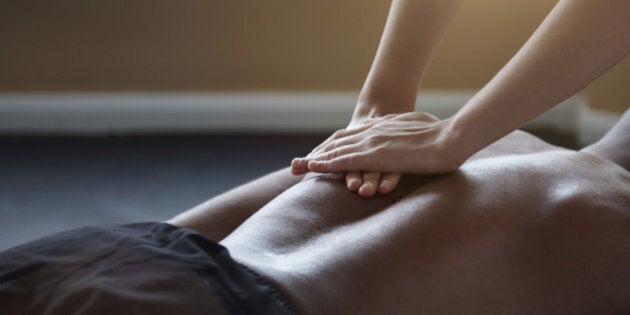 Whether you received a spa voucher for Christmas or just need to iron out those back-to-work knots, a massage is a fantastic way to relieve stress, treat injuries or just plain old relax.
The only problem is, there's just so many of them! How many of you have scanned the service list of a spa and seen the list of massages available, only to have no idea which one is right for you?
Never fear, we at The Huffington Post Australia have got your back. (#lol.)
There are dozens upon dozens of different types of massages, but so you don't get totally overwhelmed, we're just going to focus on the most popular -- in other words, the ones you are most likely to find at your local massage joint. (#lol, again.)
This massage is all about relaxation, so those who like their muscles really pummeled, move on.
"The Swedish massage is a full body relaxation massage, normally with a soft pressure," massage therapist and founder of Still Beauty, Joanna Beecher, told The Huffington Post Australia.
"Probably the best way to describe it is as a pain-free, pampering massage."
Good for: People who want to treat themselves (or somebody else -- this would be an ideal Mother's Day gift, for instance.) Or, if you are new to massage, the Swedish massage would be a good one to start off with.
"This is also a full body relaxation massage but with a firm pressure," Beecher said. "It's more just for people who like a really deep pressure and that 'good' pain.
"Just like its name suggests, the deep tissue targets deeper layers of the muscle. It's really relaxing but is much more firm."
Good for: Someone who is looking for something similar to a Swedish massage, but wants a massage that targets the deeper layer of muscle.
This massage is often confused with the deep tissue, but in fact, they are very different.
"Remedial massage is for people with injuries or sore shoulders -- things that need to be worked on," Beecher said.
"It's often used for someone who has lower back pain or a persisting head ache or shoulder pain.
"It's important to therapists performing remedial massages have a diploma rather than a certificate -- in short, they are more qualified in helping the problems in your body. That's where people get confused between deep tissue and remedial. You can go and get a deep tissue and they will work into your shoulders and you may feel some relief afterwards.
"However, someone qualified to do remedial therapy will actually know what they are working on and actually help realign the fibres in your muscles and push things in the right way."
Good for: Office workers who suffer from sore shoulders or stiff necks, as well as anyone with a muscle-related injury that can be assisted by massage.
The main way in which a pregnancy massage differs from other massages is that, if the woman is in her second or third trimester, she may have to lie on her side or use a pregnancy pillow.
Turns out you can actually have whatever massage you like if you are pregnant, for instance you can have a pregnancy Swedish or a pregnancy deep tissue.
"Some people are trained in it and some aren't, so make sure you are specific if you are pregnant or not," Beecher advised.
"I'd actually recommend a pregnancy remedial massage, because then you are going to have a therapist who is more qualified. It's just better because your body is completely changing and everything's moving and you're in safer hands."
Good for: Men. (kidding!) Obviously pregnant women.
According to Beecher, a sports massage is pretty similar to a remedial but with (unsurprisingly) a particular focus on areas of the body typically affected by sports.
"This is good if you do a lot of exercise, or for pre and post game massages. A lot of footy players like it as it is really good for hamstrings.
"I guess it's more specific to the muscle groups you use in your sporting game, but to be honest, a lot of men just pick it because they think it sounds masculine."
Good for: Sports players or dudes in general.
This massage once again is on the more relaxing end of the spectrum.
"It's really good for circulation," Beecher said. "I'd describe it as a calming, nurturing massage. It's very good in the winter.
"I'd suggest this massage for someone who was after relaxation or a bit of pampering. It's not going to get in there and move things around that much."
Good for: Probably the same people who would appreciate a Swedish massage, but in winter.
This is a very different sort of massage. Ordinarily the recipient remains fully clothed, and instead of the 'rubbing' associated with other massages, they are stretched, pulled and rocked.
However, Beecher says many Australian practices are more of a hybrid.
"They really stretch your body," Beecher noted. "The traditional Thai massage is pretty much stretching, but here, I'd say it's more of a half stretching, half oil massage. It's very strong."
Good for: Someone who enjoys a strong massage and wants to try something a little different.