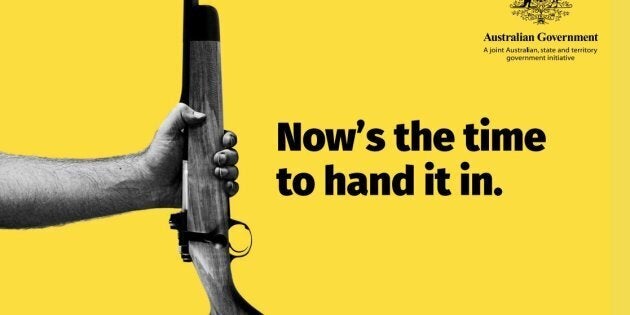 As the United States grappled with yet another senseless mass shooting, this time in Las Vegas, Australia was dealing with a gun problem of its own.
More than 59 people are dead and more than 500 are injured after a gunman opened fire from the window of a Las Vegas casino on Monday, spraying bullets into the crowd of a country music festival below. U.S. Senator and former presidential hopeful Bernie Sanders lamented there had been "been more mass shootings than days this year" in America, and just as they did in the wake of other such gun massacres -- in the wake of San Bernardino, and Orlando, and Charleston -- many looked to Australia as a test case in how tighter gun control regulations can reduce gun-related deaths.
In a twist of timing, Australia completed another gun amnesty -- where people with unregistered, illegal or unwanted firearms could hand them into their local authorities, without penalty or prosecution -- just two days before the Las Vegas shooting.
After the Port Arthur shooting in 1996, where 35 people died when a lone gunman opened fire with an assault rifle, Australia brought in strict and controversial gun laws including a weapons buyback scheme and banning semi-automatic rifles and shotguns. Australia has not had a mass shooting since.
The 1996 laws are often held up internationally as an example of how gun control legislation can work, famously being the focus of a John Oliver TV special on The Daily Show. The recently-closed amnesty, a federal government initiative, was the first national scheme of its type since the Port Arthur shooting.
"We've got an environment where there has been five terrorists attacks on our soil and sadly in the vast majority of those cases it has been an illegal firearm that's been used.
"This is an opportunity for people to present the guns to authorities, no questions asked and with no penalty."
The amnesty opened in July, and closed on September 30. Keenan's office told HuffPost Australia that final figures for the total number and types of guns surrendered were still being collated, due to logistics around collecting firearms and data from rural and remote areas, and final figures were hoped to be released in coming days.
Back on September 8, the Minister gave an update that 25,999 guns had so far been handed to authorities. At that point, there had been 13,468 guns surrendered in NSW, 7000 in Queensland and 2150 in Victoria.
"This is a great result, and shows Australians are serious about protecting themselves, their families, and their communities," Keenan said at the time, revealing that an 1856 revolver, a WWI-era rifle and two M1 carbines from WWII were among the more unusual weapons surrendered. NSW Police said they had been handed nine military-grade SKS assault rifles.
"The Amnesty allows anyone with unwanted or unregistered firearms or firearm-related items to legally dispose of them at approved drop-off points in each state and territory."
While authorities were happy with the amnesty figures, it is thought there were more than 260,000 illegal firearms in Australia prior to the drive.
"Outside the current Amnesty period, anyone caught with an unregistered firearm faces a fine of up to $280,000, up to 14 years in jail, and a criminal record," Keenan said.
On Monday, Western Australia's police minister Michelle Roberts said 1242 guns had been surrendered in that state, including 186 shotguns, 860 rifles, 196 handguns and 65,618 rounds of ammunition.
"What it means is there are now 1242 fewer illegal guns which will no longer have the potential to fall in to the hands of criminals," she said.
"Disturbingly, among the surrendered items was an assortment of high-powered weapons and guns that had been modified, presumably for no other reason than criminal purposes. I'm pleased to say these are now on the way to the scrap heap."