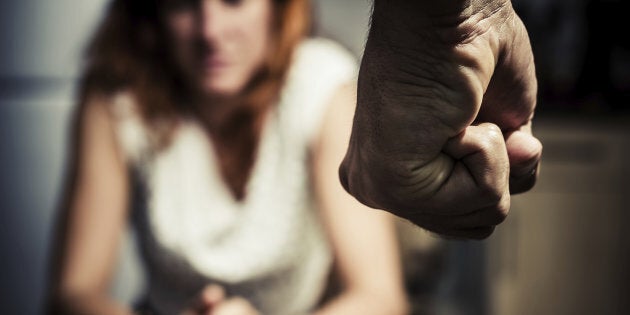 Australian men across the country are being urged to take a stand against violence against women as part of White Ribbon Day on Saturday.
The annual day for focusing on the prevention of the disrespect and abuse of women around the country, which is now in its 14th year and also falls on the International Day for Elimination of Violence Against Women, is this year championing its theme of 'STOP' to highlight the need for action on the matter.
CEO of White Ribbon Australia Libby Davies told HuffPost Australia that "it's up to every single one of us to drive change together" when it comes to violence against women and men play a major role in that.
"White ribbon's particular work focuses on engaging men to be part of the change that has been brought to the forefront of our attention by women over many decades. Now we are continuing to see the silence being broken," she said.
"This year [White Ribbon's campaign focuses on]... becoming a much more active bystander -- what can you do in your everyday life to become part of this social change movement? Your actions are important in helping to stop violence."
This year's theme aimed at the prevention of violence against women is centred on the acronym STOP -- See, Talk, Offer Support, Prevention.

SEE -- "Abusive and disrespectful behaviour can be witnessed in your community, amongst your friends or within your family. It could be someone yelling at a woman on the street or physically pushing someone around."

It's about learning the signs, being a witness and not ignoring the situation.

TALK -- "Words are part of disrespectful and abusive behaviour but words can also help stop abuse and prevent violence against women."

Talking to mates about the issue and pulling them up on possibly sexist or damaging comments could be a game-changer when it comes to shifting a person's attitude towards women.

OFFER SUPPORT -- "Intervening doesn't mean putting yourself in danger."

White Ribbon Australia is urging people to be prepared to listen, refer someone to expert support, call emergency services and stand by people who need help.

PREVENT -- "The first step to ending violence against women is prevention."The most important part of stopping violence against women is thinking about your own behaviours, educating yourself and changing any negative attitudes.
Davies also said that, while women in Australia are becoming more confident in reporting abuse and violent attitudes are seemingly changing, White Ribbon Day represents a year-round effort to stop disrespect towards females and that needs to continue.
"Women are now feeling more comfortable and supported to report the violence that for years and years was behind closed doors and about which they were silent. So now, we are seeing an increase in violence against women because women are calling it out for what it is," she said.
"What we have seen is that there is a change in attitudes for the better which will eventually influence the behavioural change that we're seeking... It will take a long time before the real impact of this prevention work is felt but we are seeing the signs already and that's very encouraging."
According to Australian Sex Discrimination Commissioner Kate Jenkins, part of the problem stems from everyday Australians believing that they would not be responsible for such violence themselves, but are unaware of their attitudes that could contribute to abuse continuing.
"What we know is that the prevention of violence against women is connected to achieving gender equality and better attitudes towards women more broadly," she told HuffPost Australia.
"While most people would say that they would not themselves perpetrate violence, actually in our society there are a lot of violence-supportive attitudes that are the attitudes that allow it to occur and let it go to continue, which has got us to this point."
She also said that it's now important to realise that Australians need to "Stop It At The Start" -- which is the Federal government's national primary prevention campaign -- by educating children about disrespectful behaviours that they may have been conditioned into believing.
"What the campaign is doing is looking at that and peeling it right back to how children are conditioned from a very young age to... accept that disrespecting girls is just part of the condition of growing up and adulthood," she said.
"The campaign is really targeting influencers -- so parents, grandparents, teachers, coaches -- and getting them to think about the examples such as 'boys will be boys' or 'takes two to tango'.
"These are the kid versions of excusing or justifying making grisly accountable for what happens to them as well."
And while she said she believes there is still more work to be done in Australia on the issue of violence against women, Jenkins said that there are simple steps everyday individuals can take to help stop abuse.
"Across Australia, violence against women is recognised as one of the key priorities that needs to change," she said.
"I think we are at a moment where both government, corporates and community sectors are really focusing on what they can do to change that but there are still women every day who are at risk of serious injury, so we haven't turned the corner in thinking that this is a safe place for our women and girls.
"We know that if you think it's safe, speaking up in the moment is helpful because it sends a message that that's not appropriate and that you might not feel that it is safe.. but the really most important place to go, because these issues are really quite sensitive, is to call 1800 RESPECT.
"If there is a dangerous situation at the time, absolutely call the police. The great thing about the heightened awareness of these issues is that police are now so much more sophisticated and responsive to these issues."
If you or someone you know is impacted by sexual assault, domestic or family violence, call 1800RESPECT on 1800 737 732 or visit 1800RESPECT.org.au. In an emergency, call 000.