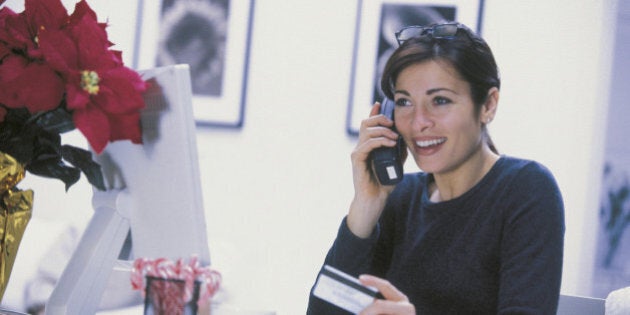 Guess what Christmas, no more!! I'm not gonna take it anymore!
No, I'm not giving up Christmas. Are you kidding, I love Christmas! I'm just giving up old school Christmas shopping. I have seen the light! (Ahhhh-lleluia!) Yes, this year I will not be leaving my couch as I plan to do every last bit of my Chrissie shopping from the comfort of home. It'll just be me, couchy, my trusty computer, a credit card... there may be chocolate. There could possibly even be wine. (Just the one, mind you, we don't want Santa to be too generous.)
For some reason, I have resisted doing all my Christmas shopping online before. There was this little voice telling me I HAD to get out there and battle the crowds and hear the tinny Christmas musak whilst rubbing/shoving elbows with my fellow humans, otherwise I wouldn't truly be embracing the festive spirit.
But I have put a sock in that little voice. Because you know what's festive? Being relaxed, calm and serene, not cranky, stressed and irritable. Actually having time to go to all those Chrissie parties. Saving money. Saving money is very festive indeed.
When I compare the old me Christmas shopping with the new me, there is no doubt which way I'll be going from this Christmas forward...
The old me: Spend 40 minutes in traffic to drive the 5km to the shopping centre. Spend another half an hour driving in circles to find a car park. Mutter 'bah humbug' to myself as I stalk inside, pushing past the dawdling hordes in my way.
The new me: Pour wine. Open computer.
The old me: Dash madly (if with kids) or wander aimlessly (if without kids) from shop to shop, discovering that the one thing I was looking for isn't on the shelves and buying other things that aren't quite right in desperation because I'm running out of time and the kids are losing it.
The new me: Go to one of my favourite online sites that has gift suggestions neatly organised in categories, including 'for teacher', 'for teens' and even 'Kris Kringle gifts'. Smile smugly. Sip.
The old me: Spend another small fortune on rolls of wrapping paper, realise too late that it takes about half a day to wrap all the presents, including about an hour spent looking for the end of the sticky tape roll, wonder why I always cut my paper about 2mm too short for the present, curse and drink wine.
The new me: Click on 'free gift wrapping'. Drink wine.
The old me: Get so stressed and overwhelmed with my mountains of shopping bags that I get home and realise I've left my wallet in the food court and lost one of my bags in a change room somewhere.
The new me: Comfortably reassured with secure payments and easy tracking system.
The old me: Recoil in horror after arriving home when I discover I picked up one too many singing Frozen Elsa dolls by accident! Now I have to queue up at the Returns desk on Boxing Day with 5000 others. *eye twitches
The new me: Ooh, look at that, free returns. I'll just pop that in a box and send it off at my leisure.
The old me: Search endlessly for a feather-light, unbreakable gift to send to overseas rellies, carefully wrap, walk to the Post Office, pay for postage...
The new me: Buy my pressies online from a super site that does free shipping and gift wraps. Mwahahahaha!
Think I'm going to have myself one merry little Christmas....
Christmas shopping tips from Australia Post
If you're not home during business hours, consider having your online purchases delivered to your nearest Post Office or a 24/7 Parcel Locker.
For that extra surprise, try our new disguise packaging to wrap your gifts this Christmas.
Find more tips and tricks for your Christmas shopping at Australia Post