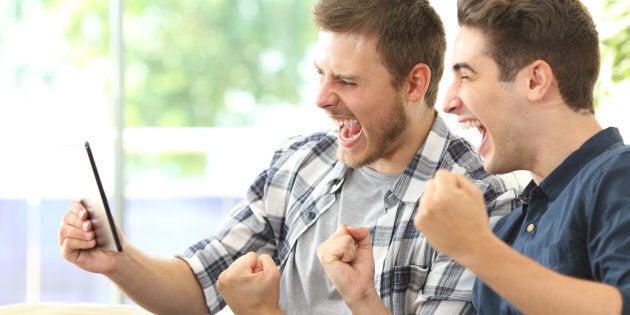 It seems sport is not as exciting as it used to be. At least for some.
It used to be the spectacular marks, the improbable comebacks and the extraordinary moments of athletic genius that kept us all enthralled. And to a certain extent it still is. But there's a new generation of sport fans who are engaging with another dimension of sport that online gambling has brought about.
They're turning to the most enticing odds, the exotic bets and the best bet of the day. For them, gambling makes sport more fun, at least more interactive.
But now, it would seem, more and more sports are becoming linked with having a bet.
The theory is, if you have a financial stake in the game, the game is more exciting.
Alliance for Gambling Reform spokesperson Tim Costello has noted that "sports betting is the fastest growing level of addiction" in Australia and that "sports betting targets young men and that's a rapidly growing area of addiction".
Costello is not alone. A lot of people reckon sports gambling is out of control and wonder why it's even necessary. Surely the games themselves are entertaining enough, right?
For many, gambling has become an enjoyable, exciting and exhilarating part of their sport experience. They are no longer simply satisfied with sport -- they want to add to the entertainment value of it by gambling on it.
The theory is, if you have a financial stake in the game, the game is more exciting. If you bet on outcomes within games, like who'll have the most disposals or kick the first goal, there are more exciting parts within the game. It adds a bit of spice to the contest.
For millennials, in particular, it's right up their alley. Statistics show that 90 percent of those who gamble on sport online are male, with an average age of 31. They like to multi-task, so they'll gamble while watching sport. They like whatever they do to be convenient, such as placing a bet through an app on their phone. They like instant gratification and ongoing excitement, so they'll place exotic bets on outcomes during games. And they like to add to things to generate more entertainment value, so they'll gamble on the outcome of just about anything.
For them, a $20 wager on the outcome of a match is akin to a $20 investment in being entertained. They reckon its good value for money. It's part of their typical sports experience and they see nothing wrong with it at all.
Furthermore, of those I know, they argue they only spend what they can afford and bemoan the idea that betting on sport is naturally problematic. It's only problematic, they say, when you're spending more than you should.
Of course, sports betting companies know they're on to a winner here, and so do most sports organisations.
Most sports organisations peddle the socially responsible line that consumers should always gamble responsibly, but they also count the dollars gambling companies directly and indirectly generate for the game.
And that's exactly why, like it or not, sports have been willing participants in the integration of gambling and sport. They know that some fans are only watching their games because they've had a bet on the outcome. If they were to lose that audience, they'd take a financial hit.
That's why it's different from other forms of sponsorship from so-called socially irresponsible industries. Tobacco companies were banned from sponsoring Australian sport in 1992, but while fans could smoke at matches, it never became ingrained in the entertainment experience of sport. So, it was relatively easy for sports organisations to cut off tobacco companies. Not so with gambling.
In reality, the debate is one that fundamentally starts and stops with money, or more to the point, the pursuit of it and the devastating effects of losing too much of it for individuals who can't afford it.
But don't assume that those who lose on the punt do so expecting to win. For many, it's less to do with making money than it is investing in entertainment, because for them, believe it or not, gambling makes sport more fun.