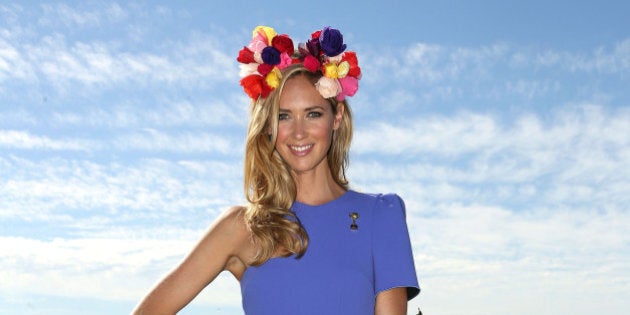 Have you ever wondered why wearing hats and fascinators to the races is a thing?
"Racing was called the sport of kings for good reason. It is an expensive sport, so people who could afford to stable, look after horses and pay for people to ride them had a lot of money," said Melbourne based milliner Richard Nylon.
"With money goes prestige, with precise goes fashion and back then, with fashion went hats.
"It became a way for a lady to display her status and fashionability, and in the days when women really where chattels of men, it was a way for men to display their wealth -- so they would make sure their lady was dressed in the finest, most tasteful and the latest of fashions."
Fast forward to now and it's still a firm tradition in the racing scene and one that needs to be honoured. Racing royalty, media personality and ambassador for The Sydney Spring Carnival, Kate Waterhouse agrees.
"Wearing headwear on a race day is a really important tradition. The races is a unique occasion and there are not many other places where you get to wear a hat. It doesn't mean that you have to wear a massive big hat if you don't feel comfortable, there's lots of different alternatives -- but we need to honour a tradition that dates back years and years ago to when they wore top hats and tails."
"My mum [Gai Waterhouse] used to get ready for the races every Saturday from when I was really young, even before I can remember. When she would get ready I would always play dressups. She would go out off the races and I would be left with this big pile of dresses and gloves and hats and headpieces and lipstick. I thought it was my personal dress up box!," Waterhouse recalls.
So, what's in fashion this racing season? We asked Nylon, who knows his headwear.
"Trends have been towards head jewellery, which is like taking a necklace and putting it on your head -- this is a young trend and we saw it a lot last season. There's also a big trend with boater hats as well -- very basic looking hats with a simple shape that is very flattering. We're also still seeing the more structured, traditional pieces that go quite high, and also a lot of veiling."
"I would like to see the return of extravagance in headwear. As a milliner of course I'd like to see more statement pieces and hats. But at the end of the day you need to be comfortable in what you're wearing," said Nylon.
Not sure where to start? Invest in one versatile piece.
"If you're going to invest in one headpiece, consider the colour of your hair. If you wear a dark head piece and you have dark hair it will get lost in photographs and it may look like part of your hair -- so try and have some contrast. If you're new to headpieces, try a beautiful piece on a headband -- it's not hard to wear those pieces," said Nylon.
Lastly, Nylon offers some great advice when it comes to caring for your new purchase.
"Hats should be kept in boxes, not resting on their brim but turned up on the crown with tissue paper supporting the brim underneath. Fascinators should also be laid on tissue paper. Silk, feathers and materials are yummy for moths, so be careful."