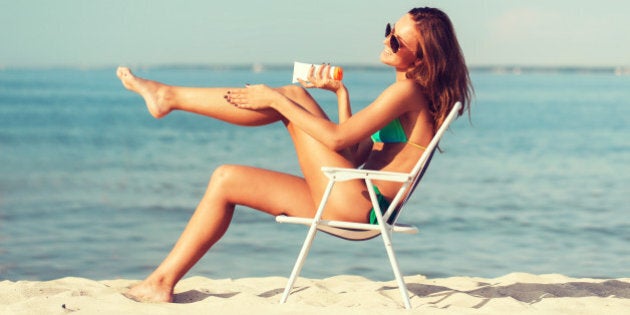 "Oh, how I regret not having worn a bikini for the entire year I was twenty-six. If anyone young is reading this, go, right this minute, put on a bikini, and don't take it off until you're thirty-four."
This is something the late Nora Ephron so brilliantly suggested in her book I Feel Bad About My Neck.
Often, when I'm reading her work, I'll stumble across a sentence that is utter magic. And this one was no exception.
Being 26 myself, it appealed to me right away, followed by the sound of my mum, aunty and grandma who've all said a similar thing at one point or another. All of which I brush off because, if we don't talk about getting old, maybe it won't happen.
Ignorance aside, the very thought of getting into a bikini ignites an internal monologue resembling something like:
"UGH. I hate my thighs. Dammit, I forgot I had cellulite. Maybe I'll get a spray tan, that'll make me feel better. The high-waisted bottoms are in this season, maybe they'll hide my hips. Nah, they'll probably just make me look six months preggers. OK, diet starts tomorrow."
Sound familiar? Somehow, as women, we're able to instill the same level of guilt over a custard cronut as we are for running up the back of someone's car.
But the truth is, a life without custard cronuts is just plain sad.
Having worked in women's magazines for the past four years, I've interviewed enough celebrities and Fitspo stars to know that really, nobody wants to hang out with the girl whose "treat food" is goat's cheese. The same goes for men -- is there anything worse than being with a guy whose diet is broccoli, boiled chicken and rice? I don't think so.
That's not to say I'm not a fan of healthy eating. But there's got to be a balance.
Personally, I love food and am pretty certain the reason I bound out of bed each morning is because breakfast is THAT good. (Smashed avo on sourdough, anyone?). And surely that kind of happiness is good for the soul.
Which is why, as summer begins to show its very cheery face and I emerge from the cold, dark cave that is winter -- I'm taking Ephron's wisdom in my stride.
Because, sure, I could feel bad about what I ate last night, or I could whip on my bikini, pour myself a glass of Rosé and feel the warm almost-summer sun on my bare, pale skin.
And be absolutely thrilled about it.