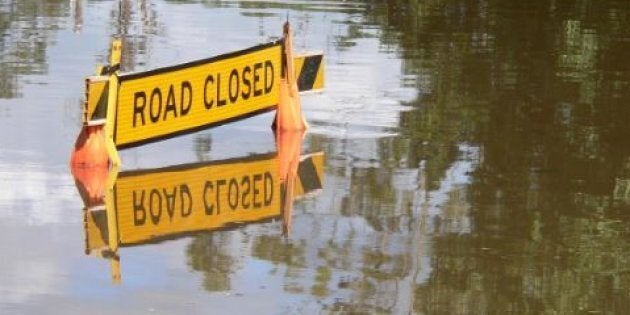 Residents in many communities across NSW have endured a horror weather weekend, with thousands of locals in small towns stranded due to flooding.
Large swathes of NSW, especially in northern and eastern regions, have been lashed by heavy rain over the past 48 hours including flash flooding in a number of areas.
The weather has thankfully started to ease on Sunday and a severe weather warning issued by the Bureau of Meteorolgy has been cancelled.
However, the situation remains serious for thousands of flood-affected residents in northern parts of the state who are stranded due to the deluge.
The NSW SES told NewsCorp Australia that about 2500 people in small towns dotted across the state's north and mid north coasts were cut off on Sunday morning.
"We're working with those communities to make sure they have everything they need," spokesman Brent Hunter is quoted as saying.
The Bureau of Meteorology on Sunday issued a flood watch for 11 NSW rivers.
"There has been significant rainfall along the NSW Coast and Northern Tablelands. This rainfall resulted in significant river level rises and flooding in the coastal river valleys as well as in the Severn and Macintyre Rivers," BoM said on its website.
"For the remainder of Sunday, showers and isolated thunderstorms are forecast over the coast, ranges and northern inland.
"There remains a risk of heavier falls with both showers and thunderstorms today."
It said flood warnings were current for the Orara River, Bellinger and Kalang Rivers, Nambucca River, Macleay River, Hastings River, Gloucester and Manning Rivers, Severn and Upper Macintyre Rivers, and Colo River.
It's the second straight day of miserable weather, with emergency services on Saturday warning impacted residents not to cross swollen rivers as flash flooding struck parts of the state
SES Commissioner Mark Smethurst said the state's mid-north coast was the likely the hardest hit region.
"We're expecting on average about 100mm across the mid north coast up to the Queensland border, if that peaks up around 200mm then we'll see flooding and people cut off or isolated," he told the ABC.
The SES has made numerous flood rescues and is currently helping to coordinate the provision of essential supplies to those hit by the bad weather.
ALSO ON HUFFPOST AUSTRALIA