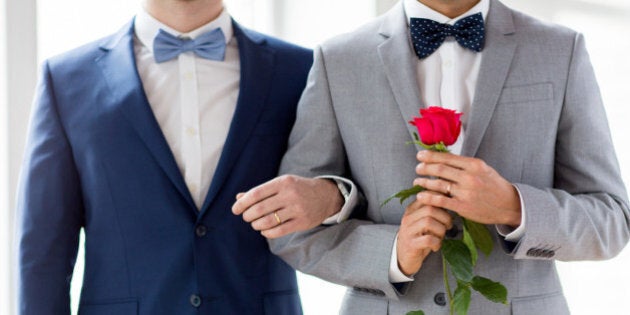 I was elected in 2010 with a strong sense that what I said before an election must be what I did after an election. The Coalition's position on the matter of same-sex marriage was very clear: our policy that marriage was between a man and a woman should not be changed.
So when the issue came up in the 43rd Parliament, my position was that I would hold true to our policy. I challenged those who wanted change to not just send a cut and paste missive to me but to engage their community. Get their whole household to agree, then their street, then their workplace.
Not much of that happened.
I attended two forums during this time, called by proponents of change. The thing that struck me about the first was that there were friends of mine there arguing that their children should be able to marry the person of their choice. I knew both families quite well but never knew about their children.
This had an effect on me.
The second, which I was told would be an open forum, was me versus about 200 people. There was booing and hissing at everything I said.
This forum had no effect on me.
The 2012 vote was soundly defeated in both chambers.
In the 2013 election campaign, my leader and friend Tony Abbott stated that, should this be raised again, it would be a matter for that party room. This gave me cause to think about the issue further and discuss it with friends and family.
I have been quoted as saying that I consulted Jesus. I have not. My wife uses the saying "what would Jesus do?" when I am conflicted on an issue. It is her way of saying that the answer is inside each of us according to our own moral compass and set of values. I said that I would support a change to allow same-sex marriage.
I recognise that this issue is not a matter of fact. It is a matter of perspective, of personal conviction. There is no absolute and empirical right nor wrong in this. My view is entirely correct for me and I have that right. Others have a different view and I respect that view.
I was unhappy that there was not a separate Liberal Party room meeting. I reasoned that The Nationals would come to their position and we would come to ours and that would be discussed in the joint party room. That is the way it has always been on matters of conscience, as far as I am aware.
The Prime Minister listened to each and every one of us who chose to speak. I argued, in response to members who said that people got married to have children and because it was the bedrock institution of our society, that I disagreed.
I have been married twice. I did not marry either because I thought they would be a good parent or out of respect for the institution. I loved them and wanted to spend the rest of my life with them. I could not understand, and still cannot, how we as a Parliament would stand opposed to people who love each other and want to spend the rest of their lives together from doing what I did -- ask for their hand in marriage. I do not like the argument about a separate term either. I will accept it when I see someone drop to one knee and ask the one they love: "Will you civil union me?"
If the PM really wanted to crush this, he would have called for a formal vote in the party room, then walked into the Parliament, suspended standing orders, and put a Bill to a vote. It would have lost. The path forward, suggested by many, and summed up by Tony Abbott, of a people's vote was sensible. I now support this, with a caveat.
I would prefer that we deal with this quickly as the next election should be about the economy and jobs. If we are to take the position that we will deal with it in the next Parliament, it must be early, and it must be by plebiscite and not a referendum. If my party moves down the line of wanting constitutional change, it will be a sure sign that some are trying to muddy the waters and bring forward failure.
I support a simple question such as "do you support people of same sex having the right to marry" or "should the marriage act be changed to allow for same-sex marriages"? Both are yes/no propositions and the result should be respected by the next Parliament. If it is successful, then legislation must be drafted, proposed, and passed. If it is defeated, it must be respected that the people have spoken. If the Irish can do this, surely we can show that we are a mature country capable of handling this social issue.
While we have many issues of great national importance in this Parliament which must be addressed, I have to believe that we can do more than one thing at a time. The debate on our side has been conducted with respect and without rancour. We must continue this behaviour even though some hold very strong opinions.
If a Bill comes before this Parliament and gets to a vote, I will cross the floor so long as religious organisations are protected if they choose to say a polite "no thank you".
Respect is the key for all here.