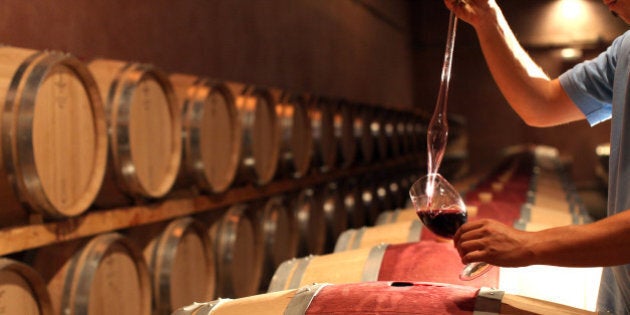 You've seen them before. Probably in the homes of your yuppie friends who insist you just need one.
For years, you've shrugged off the idea with the conservative excuse "what a waste of money!"
Until summer happened. And now autumn (which weirdly, still feels like summer) and all of a sudden you're noticing that some of your most expensive drops are going off.
"All wine tends to spoil in warmer climates. Your cellar temperature should really be well under 20 degrees Celsius," Collard told The Huffington Post Australia.
"In Sydney over the last few weeks the temperature has hardly dipped below 20 -- even at nighttime -- so if you're storing your wine under your bed or below the stairs, you're probably doing some damage," Collard said.
The simple solution? A wine fridge.
"Very few of us have proper wine storage in our homes and coupled with the rise in apartment living, a good quality wine fridge is a great way to provide ideal storage conditions just about anywhere," Collard said.
Collard strongly opposes the view that investing in one would be a "yuppie move" saying they're probably more valuable to the everyday punter, who don't have the luxury of a purpose built wine cellar.
"Most of these appliances have two temperature zones to provide for both white and red wine, and most also have humidity control too," Collard said.
For red wine, ideal conditions are about 12-14 degrees Celsius with approximately 65 percent humidity.
"They are best stored in the dark, with little variation from these norms. Vibration is also to be avoided and some people believe that electrical circuits create fields that also damage wine -- although there is little scientific evidence to prove this," Collard said.
Collard also suggests an open container of water in the cellar will help regulate humidity.
"And remember to keep wines sealed with cork on their sides so the cork does not dry out," Collard said.
Popular in the Community