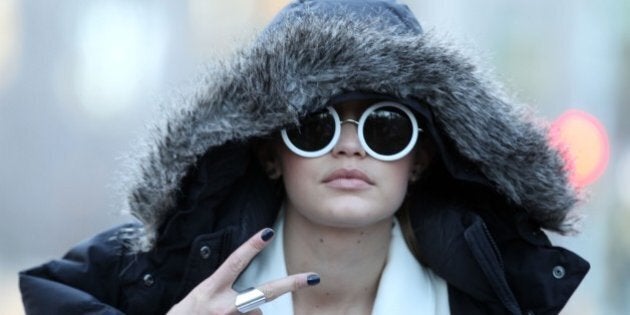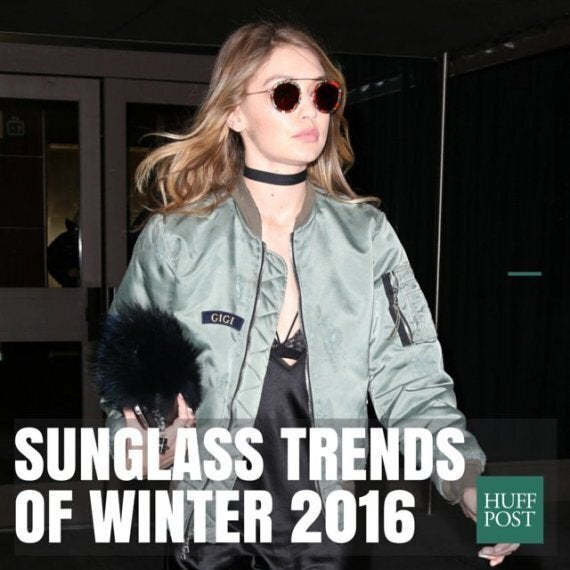 Contrary to popular belief, sunnies aren't just for summer. As many of us already know (but choose to ignore), UV damage to the eyes can occur even on cloudy or cold days, meaning winter is not some kind of magical 'safe zone' where eye health is concerned.
The upside to this, of course, is there is absolutely a legit excuse to invest in some new sunglasses this winter, particularly if your summer pair won't team up well with boots, scarves and a big woolly coat. (Trust us, sometimes it just doesn't work.)
So what are the trends to look out for in winter 2016?
"The key trend that we are seeing coming into autumn and winter is still round for men and women. This trend has been in over the past three months and we are seeing it come out in a more subtle way for autumn and winter, with a less round shape," Sunglass Hut buyer Darinka O'Shea told The Huffington Post Australia.
"In terms of colours we are seeing an increasing amount of tortoiseshell frames with a brown lens. These frames are great for your winter wardrobe and mix with the traditional autumn colour palate of browns, blacks and greys.
"Brands that we are seeing both of this look in include Prada, Ray-Ban and Dolce and Gabbana."
"The big styles that we expect to be big this season is the Ray-Ban Club Round sunglass," O'Shea continued. "This is a new icon that has been developed by Ray-Ban and we anticipate it to be the 'must have' sunglass.
"Also we have the new Gatsby inspired Ray-Ban round frames with a metal double bridge matched with an acetate frames.
"The third style that I love is the Prada round frames. A classic oversized frame that has been reinterpreted with a round style."
Round not your thing? In terms of continuing trends, O'Shea said classic shapes such as the Ray-Ban wayfarer weren't going anywhere soon.
"As mentioned previously, round is again a big continuation from last season. I would also encourage customer to look at classic shapes of the aviator, wayfarer and clubmaster. All of these are trans seasonal and timeless and have heritage behind these classic shapes."
Cara knows aviators are always a safe bet.
In terms of styles to avoid this season, you can put anything without two distinct lenses at the back of your drawer for now.
"We are seeing a single shield shape going out of style this season," O'Shea said. "The shield, which wraps around the entirety of ones face is being replaced with more acetate and metal frames with two clear and distinct lenses.
"I'd also recommend avoiding pastels in autumn and winter as they can are better in the brighter spring/summer season.
"Instead, go tortoiseshell and black frames to have a classic look. For a more bold statement go with a single bold colour in your pair of sunglasses to brighten up your look."
Need a reminder of why wearing sunnies in winter is important? Here it is.
"On a sunny day at the beach, only 65 percent of Australians always wear sunglasses, however, this figure alarmingly drops by almost half to one in three (34 percent) when it's cloudy, suggesting Australians do not understand that UV exposure can still be dangerous when there is less visible glare," O'Shea told HuffPost Australia.
"The research shows when the sun is out of sight, it is out of mind for many Australians. When it's cloudy, people often think they are protected but they are not. People can become complacent outside the hours of 11am and 2pm and may be less likely to wear sunglasses -- particularly between 8-10am and 2-6pm."
Check out some of O'Shea's favourite styles below.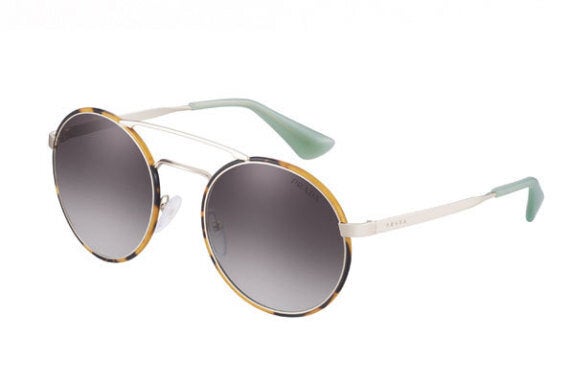 Prada SPR 51S Model: 1970s notes define these softly rounded sunglasses of the new Prada collection for women. The finishes of the acetate circles are harmoniously balanced by a lightweight metal structure. The front features a double bridge and comes in hues of black, pumice, tortoiseshell ivory and classic colours. Prada engraved logo.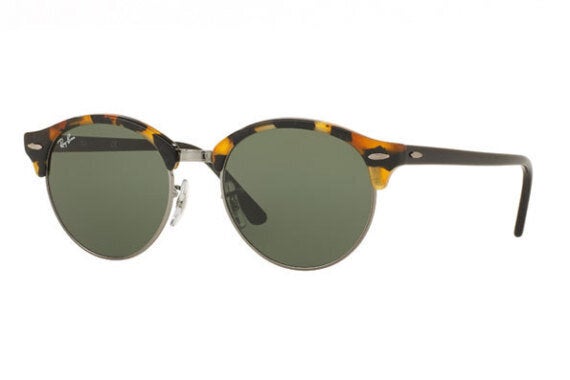 Ray-Ban Clubround: Original style, authentic design & unique new colors and lenses define the look of a new icon – Ray-Ban Clubround. Cool, high quality style makes this frame ideal for the bold identity of modern intellectuals and bohemian creatives who seek unique, made-to-measure style. Available as both sun and optical frames, these rounded phantos shapes feature Ray-Ban Clubmaster-inspired acetate brows, coined metal rims and bridges.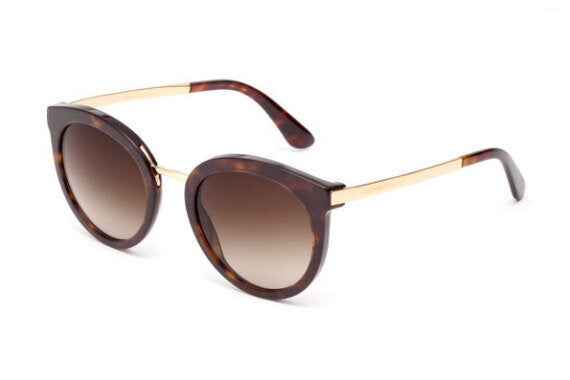 Dolce and Gabbana tortoiseshell frames: These sunglasses are characterised by soft lines, while the acetate front section and temples ends serve as the perfect foil for the gold metal temples. The colour combinations available range from black to classic Havana brown, which is also available with a grey, green or sand marble effect that evokes images of the marble veining found on old Sicilian palazzi. Offset with gradient tone-ontone lenses and, in the Havana version, marbled grey with black mirrored lenses.