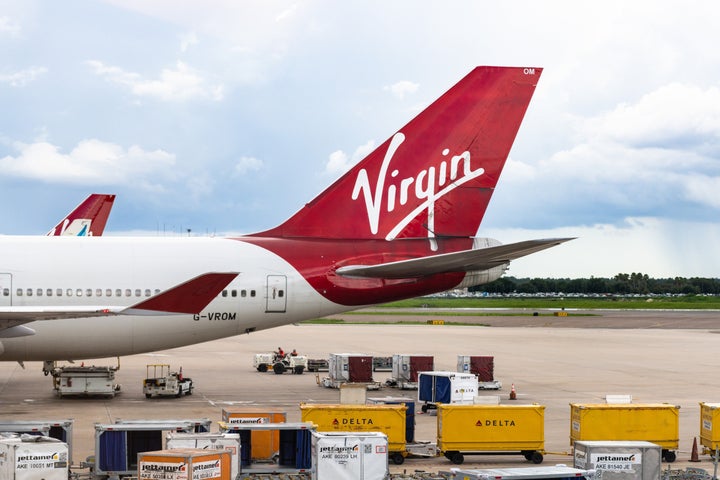 Jessica Van Meir was several hours into her transatlantic flight to Washington DC from London. The 24-year-old legal analyst was travelling alone on a work trip. She had been to the bathroom, and was just sitting back in her seat – number 55C – when she noticed something pop up on her screen.
"I was just trying to enjoy my flight peacefully and get some work done," she told HuffPost UK. But instead, the Cambridge graduate, originally from Atlanta but living in London, was left feeling "violated".
Van Meir had been sent a string of explicit messages on the Virgin Atlantic plane's in-flight system. One – from "dirty mike" – read, "welcome to hell". Another – from "smacks baccy tin" – read, "You tidy babe". And "big dick swinger" sent her winking emojis.
"I was appalled and felt violated and outraged that someone would have the audacity and disrespect as to send me such a sexually objectifying message on a plane," she said. "They made me feel I could not even travel on a flight alone without being harassed."
Van Meir called over a flight attendant who apologised and said she would speak to the senders – they were identifiable because their seat numbers were visible on the messages.
Later on during the flight, Van Meir went to the bathroom and saw the men sitting in the seats. "It was a group of young white guys, maybe in their late teens or early 20s," she says. "After this, a guy [from the group] came to my seat and said he heard there was an incident involving a chat, and that he was very sorry, that I was clearly traveling alone and shouldn't have to deal with that.
"He said they were on a rugby trip and he was one of the coaches, the guys had been drinking all morning and he would talk to them about it."
Van Meir was satisfied with the flight attendant's response, but wants Virgin Atlantic to take measures to prevent this from happening by flagging specific language and putting in place a function on the chat to report abusive use.
She is concerned the outcome may have been worse if the messages were sent to a different passenger: "Had this happened to another woman or girl who doesn't work with victims of sexual harassment for a living, this would likely have been really distressing and scary."
Virgin Atlantic told HuffPost UK that the seat-to-seat messaging function is being phased out on new aircraft added to the fleet, but that it will be a few years before all older models are replaced.
A spokesperson said: "We were extremely concerned to hear of the incident reported on-board one of our flights and are investigating as a matter of urgency. We want all of our customers to have the best possible experience when they fly with us, and have zero tolerance for any disruptive or inappropriate behaviour.
"We're grateful to our cabin crew who supported our customer following this incident and would like to apologise for the distress caused. We are now reviewing our entertainment systems to ensure this does not happen again."