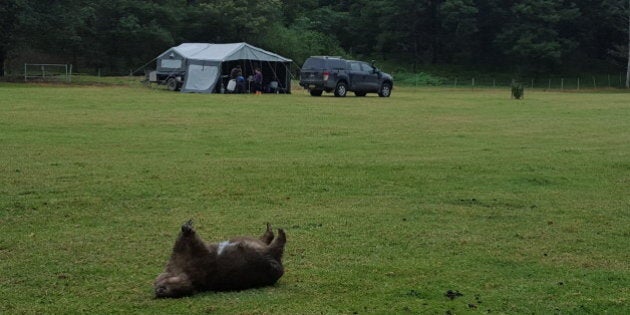 While police are continuing investigations into a string of wombats run over in a South Coast campground, criminology experts warn it could be 'red flag' behaviour.
More than 10 wombats were killed at Bendeela Camping Ground when they were deliberately run over on two nights last week and Shoalhaven Police inspector Robert Vergano told The Huffington Post Australia the team had several leads.
"It's an ongoing investigation -- we have obtained numerous statements and are working on a few leads," Vergano said.
"I expect to see some progress in the next few days."
Queensland University of Technology forensic criminologist Claire Ferguson told HuffPost Australia that if the incidents were caused by the same person, the behavior was a red flag.
"Torture and cruelty to animals has been associated with moving on to terrible crimes later on," Ferguson said.
"In some classic cases of adults who have committed terrible crimes, you might see red flag moments when they were younger doing things like torturing animals or collecting roadkill.
"There is a progression from harming animals to hurting people but not always. The boy with the magnifying glass and the ants may be curious regardless."
Wildlife Rescue South Coast member Mark Cole, meanwhile, made a grizzly discovery of another dead wombat about 7.30pm Sunday night under similar circumstances at the same campground.
"It was on a dirt road where the speed limit is 15 kmph and it was a big wombat -- about the size of a large dog -- so I find it very hard to believe someone would have not seen it," Cole said.
"To have three nights in 10 days where someone has run over wombats is tragic. It's never ending."
Inspector Vergano said the wombat died in non-suspicious circumstances.
"That one we can eliminate from the investigation," Vergano said. "That was an accident and while we commend the people who spoke up, it's not part of the investigation."