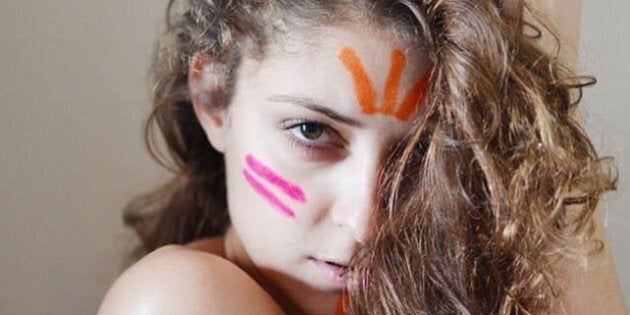 Ladies, let's be real. What you post on social media doesn't really reflect your actual life (unless it's all sunsets, kittens and toes in the sand, in which case, props to you).
But for the most part, social media is reserved for the very best bits. The holidays. The glass of rosé with the girls. The salad that by some freak of nature looked like the work of a food stylist. Social media accounts reflect The Face You Want The Public To See, without the messy bits.
As the co-founder of the small business Sunbella, Casey Bryden spends a lot of time on social media. It wasn't long before she recognised the trend among women to share only the glamorous side of their lives, and wondered if there was anything she could do to mix things up.
"It was hard not to notice that often we only share the good bits and, probably unintentionally, we present an unrealistic picture to outside observers," Bryden said.
"I wondered if maybe we'd all be a little kinder to each other and to ourselves if we were reminded that others have battles too. That other people's lives aren't all coffee shop flat-lays, flowers from the boyfriend and yoga poses on the beach."
"Maybe we just need a reminder that behind our social media profiles, we're all real people. That we all have battles, big and small."
So Bryden created #beautifulwarriors, an Instagram campaign designed to encourage women to share 'behind the scenes' stories of their lives – or, as Bryden puts it, "the mess and the dirty dishes that it takes to make the cupcake instead of just the sexy frosted finished version."
In doing this, she hopes women might show more empathy toward each other.
"I'm asking people to share a truth that they wouldn't usually put on social media, with a warrior-paint selfie, to show that being a real person with battles is perfectly ok," Bryden said.
The response was immediate.
"I've had countless emails and private messages from people saying that this project has touched them already, and we've really only just begun," Bryden said.
"Those that have read the stories have left kind, encouraging and empowering messages on the original posts. They have been nothing but supportive of each other, which is so refreshing to see on social media."
"Those that have shared their stories have told me they found it therapeutic and I was somewhat surprised to feel the same way when I shared my own story. I think it's almost cathartic to have it all out there for the world to see."
Bryden was further heartened when some popular bloggers such as Monique Ceccato (better known as littlemissmonbon) and Nadine Pougnet took part, especially considering their social media pages are dedicated to advertising a more glamorous life.
"Women have so far told of having low self-esteem, being adopted, suffering from depression, anxiety or chronic fatigue, being sexually abused, suffering from PTSD, having a traumatic birth, having body confidence issues or physical ailments, and many other stories that are difficult to talk about to your best friend, let alone share publicly with the world," Bryden said.
The #beautifulwarrior movement is open to everyone, and simply requires people to share a truth they wouldn't usually share on social media, with their warrior-paint selfie (the warrior paint can be anything, from lipstick to Vegemite to glitter) with the tag #beautifulwarriors.
The goal isn't to stop people from posting the happier parts of their lives, just to encourage empathy and to acknowledge the fact, some days, we all struggle.
"We don't need to change our social media habits long term," Bryden said. "It's nice to see the gold in everyone's days rather than bear the burdens of their battles all the time. But maybe this little blip on the social media landscape will remind us to stop comparing ourselves to these unrealistically perfect portrayals on social media."
"I hope that it will make us be kinder on ourselves instead of comparing ourselves to these carefully curated galleries of perfection. We are all real people with real lives, I hope that #beautifulwarriors will remind us of that."
Check out our #beautifulwarriors slideshow below.