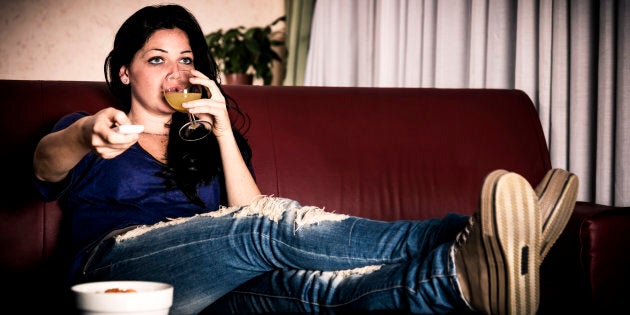 Everyone has a guilty pleasure. Mine is spooning my dog on the couch on lazy Sundays and binge-watching reality TV program repeats.
I'm not ashamed of my guilty pleasure, I'm ashamed of the pedestal of expertise that I put myself up on. I lie there in my slothy glory and judge these poor 'real' people for their poorly-painted wall, or for not deboning the quail (what a scandal). I do it because they will never know what I said, I will (hopefully) never meet them and, of course, I could do it better anyway.
It wasn't until I stared in disbelief at my boyfriend, as he spooned spag bol into his mouth, squinted his eyes and stared off into the distance, that I quickly changed the channel from 'My Kitchen Rules' to 'SBS World News'.
Reality TV is turning everyone into an expert, when in most of cases -- they shouldn't be.
You know it's time to flick channels when:
You try and tackle a 120-ingredient meal for a barbecue.
Your jaw was on the floor when (insert contestant's name here) didn't meet the pressure test. How did they even get that far? You know you could do better and you want the glory for it, so you do. Except you don't, there's tears, anxiety and a very large Coles receipt that cites your failures in print.
You consider plastic surgery.
Former reality TV stars are flooding your social media feeds with their expressionless faces and five-star lifestyles. Attractive or not, they got the modelling contract and are ambassadors for Target now, aren't they? Why shouldn't you be?
You swap from Tinder to TV date applications.
You receive secret pleasure from watching dates flop on the box, because lord knows you've had your fair share of dating disasters. The thing with TV dating is that you know your personality is better, and that you dress better, and they would definitely select you for another date.
You think renovating is a good idea.
Your house is three years old, but you just know you need a new extension. You know you can totally afford to do it, right? It won't take up all of your time at all. Who needs contractors, permits or money?
You ditch the diet and try to mimic extreme exercising.
I have actually met women who have purposely gained 50 kilos to be selected for 'The Biggest Loser', to only lose 50 kilos on national television (whilst getting D-Grade famous). Only they weren't selected and three years on, they are still 50 kilos heavier.
You swap your weekend walks for unchartered hiking, you swap your glass of dry white for a flaming gin and you decide you don't even need a sleeping bag or a tent for camping. What could possibly go wrong?
The reality TV addicts among us are easy to spot. They're the ones in Kmart purchasing the pastel-coloured print to cover up their uneven plastering.
They are in five-star restaurants spending four-days wages to sample a fingernail-sized piece of 'to die for' abalone.
They are on deserted tropical islands with their partners who they don't like anyway, just giving it one last go.
They are wondering what it's like to find love and move to a farm (of course it would be a winery), and they are inviting their friends over for intimate dinner parties that take four days preparation, and taste awful.
Then, there are the serial reality TV experts. They are those people who are watching people on their TV, that are watching TV. And that's just weird.
ALSO ON HUFFPOST AUSTRALIA