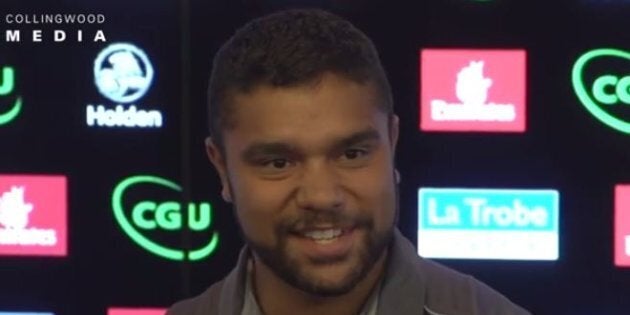 Australia, meet Kayle Kirby. We think you'll love him, and not just for his footy.
Kirby, who's just turned 18, was selected at pick number 50 by Collingwood in last week's AFL national draft. And he soon showed that he's the sort of person we can all respect.
Normally when an AFL player is drafted, you see a shot of the player and his family hugging in the auditorium where the draft is held, and it's all very wholesome and predictable and made-for-TV.
Kirby, who hails from Swan Hill in Victoria's Mallee region, and who played his footy for a club in the tiny map speck called Tyntynder (population 243), was back home while the draft was on in Sydney.
In fact he was in the pub. So too were his family. And as he explained the day after being drafted (at about 11 minutes in the video below), his family wasn't exactly clustered around the telly awaiting his footballing fate.
"Most of 'em were in the pokies," he said.
"I was sitting there [in the bar] with my brother and one mate and I only just heard the TV. I made sure my name came up and shook everyone's hand, then I went into the pokies and looked at my family."
When you read that a young footballer's family is playing the pokies while his fate is being decided by footballing recruiters, you could probably take it two ways. You could infer that they're disinterested in his future, or you could add a little nuance and understanding to the situation, and imagine that they were likely too nervous to watch.
From what Kirby said next, we can safely assume it was the latter.
"I said 'I got drafted' and they all jumped around and got a bit emotional. They were very proud, more proud than I am to be honest.
"The last three years I've watched the sport and seen Aborigines play the sport and I know that we're very naturally gifted. It's very rarely that Aborigines get drafted. I made a decision to try, and sure enough I did.
"I didn't do it for myself. I did it for my family and my mob."
Indigenous players currently comprise about 10 percent of the entire AFL playing roster. There have been controversies in the recent past where clubs are said to have favoured promising white players over promising indigenous players.
Recruiters talk about the "readiness" of young men, which can often be a euphemism for the stability of their background, and whether they're likely to adapt to the regimented life of an AFL player.
Our guess is that Kirby will fit in fine, because anyone who sees family as more important than his own dreams will surely be the sort of guy to put team ahead of self.
Kirby is a small forward who may also end up playing as a midfielder. Here's a clip of him that impressed Collingwood. Consider us impressed, too.
The young man's got a great sense of humour. When asked where he sees himself in the Collingwood scheme of things, Kirby joked:
"Hopefully in round one, kicking goals."
He also quipped that after his selection was announced, he had to buy his own drinks the rest of the night in the pub.
But you know what we liked most? The fact that when asked who is idol is, Kirby said it was Adam Goodes. Collingwood's president is Eddie McGuire, who you'll recall is no fans of Goodes, nor the principled stance he took against a Collingwood fan who called him an ape.
Like we said, Kayle Kirby's an impressive young bloke, and not just for his footy. His should be a career worth watching. We wish him well.