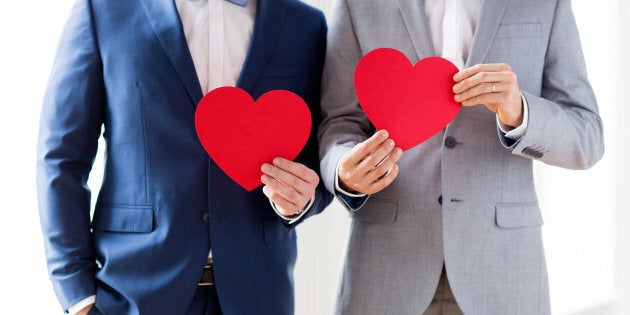 Young people are Australia's biggest supporters of marriage equality, but many are concerned that the rushed process and confusing nature of the postal plebiscite might see them miss out on an opportunity to have their say on the issue.
The postal plebiscite, or survey, was announced just last week, with the cut-off date for new enrolments or changing details such as a new address being on August 24 -- just 10 days away, as of time of writing.
However, despite the ticking clock, the Australian Electoral Commission's website still advises that "the Australian Bureau of Statistics is... currently finalising the survey process" and that "the ABS will provide details when they are available".
For many young Australians living, working or travelling overseas, this lack of official information has been confusing and stressful.
"I have checked my actual electoral enrolment with the electoral commission, but there doesn't seem to be a facility to check my overseas voter registration. I've lived at four addresses since I moved to London so I'm pretty sure my registered address is wrong, but I can't see where to update that so I receive the postal ballot," Sam Willis, a Sydney man who moved to England several years ago, told HuffPost Australia.
"I haven't received any official information yet. The only information has been from social media and that's only from me proactively searching for it."
Lucy Quaggin, another Australian currently in Europe on a working holiday, said she had experienced similar issues trying to access official advice.
"A lot of my friends here who are busy travelling and living over here have no idea what to do. These are young people who believe it should be legalised. A lot of people in the Aussies in London Facebook group have been sharing the way they will be casting their vote which has been a big help for everyone," Quaggin, a former HuffPost Australia reporter, said.
She told HuffPost Australia that she had tried to update her details to reflect her new address in London, which was quite an ordeal.
"After trying to figure out how on earth I could vote in the plebiscite I found a form online to register as an overseas voter. I went to the post office, printed the form, filled it out and sent it to Australia. It cost me three pounds and was a fair bit of hassle. I was actively seeking the information and feel it's quite a high barrier to entry for young Australians living overseas," she said.
"I understand that there's got to be a process with this but some simple step by step information from the government could be a real help to Aussies out there that want to cast their vote."
Aside from just enrolling in time, travellers are worried about the logistics of the postal system -- that is, whether their paper ballot will arrive at their address and then arrive back in Australia in time to be counted.
"I am on the move for the next few months and unsure if I will be able to get the form sent to a destination I am unsure I will be," said Sydney man Broden Tadros, who is currently travelling in India.
"The worst thing about this is that it favours the older demographic. Instead of doing an online system which saves millions they opt for an obsolete system to favour their results."
Quaggin and Willis both agreed, voicing fears about the speed of international post.
"I'm worried that with the postal system it may not get there in time, it often can be hard to get anything in time in the post. Almost everyone I know has had things go missing or end up arriving really late in the post and how many of these instances will occur in the postal vote," Quaggin said.
"I've had birthday cards take anywhere from a few days to a few weeks to reach Australia," Willis said.
"We need reassurances that solutions will be found for postage and delivery issues and that our vote will absolutely, categorically be counted.
"When there's elections, I know by walking into Australia House in London that I can be confident my vote will be taken care of legitimately. With this process, not so much."
Polls in recent years have reported support for marriage equality among young people at up to 80 percent, while ABC's Vote Compass project found 68 percent of people aged 18-34 were in favour of the reform in the leadup to the 2016 election. Katie Acheson, chair of the Australian Youth Affairs Coalition, said the postal survey would see young people more likely to be shut out from the final count.
"Young people engage with issues online, not via the post, and the Government knows this. If we are willing to conduct our Census online, why not a vote on this incredibly important issue?" she said.
"Governments have consistently ignored the strong interests and voices of young people across important issues such as housing affordability, climate change and asylum seekers and this postal vote sees a continuation of that trend.
In the leadup to the last federal election in July 2016, almost one million Australians weren't enrolled to vote, including 380,000 of them in the 18-25 age bracket -- nearly 18 percent of all people in that age group, compared to around six percent of the general population.
In addition, young people are the most likely to have moved house recently, and therefore be at risk of having the incorrect details on their enrolment record and possibly not receive their ballot.
The Australian Bureau of Statistics, the very body tasked with running the postal survey, reported in 2010 that "people aged in their 20s and early 30s are more likely than people of other ages to be going through life transitions" that would force them to move around, such as education, employment or relationships.
"There are close to 300,000 young voters missing from the electoral roll that could change the outcome of this vote. We're calling on the Government to extend the extremely short 15 day timeframe to allow more young people to enroll and for the Australian Electoral Commission to run a campaign to increase enrolment, especially for new voters," Acheson said.
"And we're calling on all young people to enrol to vote if you haven't, even if you disagree with this process. It's the only avenue for young people to have their say."
Popular in the Community