PewDiePie, YouTube's most popular streamer, is apparently just now learning that all hate speech is hate speech.
Disney's Maker Studio severed ties with PewDiePie ― whose real name is Felix Kjellberg ― on Monday, after he live-streamed a video in which he convinced two Indian men to hold up a sign reading "Death to all Jews," The Wall Street Journal reports. He carried out the egregious stunt using the app Fiverr, which you can use to hire people to do tasks for $5.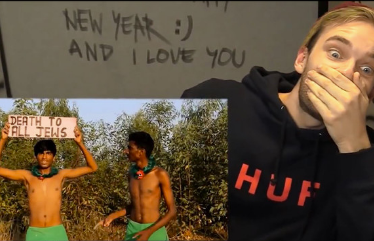 I was trying to show how crazy the modern world is, specifically some of the services available online. I picked something that seemed absurd to me—That people on Fiverr would say anything for 5 dollars.

I think it's important to say something and I want to make one thing clear: I am in no way supporting any kind of hateful attitudes.
Variety reported on YouTube's statement:
"We've decided to cancel the release of 'Scare PewDiePie' season 2 and we're removing the PewDiePie channel from Google Preferred." Google Preferred is the internet giant's advertising program for selling popular "brand-safe content" on YouTube.
The video, which reportedly reached 23 million views before it was deleted, also led to a heart-wrenching apology video posted by the Indian men Kjellberg hired on Fiverr.
The Daily Stormer, an infamous neo-Nazi website, didn't react like Disney or YouTube ― instead, the site celebrated Kjellberg's work. It changed its header to declare itself the "world's #1 PewDiePie fansite," and published a story titled "Disney Kikes Viciously Attack PewDiePie For His Hatreds."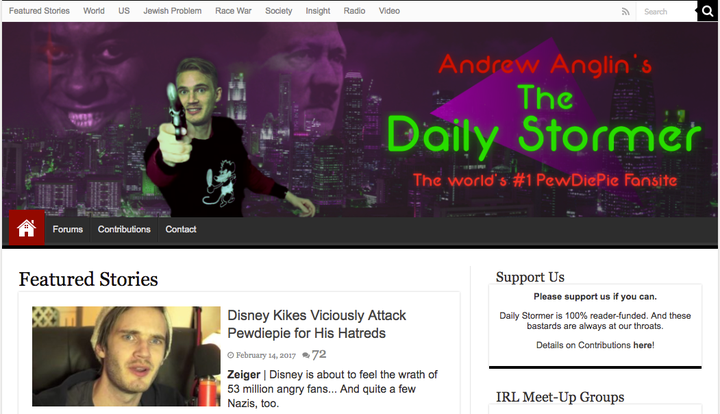 Kjellberg's partnership-ending video appears to be the tip of the iceberg in terms of his "jokes." The Daily Stormer has long praised him for showing Nazi imagery in his videos, including swastikas and footage of Adolf Hitler. Kjellberg maintains that the images aren't to be taken seriously, but neo-Nazis are taking them in stride.
"Yesterday he uploaded a video donning our glorious leader Trump's red MAGA hat whilst images of Adolf Hitler frequently flashed on the screen," one of the site's contributors wrote in August. "It did not appear to be an ironic statement comparing Trump to Hitler, rather he used Hitler as a meme to appeal to his audience. ... The fact that the top YouTuber is using this imagery to spice up his videos shows how influential we truly are."
Kjellberg also used Fiverr to hire a man dressed as Jesus Christ to say that "Hitler did absolutely nothing wrong." That video was taken down (but is archived on other channels), and Fiverr reportedly banned the man depicted in it.
PewDiePie's Twitter account was briefly suspended in August after he jokingly said he'd joined ISIS. He was able to explain that one away, but it looks like his influence is catching up to him.