Indigenous media personalities have joined the Yuendumu community in speaking out about the fatal shooting Saturday of Kumanjayi Walker, a 19-year-old Indigenous man.
"A 28-year-old male Northern Territory police officer has been charged with one count of murder," police said in a statement on Wednesday.
The officer has been identified as Zachary Rolfe. Northern Territory Police Association President Paul McCue said Thursday of the officer: "The member has made it clear that he will plead not guilty and will vigorously contest the charges. He, like all, has the presumption of innocence in his favour."
Indigenous communities have rallied in the streets and taken to social media to voice their concerns.
Actor Meyne Wyatt attended a "Justice for Walker" rally in Sydney on Wednesday evening.
"You turned up today. We got a win. But the fight will go on. To the end," he wrote on Instagram after the protest at Sydney's Town Hall, which saw a turnout of hundreds.
Following the demonstration, Meyne told HuffPost Australia that the sentiment amongst the crowd was sombre.
"I think the feeling is a down feeling, really," he said. "It's a dreadful feeling we all had to gather around for the occasion, but we will do it and we will keep doing it to fight for what's right."
On Tuesday Meyne asked his Instagram followers to join the nationwide rallies that were being held, as he believed "systemic change is needed and independent investigations need to be had".
"People still want to live in this bubble of safety that things have improved. Well clearly, they damn well haven't," wrote Meyne, whose father was from the Yamatji area and mother was from the Wongutha region.
"What will it take for people to wake up?
"I won't be silenced," he said. "Tomorrow at 5:30 p.m.‬ at the Sydney Town Hall, I'll be this loud black dog again. I want you there with me. This is a national call to action!"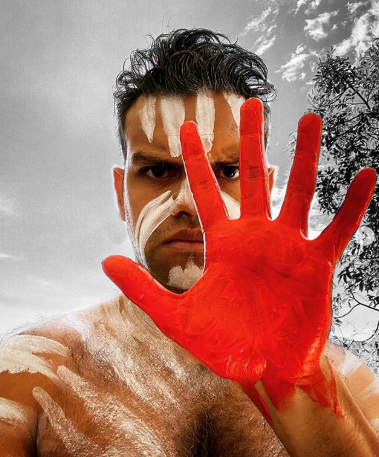 Walker was allegedly shot after police officers entered a home in the community of Yuendumu, 266 kilometres northwest of Alice Springs, early Saturday evening.
It is alleged that Walker was then taken to the police station instead of a local medical facility, which had been unstaffed at the time. At the station, police locked the family outside and did not update them on his welfare until hours later.
Actor Miranda Tapsell, who is a Larrakia woman, also shared an Instagram post showing the #IStandWithYuendumu hashtag on Tuesday and said, "My heart breaks for the mob in Yuendumu".
"This young man's life was taken before it even began. This Walpiri teenager was nineteen years old. He was a brother and a son. His community is grieving," she wrote.
The "Top End Wedding" actor urged people from all backgrounds to speak out and show their support for the Indigenous community.
"It's disheartening to see only a small number of non-Indigenous friends share this. Don't be upset if you have. This boy's life being taken matters more than being accused of radio silence," she said.
"But we all have skin in the game and non-Indigenous people have to stop divorcing themselves from the things that happen to us. Direct your anger to somewhere useful. Please. If you're sick of hearing this, read up and share. Go to the protests. Turn up."
Former "Bachelor" contestant Brooke Blurton also said on social media, "My heart goes out to the Yuendumu Community".