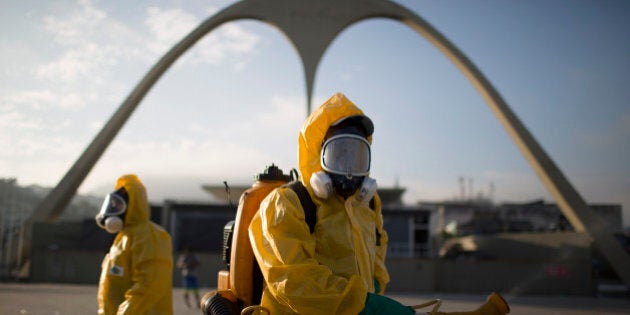 There are fears Zika virus could spread to global pandemic levels, but when you break down the risks, it's not as frightening as it initially sounds.
For starters, the virus itself poses little risk to people except pregnant women and while there is an outbreak in South America, the virus has been present in Africa and some Asia Pacific regions for decades.
Regardless, the number of Australians diagnosed with the disease rose to three, and mosquitoes capable of carrying the virus were detected in Sydney International Airport.
Immigration Minister Peter Dutton told the Today Show there was no stopping Australians from travelling.
"We have to be realistic -- Australians travel in huge numbers each year," he said.
"We welcome tourists in massive numbers, particularly from South-East Asia, and we need to deal with the risk as it presents."
Here's everything Australians need to know about Zika virus, as told by experts University of Sydney Medical Virologist Dr Grant Hill-Cawthorne, Infection Prevention and Control Clinical Lead Lyn Gilbert and Medical Entomologist Dr Cameron Webb.
In short, Hill-Cawthorne said the answer was 'no'.
"This virus has been around at least since the 1940s," Hill-Cawthorne said.
"It was first recognised in Uganda in Africa in 1947, at that point it was limited outbreaks in small numbers of humans and over the course of a few decades, it spread across Africa into Asia.
"It went into Micronesia in 2007 and then over to French Polynesia where it caused quite a large outbreak in 2013.
"As most of you are aware, it then went into South America particularly Brazil in April last year."
Why is the South American outbreak different?
Hill-Cawthorne said there were a few reasons to do with the region's populous cities, prevalent mosquitoes and relative lack of prior exposure.
"We often see this with emergent infection where they've been around for a long time and then they suddenly explode," Hill-Cawthorne said.
"Ebola has been a great example of that."
He said one of the reasons why the South American outbreak was different was to do with immunity.
"The population in Africa may well have been infected continuously... from quite young and get lifelong immunity.
"There's still a lot of research questions to answer but that might by we're suddenly seeing an adult explosion of cases in Brazil."
How does it cause birth defects?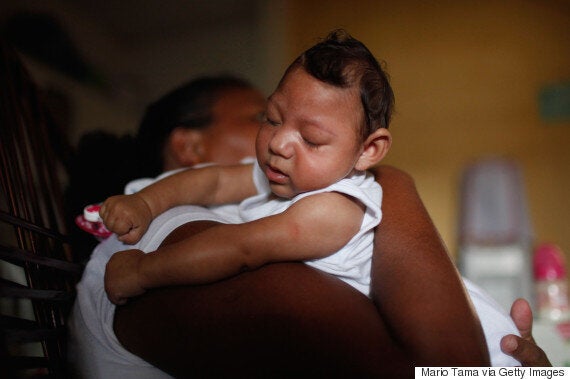 Alice Vitoria Gomes Bezerra, 3-months-old, who has microcephaly, is held by her mother Nadja Cristina Gomes Bezerra on January 31, 2016 in Recife, Brazil.
The link between Zika virus and birth defects is not yet proven, but Gilbert said the evidence was compelling.
"Although it isn't exactly proven there's very strong epidemiological evidence largely in Brazil that infection during pregnancy can lead to fetal infection and the unpleasant complication of microcephaly in which the fetal brain fails to develop normally and the baby's born with a small head," Gilbert said.
Viral infection like Zika did not always not cause microcephaly in pregnant women and it depended on the time the woman was infected.
"The risk of [a baby developing microcephaly] is actually quite small when you look at the proportion of women who are infected," Gilbert said.
"The risk is greatest in the early part of pregnancy when the fetal brain is developing.
"Sometimes maternal infection quite late in the pregnancy had no effect at all.
"There's a lot we don't know."
If you get Zika, how long until you can safely fall pregnant?
It's not known exactly but the virus appeared to stay active in the body for about five days.
Are there any serious risks to people who aren't pregnant?
Gilbert said a lot of people had Zika and didn't even know anything was wrong.
"Zika virus has flown under the radar many years because it causes relatively minor infections," Gilbert said.
"It's estimated that about 80 percent of people who're infected don't have any symptoms at all, and most of the people with symptoms are fairly mild, short-limited illness."
What does the World Health Organisation's warning mean?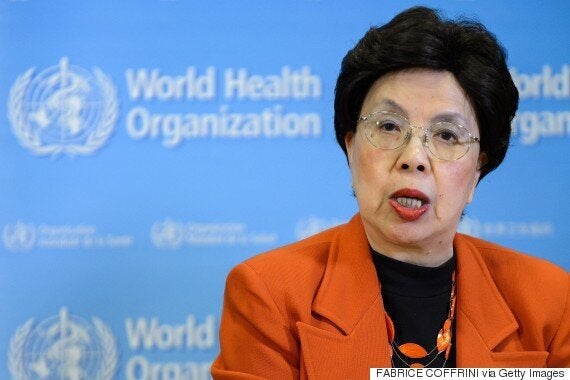 World Health Organization (WHO) chief Margaret Chan attends a press conference on February 1, 2016 in Geneva
It's the fourth time this level of emergency has been called, reserved for "extraordinary" events that "constitute a public health risk to other states through the international spread of disease".
Previous times the level was called was for the ebola outbreak in 2014, the resurgence of polio after its near-eradication also in 2014 and the H1N1 or swine flu pandemic in 2009.
Hill-Cawthorne said it was about attracting interest.
"It's more a political tool than anything else," he said. "It focuses the world's attention."
To avoid Zika, where can I and can't I travel?
The following map form the Centre for Disease Control shows the areas where Zika transmission is active.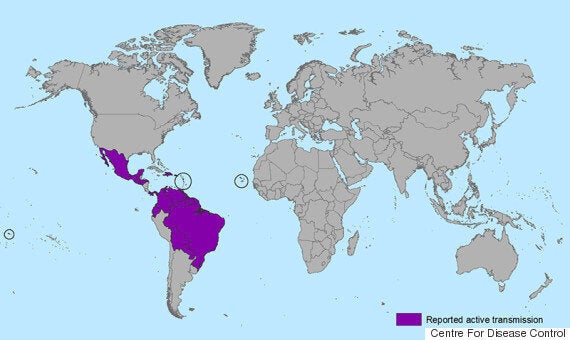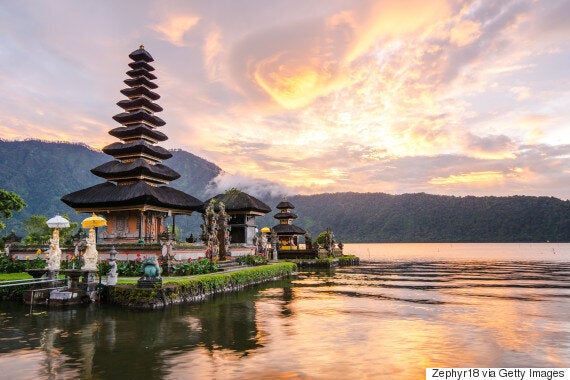 Bali has the type of mosquito that does spread Zika, but it has for decades.
Webb said there was only one type of mosquito capable of spreading Zika virus -- the yellow fever mosquito -- which was prolific in Bali.
"Not only is Zika present in Indonesia and Bali, but also dengue," Webb said. "Let's be very clear: there are serious mosquito-borne viruses in Bali that Australian travellers are exposed to all the time and the numbers are steadily increasing of the number of Australians coming back from Bali with mosquito-borne illnesses."
Webb said that while Aussies expected mosquitoes to bite in the evening, yellow fever mosquitoes actually bit in the daytime.
"Most people who contract mosquito-borne illnesses are getting them at breakfast and lunch."
Webb said hollidaymakers should to start the day with Australian-grade insect repellent to to not wait until you've been bitten.
"Sometimes adequate mosquito repellent is not available at your destination," he said.
Didn't an Australian get it from a monkey bite in Bali?
The experts are out on whether a 27-year-old Australian man's case of Zika virus was transmitted via monkey or the more likely mosquito bites which he also had signs of.
What about the people who brought Zika virus to Sydney via the international airport?
Webb said it would be expected people infected with Zika would arrive in Australia, but the only way for it to spread was through the yellow fever mosquito.
"We're fortunate we don't have these mosquitoes in any major metropolitan areas," Webb said.
"There are suitable populations of the mosquito in Far North Queensland. Areas around Cairns and Townsville are likely to get small outbreaks."
Webb said Cairns and Townsville experienced annual small outbreaks of Dengue Fever -- also transmitted by yellow fever mosquitoes.
"One big issue for the future, It's a reminder for Australian authorities that mosquito-borne illnesses continue to emerge in the world. We need to be vigilant to make sure we don't get more widespread distribution in Australia and keep out exotic species of mosquito."