Questionable donation patterns to a Liberal riding association have not been investigated by the Commissioner of Elections Canada or the Liberal Party of Canada, information given to The Huffington Post Canada suggests.
HuffPost reported Wednesday about Harbhajan Singh, a bundler who collected donations from members of the South Asian community in the Greater Toronto Area.
Some members of the community, including a close friend of Singh speaking on condition of anonymity, alleged that he sought help on on immigration matters from Liberal MP Jim Karygiannis and in return, collected donations for the MP's riding association.
Karygiannis rejected suggestions Friday that he and Singh were business partners, or that Singh raised funds for him in exchange for help he provided on immigration matters. "He is just a friend," Karygiannis wrote in an email.
"So many people sought [Singh's] help," the close friend told HuffPost. "You would go by his house and 15 cars were lined up waiting to see him." This person said Singh helped people with immigration issues and passport matters for money — an assertion that went unanswered by his counsel.
Lawyer Sweta Tejpal denied that Singh asked community members for political donations in exchange for such help. Tejpal would not comment on his client's relationship with Karygiannis, saying it was "not relevant."
After Karygiannis resigned from federal politics in April 2014, Singh became "involved" with Conservative MP Parm Gill's office, his lawyer confirmed. He said the two were not business partners and that Singh was simply a volunteer.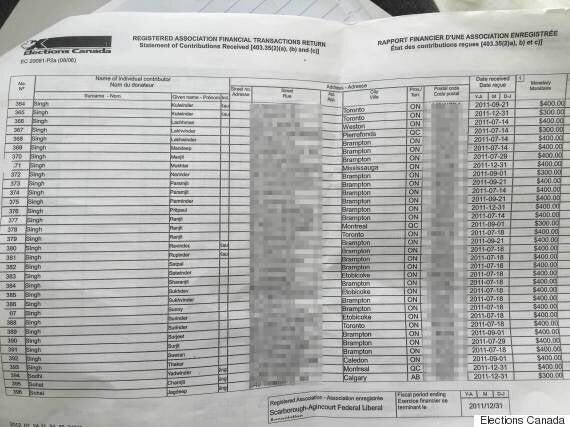 A sample page of donors to Jim Karygiannis' riding association.
From 2005 to 2013, Karygiannis received hundreds of thousands of dollars from donors outside his riding, mostly with South Asian names, and often from Brampton, Ont., a place affectionately referred to by locals as Punjabi Town.
Hundreds of individuals gave Karygiannis exactly $400 each year, an unusual number compared with other ridings, which collected donations of various amounts.
Detailed reports available on Election Canada's website show that Karygiannis raised $101,950 in 2009 from 250 individuals, mostly with South Asian names and most of whom donated $400.
In 2010, 392 donors gave him $159,750.
In 2011, he collected $165,775 from 423 individuals.
In 2012, he reported $207,968 from 507 donors.
In 2013, 451 gave $178,698.
The pattern of $400 and South Asian names remained the same.
Karygiannis, who was a backbench MP during most of those years, explained he received donations from outside his riding because he was a federal member of Parliament who "worked across Canada on many issues."
No comment on internal matters
On Friday, the Liberal party said it wasn't up to them to review the finances of their local riding associations.
"We do not comment on internal matters," spokesman Olivier Duchesneau told HuffPost. "According to the Canada Elections Act, the relationship between the riding associations and their financial agent and Elections Canada is strictly between these two entities. They do not even have any legal obligation to share their annual report with the national office," he wrote.
"Financial agents and riding associations have their duty and obligations in regards to the law. We at the national office are here to provide them with support and clarification in regards to compliance."
Karygiannis told HuffPost his statements were audited by Elections Canada, but that is actually not the case. The riding's records are reviewed by an auditor of its choosing and the results are then submitted to Elections Canada.
The federal agency told HuffPost that it's the purview of the Commissioner of Elections Canada to review or investigate such statements.
The commissioner's office said that out of a "duty to maintain confidentiality," it wouldn't say whether Karygiannis' riding donations had ever been investigated.
Spokeswoman Irène Arseneau suggested, however, that the office doesn't engage in this type of investigation.
"The commissioner's office would look into situations where there are excessive contributions, unreported contributions and inadmissible contributions," she wrote in an email.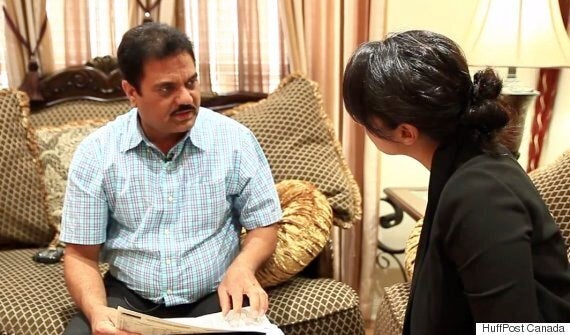 Jagdish Singh says he's speaking out to warn other Liberal donors who may be unwittingly donating to the Tories.
Singh said he was a faithful Liberal donor who had been first approached to give by Harbhajan Singh. Every year, Harbhajan Singh would call him to reconfirm his donation to the Grits, he said.
Singh told HuffPost he had never sought help for immigration or passports from Harbhajan Singh, adding that he was speaking out to warn other Liberal donors who might be unsuspectingly donating to the Tories.
"According to my knowledge, [Harbhajan Singh] has more than 200 people like me who pay him for Liberals, and now maybe he don't tell to anybody [that he switched parties]," he said.
In a statement Friday, Harbhajan Singh said he had asked Jagdish Singh for a donation to the Tory campaign in the spring. He said he was approved to "raise funds" for Gill's election campaign last year and was told by the MP's wife, Amarpal Gill, that verbal credit card confirmations were OK.
She serves as the financial agent for her husband's riding. She is also a paid party staffer in charge of outreach.
"I am unaware of the election rules. Ms. Amarpal Gill was in charge of the campaign finances," he said in the statement.
"She said that I could give her the credit card details by phone so that is what I did. I gave her the credit card details and she processed the donation without requesting written authorization. She said a verbal authorization was enough."
Amarpal Gill did not respond to a HuffPost request for comment.
One of richest riding associations
Gill's riding association in Brampton had few donors during his first years in office. Last year, however, he declared $180,975 from 267 contributors, making his riding association one of the richest in the country. Contributions from 2015 won't be reported until 2016. But 2014 returns do not suggest much overlap with Karygiannis' former donors.
The Conservative party did not return a request for comment Friday. Earlier this week, it said it was reviewing donations that Singh had facilitated and said Jagdish Singh had been refunded his money.
The RCMP would not say whether it was investigating or had investigated Harbhajan Singh, Jim Karygiannis or Parm Gill.
"The RCMP does not confirm or deny who may or may not be subject of any investigation in order to protect the integrity of an investigation, the evidence obtained and the privacy of those involved," spokeswoman Brigitte Mineault said.
She noted, however, that improper credit card use should be referred to local police, not the RCMP.