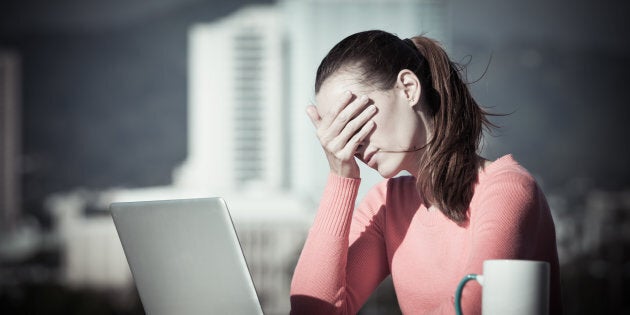 A significant minority of Canadians say they have already been affected by rising interest rates — despite the fact rates are still very low, and likely to head higher.
In a survey carried out by Ipsos for insolvency firm MNP, one-third of Canadians said rising interest rates had already affected their finances. The average respondent had $149 less in savings at the end of the month, after paying bills and debts, than was the case in a previous survey in June.
The survey highlights how sensitive Canadian households have become to changes in interest rates, thanks to growing debt loads. Canadians now carry the highest consumer debt of people in any G7 country, with the average household owing $1.67 in debt for every dollar of disposable income.
Watch: What you need for that A+ credit score
"It's clear that people are nowhere near prepared for a higher rate environment," said MNP President Grant Bazian in a statement.
"The good news is that there seems to be at least the acknowledgement now that rates are going to climb which might make people reassess their spending habits — especially using credit."
Evidence is mounting that Canadians, to some extent, are already reassessing those spending habits.
In the wake of the Bank of Canada's July rate hike, retail sales in Canada disappointed in August, Statistics Canada reported on Friday. Sales fell 0.3 per cent in August, while volumes fell 0.7 per cent, the largest one-month drop in several years.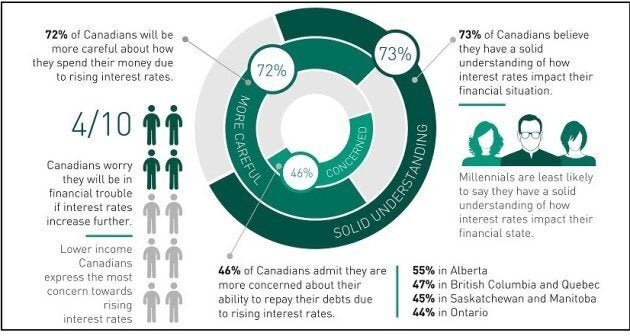 The Bank of Canada raised rates twice this past summer, bringing its key lending rate to 1 per cent, from 0.5 per cent. All of Canada's major mortgage lenders followed suit, raising mortgage rates.
The bank is scheduled to make another interest rate decision on Wednesday, but analysts say it's likely to stay put this time around, given the slowdown in retail and exports in recent months. Nevertheless, they see further rate hikes either before the end of this year, or early next year.
Millennials appear to be struggling with higher interest rates more than others, the survey found, with four in 10 saying they have been affected so far.
Thirty-eight per cent of millennials said they fear rising interest rates could push them into bankruptcy, compared to 30 per cent of Gen-Xers and 18 per cent of Baby Boomers.
Addicted to debt?
The survey suggests Canadians are increasingly relying on debt to cover the day-to-day cost of living. Forty-two per cent said they don't feel confident they will be able to cover all living expenses in the coming year without going further into debt.
"The point here is that heavily-indebted Canadians, many of whom have no emergency savings, already don't have enough money to cover their basic living costs," Bazian said. "They've been using credit to make ends meet. In a higher rate environment, their lifestyle becomes unaffordable."
Bazian suggested that households "stress test" their debt — calculate what it would be at various higher interest rates, to see if it's still affordable.
"For anyone feeling anxiety about interest rate changes, there is no shame in asking for help. If you are currently only making minimum payments or taking on more debt to cover basic expenses, you should seek the advice of a professional right away," Bazian said.
Ipsos surveyed 2,005 adult Canadians between Sept. 18 and Sept. 21. The survey has a margin of error of +/- 2.5 percentage points, 19 times out of 20.