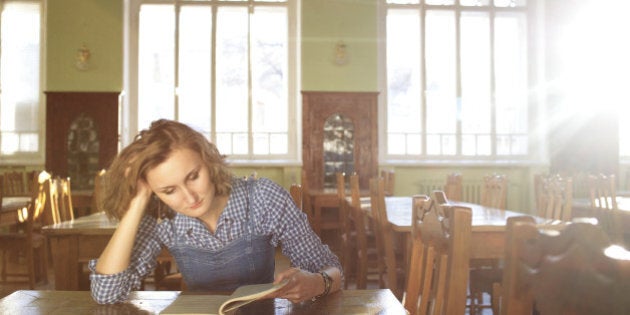 It's that time of the year again where students are date nights with the library. Yes, it is exam time, and everyone is looking to find that perfect spot where they can get their heads into their books and start to study / cram for the impending barrage of exams that are about to come their way. Being comfortable and settled in your surroundings is the key way to get some successful studying done.
UniversityHub has asked over 1,000 students to rate their schools based on a variety of areas. One area in particular was 'libraries and study space'. We have compiled a top 10 list of schools below and featured a great study spot from each one. You can explore the full rankings at UnviversityHub.ca.
Featured Study Spot: Harry Potter Room
The majority of Queen's students flock early in the morning, Starbucks lattes in hand, to secure a spot at the popular Stauffer Library. 'Stauff' is more of a social scene than a study space -- so if you want to get actual work done, try the 1923 Reading Room on the fourth floor. Dubbed the 'Harry Potter Room' by many students, you might need a bit of magic to get through exams.
Featured Study Spot: Birks Reading Room
Being one of the oldest universities in Canada, McGill has its fair share of incredible libraries: the natural-light-filled Law Library, the popular Schulich library, and the hipster-centric Redpath library.
Our featured hot spot is the Birks Reading Room. Situated on the second floor of the Birks Building this little gem is a home from home. Winter boots are not permitted, so you can bring your fluffy socks to relax in.
Featured Study Spot: Law Library at Allard Hall
UBC students and alumni rated their libraries high enough to come third in our list. Whether it's the Irving K. Barber Learning Centre or the Chapman Learning Commons, the studious UBC folk have no shortage of places to go. The Law Library is just north of the IKB Learning Centre and is the newest and most modern study space on campus. The seats even recline!
Featured Study Spot: McPherson Library
UVic has been a true hidden gem in this year's rankings, and their libraries are some of the best in Canada. If you are looking to be part of a group study then head to the second floor of the McPherson Library, where it is buzzing with discussions. If you need some peace and quiet, then the basement and third floor has individual cubicles.
Featured Study Spot: John B. McNair Learning Commons
For those who don't know, UNB is the oldest English-speaking university in Canada. They have some great study spots around campus. You can study with a view at the SUB Blue Room Lounge, relax at the classy 'Red Room' at Harriet Irving Library, or enjoy the comfy leather armchairs at the John B. McNair Learning Commons.
Featured Study Spot: Grey Carpet (Entrance Level)
MTA controversially demolished one of their sacred libraries to build a new space on campus. The Ralph Pickard Bell Library space has carpet colours for each floor with the most exciting one being, ironically, the grey carpet. The grey carpet room is the room where you can practically live for the day and cram as much information into your head that you can.
Featured Study Spot: John Scott (MedSci) Library
Our featured spot is the John W. Scott Health Sciences Library, but the students just call it MedSci. The skylights fill this building with natural light to give you a good dose of Vitamin D when you are working hard. The large windows come in handy at night to remind you to go home and get some well-earned sleep.
Featured Study Spot: the Paws Room
This blows us away. The fourth floor in the Acadia Library has a place to help distress students who are worried about their upcoming exams. This spot, named the Paws Room, comes complete with --you guessed it -- dogs! Research has proven that stroking a dog reduces your stress levels and promotes happy endorphins so a great way to have a break from the books and find your inner calm, and indulge your love for dogs. Very innovative thinking, Acadia!
Featured Study Spot: Gryffindor Common Room
There are a whopping 44 libraries at U of T, so it's no surprise they made our top 10 list. Harry Potter fever seems to seeping through the schools in Canada, but the University of Toronto has nailed it. The third floor fireplace room has comfy chintz armchairs and a fireplace make the Graham Library Reading Room hands-down the coziest place to be on a cold day.
Featured Study Spot: Isaac Olowolafe Jr. Digital Media Experience (DME) Lab.
Ryerson is an innovative place, so if you want to get creative with your studying, check out the SME Lab. Situated on the third floor of the Ryerson Library, the DME Lab brings a new and modern edge to the study experience. The lab boasts to have everything from 3D printers and scanners to an Oculus Rift, where you can get immersed in a digital virtual reality and of course learn at the same time. Students come here to study and play, a new way of promoting learning other than scanning books.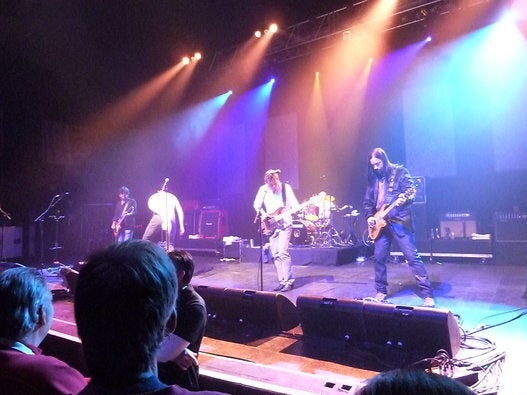 Canadian University Bands
Popular in the Community