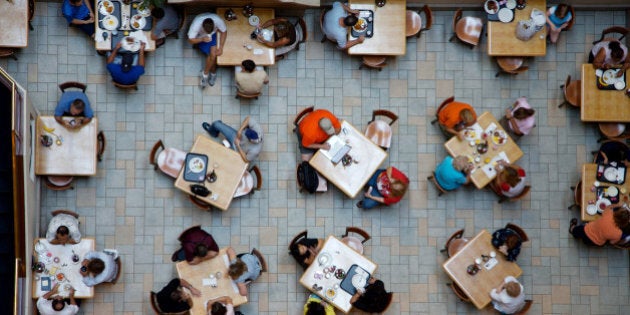 The days of university food that resembles a blob of mysterious brown sludge are few and far between. In a world where fast, fresh food is the new norm, universities across the country have stepped up their game to feed large minds and appetites. UniversityHub asked over 1,000 students and alumni to rate their university across 55+ evaluation areas, one of which was "food and dining." These 10 universities have proven that restaurant-quality plates are here to stay.
1. University of Guelph - Creelman Marketplace
U of G Hospitality Services can conjure up just about any meal for its student body of more than 5,000. Creelman Marketplace is a fan favourite, dishing up fresh, healthy and local items at the 100-Mile Grille, for example, and even some not so healthy ones -- like candy stations. On-campus meal plans are mandatory for all students in traditional residence. With five sizes of plans ranging from "minimum" to "ultra," you'll never walk away with an empty belly -- but with food so hard to resist, you may gain the Frosh 15.
2. Bishop's University - Dewhurst Dining Hall
Dewhurst Hall is the place to eat on campus, and with the Continuous Dining plan's customizable options such as Hearty Eater, Square Mealer, or Flexible Diner, you can eat what's right for you -- whether it's a freshly made crepe or a sizzling stir-fry. Menus are posted daily with special entrees such as a carving station and paella Valencia offered alongside plenty of vegetarian and vegan options. You can even help shape the food you eat by getting involved in the Campus Dining Committee.
3. Queen's University - Leonard Hall
Queen's newest dining facility, Leonard Hall, was given a massive face lift in 2003 and continues to be the campus meet-and-eat spot, especially for frosh. With its 700-seat capacity and market-style setting, there's never a shortage of seats to fill up on delicious food. In addition to classic grill items such as fries and burgers, there are also fresher options, such as an apple, walnut and wild rice salad. For those with stricter dietary needs, keep your eyes peeled for the gluten-free, vegetarian and vegan signs.
4. McMaster University - Centro at Commons
Mac Express meal plan has taken convenience to a whole new level with their mobile app, letting you use your meal plan on campus, at participating local restaurants or to order post-bar delivery from Pizza Pizza. Centro at Commons, located in the heart of the North Quad, is a diverse marketplace that satisfies just about everyone through its healthy food, themed dinners, international cuisine, great campus view and special events (hello, Super Bowl!). Grabbing a bite alone? Fear not -- the big screen TV will keep you company.
5. Ryerson University - International Living and Learning Centre (ILLC) Café
Ryerson students demand great food at affordable prices, and Ryerson has stepped up its game by implementing daily $5 meal features across campus. Meal plans are mandatory for students living in Pitman Hall and the ILLC, and you can choose from three sizes: small, medium, or large. The café in the ILLC Residences provides a rotating three-week menu with daily Halal and vegetarian options that will make your taste buds dance. Vegetable curry wrap with peach yogurt dip, anyone? If you're not a happy camper, take your feedback to the Twitterverse: @RUeats.
6. University of Western Ontario - Ontario Hall
Like most universities, meal plans are mandatory for all students living in residence and combine Rez $, for dining in main campus dining halls and eateries, and Flex $, for on-campus vending, dining out at local eateries and catering. There are 29 distinct eateries scattered throughout campus and if you don't know which one to choose, consult the Eateries app. Ontario Hall is ready to feed hungry students seven days a week, and with one of the longest rotating menus of all Canadian universities (six weeks), it'll always be a party in your mouth. The after-hours snack bar is a great way to refuel as you furiously try to finish writing your midterm paper.
7. University of Calgary - Dining Centre
Swiping your Unicard -- loaded with Meal Plan Money (tax-exempt, for most on campus food outlets) or Food Funds (for all other food purchases) -- gives you 20 spots to nosh on campus, one of which is the popular Dining Centre. While its name could be more creative, its food is far from boring. It dishes up a daily variety of healthy choices from comfort food like your grandma's to authentic international cuisine. Bonus points for its reusable food containers, too.
8. McGill University - Royal Victoria College
At McGill, meal plans vary -- from three-meal per day options at Upper Rez to an a la carte cafeteria at New Residence. The newly renovated Royal Victoria College has made a name for itself in the foodie circle and its marketplace style dining features cooked-to-order food -- from sustainably sourced salmon to steakhouse quality filet mignon. If you don't want to use your meal plan money at the dining hall, grab a java at Tim Hortons or a Montreal-style bagel from St. Viateur.
9. University of Saskatchewan - Marquis Culinary Centre
Is the thought of rosemary roasted turkey with pan gravy and bacon stuffing making your mouth water? Well, good news, because this is one of the many options at the University of Saskatchewan's culinary hub -- Marquis Culinary Centre. All students in residence are required to purchase a meal plan, but there are lots of choices for every appetite.
10. University of British Columbia - Vancouver Campus - Totem Dining Hall
Due to UBC's diverse student population, the variety of international cuisine found on campus is top notch and there are over 30 campus locations to satisfy just about everyone. When it comes to food hall dining, Totem Dining Hall is the place to get the most satisfying food -- from made-to-order sandwiches to spicy Asian fare. When it comes to vegetarian and vegan food, Totem Dining Hall gets top marks -- so grab yourself a samosa. And if you ever get bored of Totem Park (and you will), UBC's food trucks are calling your name.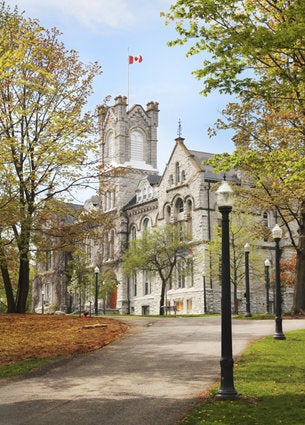 Canadian Universities That Rank Among the World's Best, According to QS