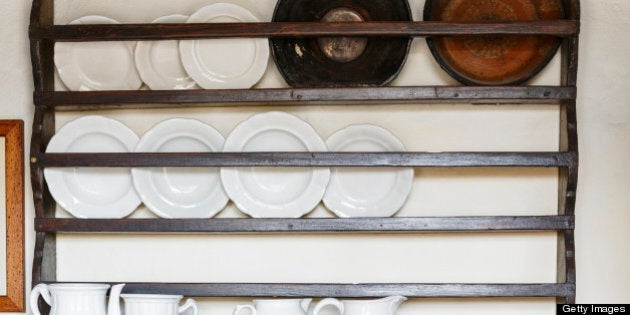 Every girl, it seems, has a GBF. They're great for noticing new hair do's, fabulous text mates in the wee small hours and essential bitching partners when other friends screw up. Oh yes, and they're the perfect companion when sofa shopping, cushion plumping, or when seeking style guidance in any quarter.
But what about the lads? Wouldn't you fellas benefit from a brush with a GBF? Hmm? Oh sorry; Gay Best Friend. Fret not; who better to address your queries than us. You, er, had figured us out, right? It's not like we're brothers, you know. Or blokes who just happen to share a newspaper byline. And a TV show. And a whole load of other things, for that matter. Aye, we'll happily steer the GBF bus for any guy who needs a modicum of design direction.
But before you protest, let us assure you our collective tongue is planted firmly (at least kind of) in our cheek. Some of our best friends, you see, are straight. And some of them, we should report, are very stylish. The following epistle, therefore, is simply a quick fix master class for those who feel their style gene is somewhat compromised. Think of us as wing men. Fabulous -- if often fey -- fixers. Hell mend us, it's like Queer Eye For The Straight Guy all over again.
Without further ado, here's our butch -- sorry, bitch -- guide to GBF home style. Action these points and watch the girls line up:
Style starts here -- buy the starter kit for the budding home boy. Take one Eames lounger, add an Isamu Noguchi Coffee Table and season with a toffee coloured cow hide rug. Arrange against seriously sexy wall paper -- try black on black 'Bao' or 'Viva' from Graham & Brown and you're done. Instantly gorgeous and stylish to boot. We can just hear your date: "Hey, Mr Hipster -- you've got such a cute crib." As we said; 'wing men.'
You're booked -- stack design or photography books on your coffee table so that dates think you're seriously arty. Go for Tom Ford by Graydon Carter or anything by David LaChapelle or Pierre et Gilles.
Arty Farty -- make your own black and white art by taking super close up snaps of your own body parts. But keep it clean! We're thinking shoulders, ears, eyes; you get the gist. Print out in black and white, mount in snowy coloured mats and showcase in classic black frames This kind of presentation looks super cool, though, with careful shopping, costs next to nothing. Grab your iPhone, a trusty printer and some Ribba frames from Ikea and you're all set.
Accessorise - those imbued with the style gene love their accessories almost as much as they (we) love Liza and Cher. So take a tip; invest in the best. Have a gander at the Jonathan Adler website www.jonathanadler.com or dash into Homsense (www.homesense.ca) and peruse the guys' section. Simply grab a few items and pepper your space accordingly. Hey presto, you're on it.
Invest in new technology -- LCD TV's and enviable sound systems reap big in the overall style stakes. Try piecing your collection together from Future Shop or get professional advice from Command Performance, the best in the business.
Don't dazzle -- the last thing you want is for your pad to resemble a hockey match. A little mood is crucial, n'est pas? Your girlfriend so doesn't want to smooch under a bare overhead pendent. So invest in light shades and get a dimmer switch so that mood can be tweaked at the twist of a knob or the touch of a button.
Less is more -- learn the subtle art of rotation; or, in other words, display just two or three of any one thing at any one time. That means stashing the majority of your hockey bobble heads and, if you're a sci-fi geek, limiting your obsession to just one Star Wars Millennium Falcon atop your 'Style Garage' credenza.
Grab a partner -- come on; if you're single, you need a cool person to share everything with. If your significant other refuses to accompany you on that Sunday afternoon shopping trip to Ikea...then maybe it's time for a change. OMG; all of a sudden we're relationship counsellors.
Dust and polish -- this is a no brainer. So get it done. After you've stashed the discarded pizza boxes and empty tinnies, that is...
Flame on -- light a scented candle and let your olfactory senses run wild. OMG; the flicker, the aromatic joy, the mood, the hugging, the kissing. Think we'll leave it there, if you don't mind...
So there you have it; in domestic terms, courtesy of our counsel, you've become hugely stylish. But hold it a sec; with everything looking gorgeous on the home front... might now be the perfect time to tackle your wardrobe? Blimey; that's another epistle altogether. In the meantime, however, it makes sense to banish the denim shirt and jeans combo. That's so not a good look. And can we persuade you to trim that mullet? And lose the Crocs? Hell's bells, there is work to be done. You gotta look right, after all, in your newly pimped space.