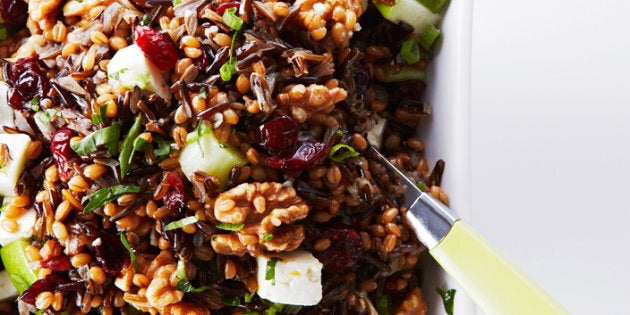 It's officially fall! But that doesn't mean you have to say goodbye to healthy eating and start tucking into greasy dishes to find comfort. We've put together a list of our top 10 fall salads that will deliver a healthy meal packed with flavour and goodness that won't leave you feeling guilty.
If you're feeling truly Canadian, this incredibly delicious Maple Balsamic Salad with Bacon-Roasted Pecans, filled with crisp romaine, tart pom seeds, crunchy apples and sweet pears, all tossed in a maple balsamic dressing and topped with homemade bacon-roasted pecans is a mouthful (and a delicious one at that!)
And if you're feeling nutty, this Nutty Asian Chicken Salad is the whole package. It's a meal-in-a-bowl that serves up grilled honey-lime chicken in a bowl full of healthy veggies and protein-packed edamame, tossed with a delicious creamy peanut butter dressing.
But that's not all we have in store for you. Read on to get the recipe for all 10 of our favourite fall salads and enjoy!
1. Farro, Spinach and Grilled Zucchini Salad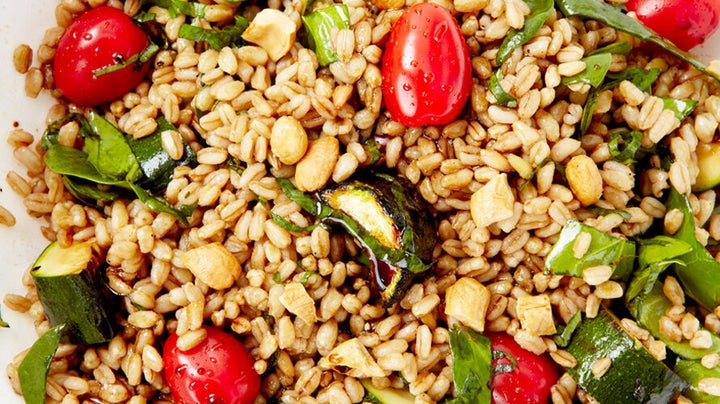 Farro is a versatile and hearty whole grain that has been around for a long time. With a nutty flavour and soft-yet-crunchy texture, farro delivers fiber, nutrients and protein, and is especially delicious when combined with juicy tomatoes, leafy spinach and grilled zucchini, tossed in a zesty balsamic dressing. This is one salad that will leave you supremely satisfied!
2.Parmesan Chicken and Arugula Salad with Creamy Basil Dressing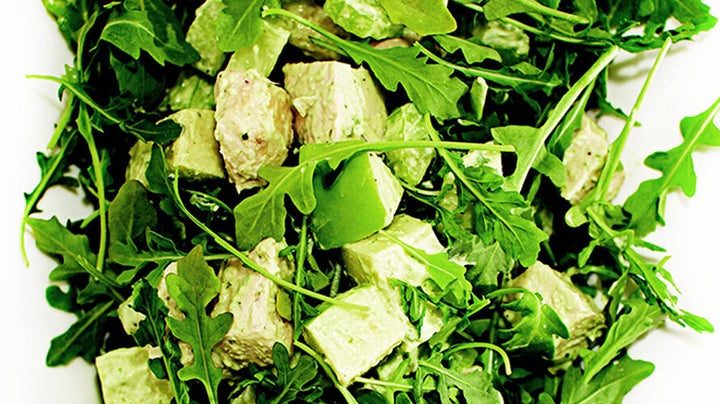 Golden-baked Parmesan chicken, peppery arugula and crunchy apples are tossed together in a creamy basil dressing, resulting in this delicious and sophisticated meal-worthy salad.
3. Kale, Spinach and Quinoa Salad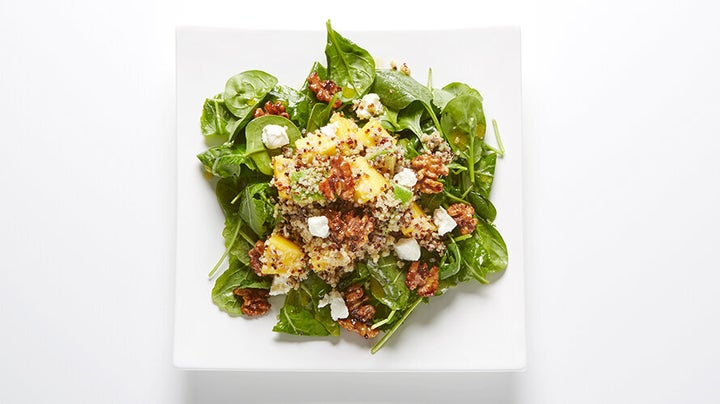 Looking for the champion in the Super Bowl of superfoods? This kale, spinach and quinoa meal-in-a-bowl is a winner, a green bowl full of super-nutritious and delicious stuff (including mango and avocado), tossed in a zesty lemon shallot dressing and topped with spiced walnuts and creamy goat cheese. Get cooking and give new meaning to power lunch!
4. Nutty Asian Chicken Salad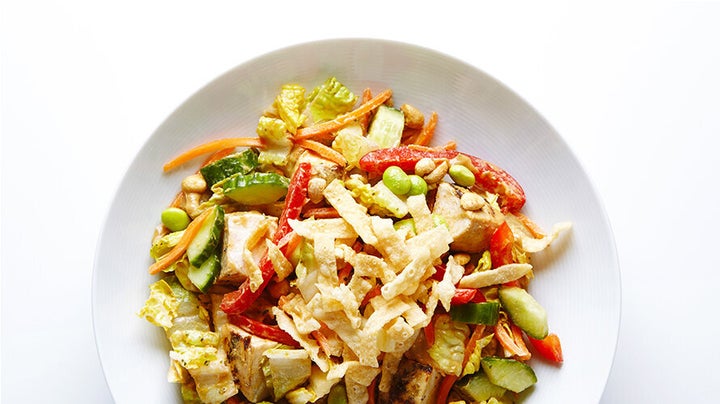 This Nutty Asian Chicken Salad is the whole package, a scrumptious meal chock full of perfect bites. After being grilled to juicy goodness, honey-lime chicken is added to a bowl full of healthy veggies (napa cabbage, carrots, cucumber, peppers) and protein (edamame) and then tossed with a lip-smackingly creamy peanut butter dressing. As if that's not enough, this nuts 'n honey salad is topped with crunchy wonton strips and roasted peanuts. Now that's a bowl!
5. Middle Eastern Tabbouleh Salad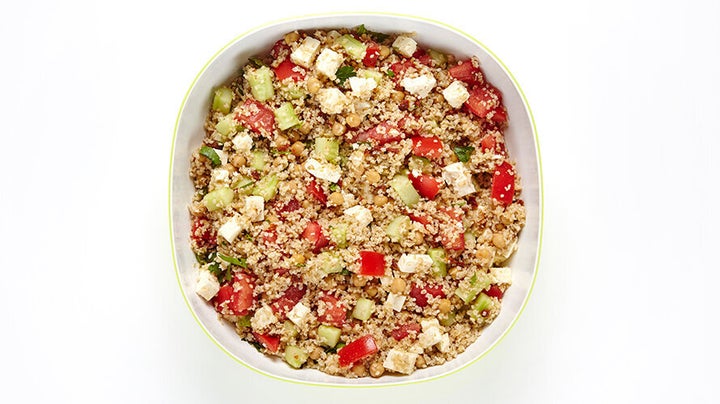 We love Middle Eastern flavours, so it should come as no surprise that Tabbouleh salad is among our favourites. The classic combination of bulgur wheat, chickpeas, fresh herbs (parsley and mint!), tomatoes and cucumbers is upgraded not only with a lemony kick, but also tangy feta cheese and flavour-packed sun-dried tomatoes.
6.Chicken Cobb Salad with Thousand Island Dressing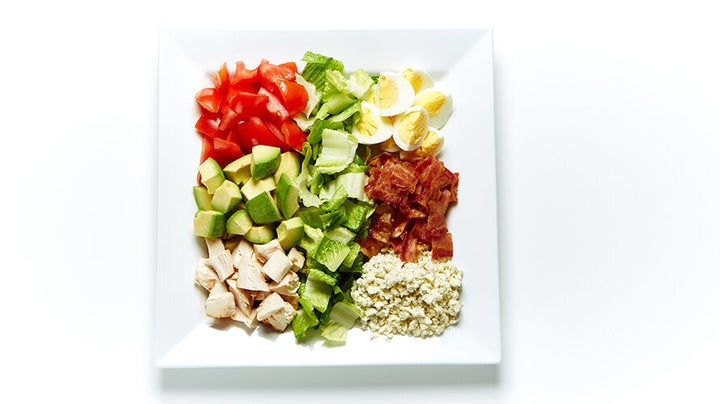 Looking for a meal-in-a-bowl? Search no further than this satisfying, crowd-pleasing Cobb Salad, a classic combo of chicken, bacon, avocado, eggs and blue cheese, all tossed in a creamy homemade Thousand Island dressing.
7.Squash, Pecan and Pear Salad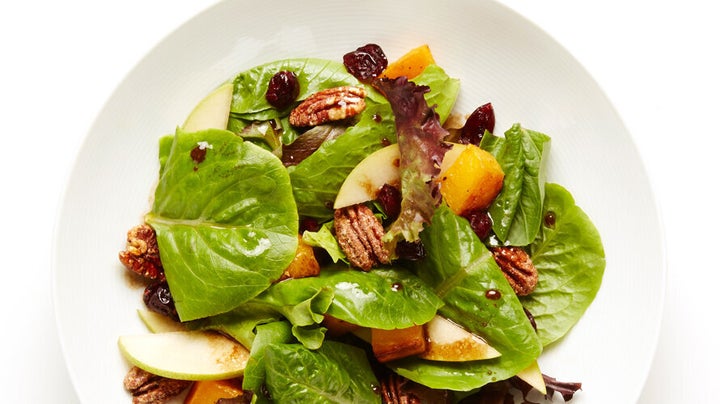 One bite of sweet roasted squash, spicy pecans and juicy pears and you won't be able to put your fork down.
8. Wheat Berry and Wild Rice Salad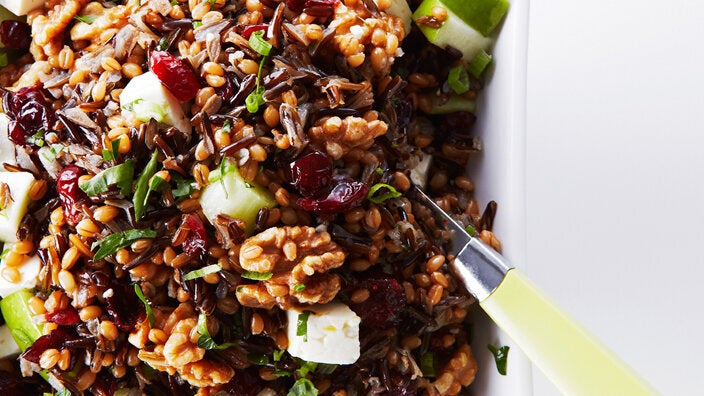 Think a salad can't be satisfying? Think again. This Wheat Berry and Wild Rice Salad recipe will satisfy any appetite. Healthy, slightly nutty and chewy wheat berries are combined with wild rice, crunchy apples, tart cranberries, creamy feta cheese and toasted walnuts, all tossed in a citrus vinaigrette.
9. Creamy Caesar Salad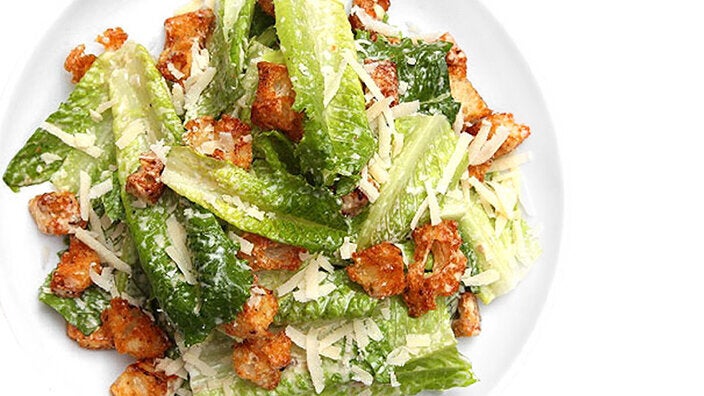 Caesar salad is a staple on restaurant menus across the country, but we've yet to find one as perfectly blended as this one — crisp romaine is tossed with creamy dressing, crunchy croutons and premium Parmesan. All hail Caesar!
10. Maple Balsamic Salad with Bacon-Roasted Pecans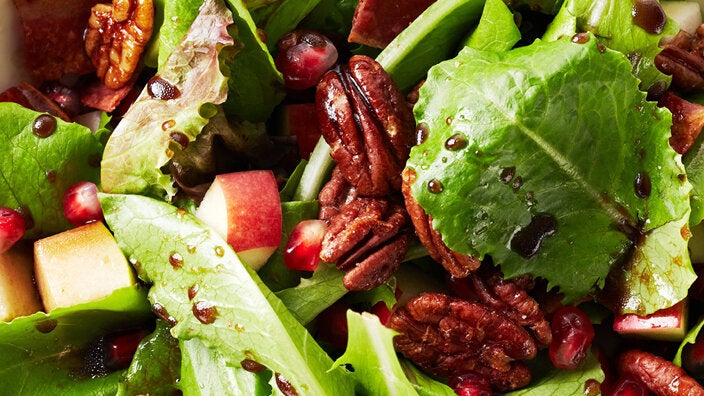 Really, the title of the lip-smacking recipe should read: Incredible Salad of Crisp Romaine, Tart Pom Seeds, Crunchy Apples and Sweet Pears, all tossed in a Maple Balsamic Dressing and topped with Homemade Bacon-Roasted Pecans. A mouthful, but a delicious one at that.